Trader Joe's Just Pulled A Frozen Item That Could Pose A Serious Risk For You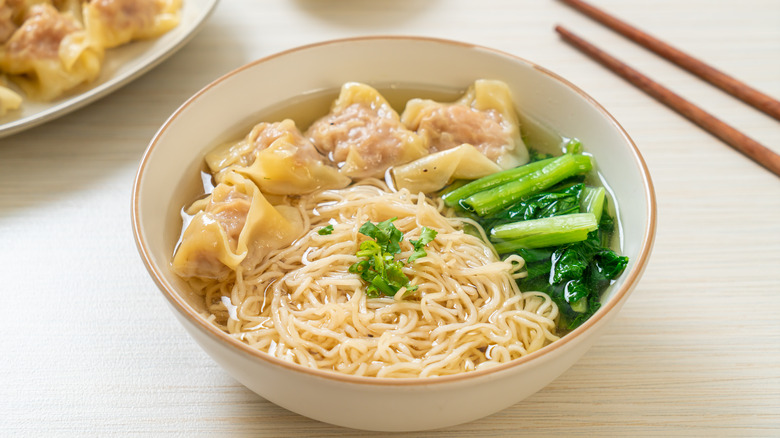 gowithstock/Shutterstock
Trader Joe's shoppers need to take note. The grocery store whose products inspire a cult-like following wants you to know that one of its frozen soups has been pulled due to a seriously concerning issue. According to an email sent to customers, Trader Ming's Chicken & Vegetable Wonton Soup "may contain undeclared shrimp and pork, that could pose a serious risk for those with a shrimp allergy." The email goes on to detail that the produce was "sold only in AZ, DE, MD, NJ, NY, PA, Southern CA, Southern NV, UT, VA, and Washington, DC stores."
Trader Joe's notes that "all potentially affected product has been removed from sale." However, out of an abundance of caution, a health alert has been published by the USDA's Food Safety and Inspection Service (FSIS). If you do have a shrimp allergy and a stash of Trader Ming's Chicken & Vegetable Wonton Soup, do not eat it. Check your freezer for these 10.75-ounce containers and inspect the side of the packing. If you see the code "31FA322," you will want to toss it or return it to Trader Joe's for a full refund. If you have questions related to this soup, Trader Joe's wants you to contact its customer relations line at (626) 599-3817 or send an email.
This is technically not a recall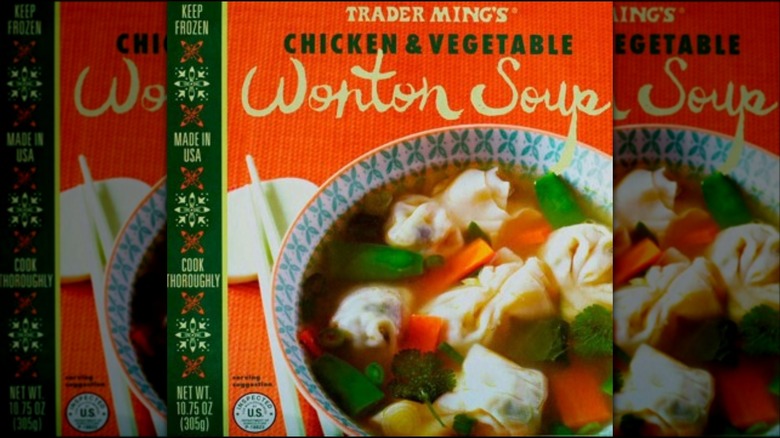 Trader Joe's
The producer of the soup, Fortune Avenue Foods was made aware of this issue when a customer complained that it contained pork and shrimp and was not labeled as such. Upon learning this, the company alerted the Food Safety and Inspection Service (FSIS) of the problem. However, there has not been a recall because it is believed that customers are no longer able to buy Trader Ming's Chicken & Vegetable Wonton. Additionally, the FSIS states that while "there have been no confirmed reports of adverse reactions due to consumption of these products,"  you should contact a medical professional if you are concerned.
Citing an unnamed study, the Cleveland Clinic says as much as 2% of the population is allergic to some form of seafood, which may include shellfish. While 2% doesn't sound like a lot, it amounts to roughly 6 million Americans, some of whom might be Trader Joe's fans. Allergies to pork are rarer but do exist, according to VerryWell Health. Some sufferers may not even be experiencing a real allergy but rather a strange malady known as pork-cat syndrome, which is triggered by cat allergies due to the similar makeup of pork.