Here's How To Get Free Shake Shack If Your Holiday Flight Is Delayed
Flights are stressful. Holiday flights even more so. Addressing the not-so-merry meltdown moments that may come at many airports this week, Shake Shack decided to do something about it, helping to keep the holiday spirit alive by offering free fries to make things better. The food chain even created their own take on "Jingle Bells" (done with NYC-based acapella group GroundStone) that they uploaded to YouTube to announce the special promotion: "Oh, if you can't fly, please don't cry. Shake Shack saves the day. We sympathize, so here's free fries for your darn flight delay. Hey!"
According to a press release, anyone who has to endure a delay or cancellation in the John F. Kennedy International Airport in New York City during December 22-24 can receive free crinkle cut fries from Shake Shack's restaurant located in Terminal 4. No purchase is necessary — you'll just have to show proof that your flight was delayed or cancelled on your mobile device. Other beleaguered travelers departing from airports other than JFK in the same time period can still get a voucher for free fries by tagging Shake Shack in an Instagram post that shows the individual in front of a delayed or cancelled departure gate. 
"At Shake Shack, we have always been focused on creating uplifting experiences for our guests," Jay Livingston, CMO of Shake Shack, said in the release. "We know the holidays can be stressful, so we created this campaign to bring some fan excitement, especially in some of the busiest and crowded places around the holiday — the airport."
Shake Shack looks to expand in more airports in 2022 and beyond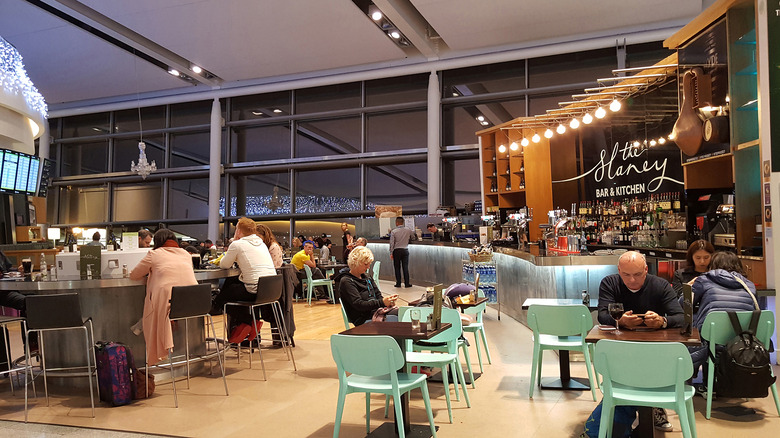 haireena/Shutterstock
While the deal for free fries is primarily tied to New York City's JFK destination, Shake Shack has been eying a general airport expansion for a while. In fact, the brand teased to Thrillist the possibility that the free fries promotion for delayed flights could return in 2022. 
As QSR noted in July 2020, airports have long received special attention from Shake Shack HQ. As the article states, "The company previously noted nontraditional venues were essential to its licensing business, especially in terms of driving brand awareness alongside a national growth strategy. Airport, stadium, and roadside models in particular." The company's press release announcing the promotion notes that Shake Shack currently has 21 airport locations around the world, including 14 American spots like Denver International Airport, Las Vegas Airport, Dallas/Fort Worth International Airport, and LaGuardia, leaving a lot of room to expand.
However, when COVID-19 struck, it caused passenger numbers to drop astronomically and changed dining in terminals. But, as the Houston Chronicle relays, CEO of Shake Shack Randy Garutti seems determined to push future expansions into airports despite the fact that only six of these locations currently remain open. "On the domestic license side, we remain committed to growing our presence across airports, event venues, and roadside Shacks in the coming years," he said. So while Omicron may disrupt the airline industry again, at least many travelers will remember the free fries they received this week.