Hunter Fieri Tells The Truth About Being The Son Of Guy Fieri - Exclusive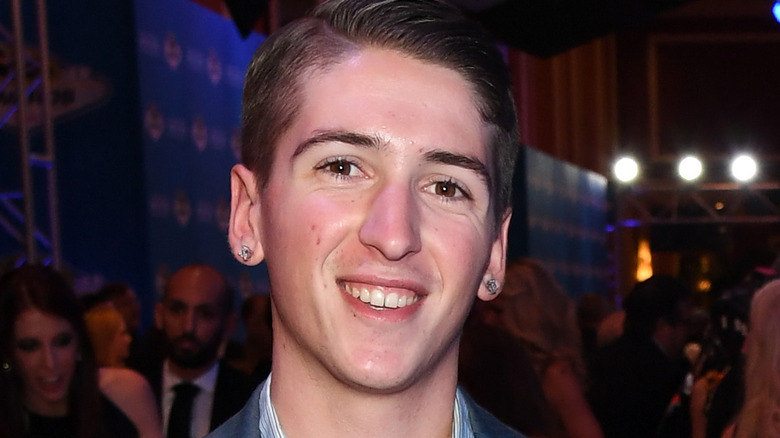 Ethan Miller/Getty Images
Whether your dad is your best friend or the reason why you're in therapy (or somewhere in between), there's no doubt about it: Our fathers can have a huge influence on our identities, values, and in many cases, our careers. What happens when the man you call "Daddy" is a celebrity who has multiple Food Network TV shows, owns restaurants, and co-owns a tequila brand with rock star Sammy Hagar?
To get the answer to this question, Mashed spoke with the eldest son of Guy Fieri, Hunter, who just began a culinary collaboration all on his own with the plant-based pasta brand ZENB. All grown up, having spent his childhood on the sets of "Guy's Grocery Games" and  "Diners, Drive-Throughs and Dives," Hunter credits his dad for being the ultimate mentor. "He's so intelligent in the culinary world and he has tried almost everything, he's learned about so much and he's constantly learning," Hunter Fieri shared in an exclusive interview. "I mean, there's a lot of important things that I've learned and he's continued to teach me every day. One would be to really appreciate the food and understand where your food comes from, especially learning the different types of meats, or farm-to-table's a big thing," Fieri added.
How does Guy feel about his son branching out on his own? That's a loaded question.
How Guy Fieri feels about Hunter's budding success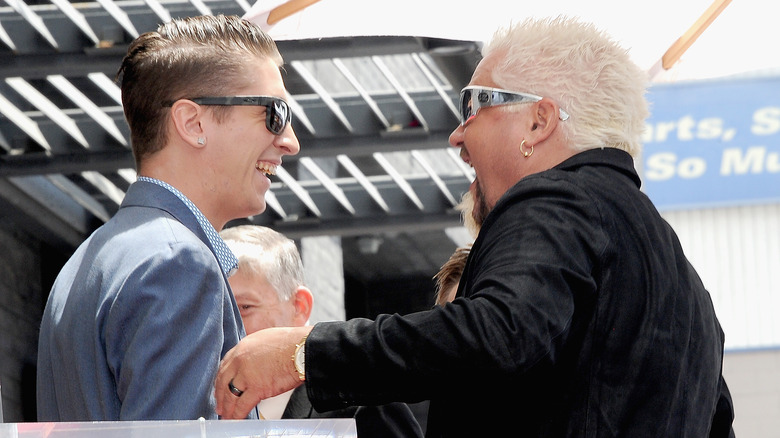 Albert L. Ortega/Getty Images
According to Hunter Fieri, his dad couldn't be prouder that his son is kicking off his own career.  In addition to his work with ZENB, Hunter said is exploring hosting his own TV show. "He's like, 'It's awesome. I think you [should] go after it. Remember when I taught you 'kill it?' But remember to ask questions and be smart and to follow through,'" the younger Fieri recalled when he told him about his new opportunity. "But he loved it! He loved the idea of me getting out there and doing things myself, plus he loves the fact that I'm getting myself involved into plant-based products."
One thing Guy Fieri apparently does not love, however, is Hunter's Instagram bio. "As you know, my dad's the 'Mayor of Flavortown,' of course," Hunter explained, "and people call me 'the Prince' here and there, so my boys started calling me the Prince and then I would see it on social media, 'The Prince of Flavortown,' and I'm like ... taking it, we're running with this, no one's stopping me and now here we are!" But the Mayor wasn't sure he liked his son having such a lofty title. "My dad already doesn't like the Prince of Flavortown!" Hunter said. "He said that the Prince is actually over the Mayor, so he started calling me a Vice-Mayor. I'm like, 'No, no, no. That's not sticking. I'm not the Vice-Mayor of Flavortown. The Prince is already there. It's too late.' But yeah, he's not a fan."
Watch Hunter Fieri's mini documentary, "What Plants Can Do," and be sure to check out ZENB's yellow pea pasta products online.