How Fans Really Feel About Guy Fieri's $80 Million Deal
Television personality, Guy Fieri, has been entertaining viewers for more than a decade. Armed with a colorful sense of humor and vast culinary knowledge, Fieri shows fans what foods they should be trying on hit series like Diners, Drive-Ins and Dives. He also hosts another popular show, Guy's Grocery Games, where contestants compete to create the most delicious dish from food found at a supermarket grocery store. The winning cook can make up to $20,000, if they do well in the three-round elimination contest. 
However, with all of his experience and success, it surprised some to learn that the cookbook author recently received a huge payout from the Food Network. Fieri recently inked a three-year contract with the company for a staggering $80 million, making him the highest-paid television cable chef. One shocked Redditor that couldn't believe the news, took to the platform to ask if the information was true. Users were quick to weigh in with their thoughts, which might surprise you.
Why viewers believe Guy Fieri has earned his huge paycheck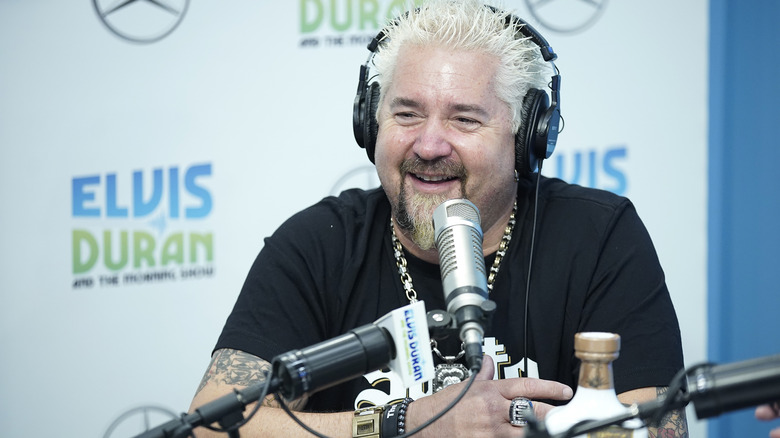 John Lamparski/Getty Images
In general, most Reddit users seemed to think that Fieri deserves his huge income for his successful shows. One fan of the cooking star joked, "i mean at this point he basically is the food network. they could call it the fieri network and keep the same initials, lol." Another added, "Good for him! I'll watch anything he does. A true #ResterauntHero. Hes raised a ton of money during covid for food and beverage workers. Cheers to his continued success." Many also remarked on the charity work the chef is involved in with one writing, "He deserves every penny. He does a lot with it." 
One user speculated what other celebrity chefs like Bobby Flay, might think of the news to which a fan replied, "Flay is flogging gourmet cat food. He has plenty of money, and no right to throw stones." Another Redditor wanted to put things into perspective and said, "Ariana Grande is getting $150 million for one season of the voice so I definitely believe Guy could make that much for a three year contract." Overall, fans seemed to think Fieri has done a lot for the network and believe the chef deserves every penny of his hard work.