Ina Garten Thinks There Should Be A National Holiday For This Kitchen Gadget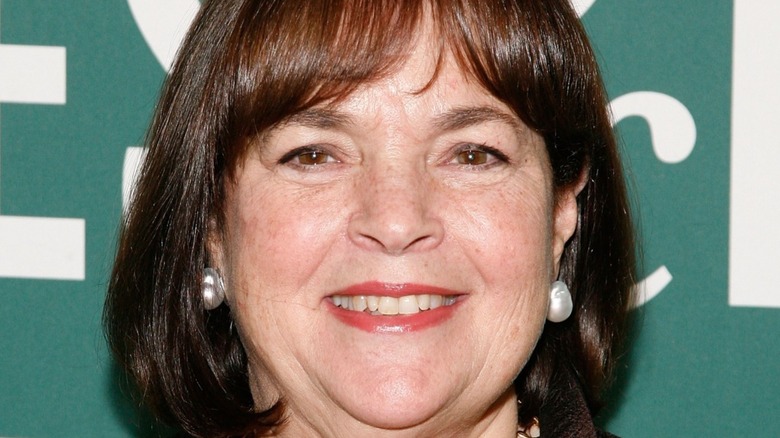 Andy Kropa/Getty
We may receive a commission on purchases made from links.
Ideally, home cooks should give careful consideration into which appliances to add to their kitchens. There are endless varieties of shiny, intriguing kitchen gadgets that all come with promises to make quick work of whatever kitchen chore we may face — but many don't live up to the hype and can quickly take over precious counter and storage spaces. "Good Eats" host Alton Brown is particularly critical of what he calls "unitaskers." In a YouTube video for The Daily Dot, he explains these are tools that do just one task, often not well, and that ultimately go unused. More often than not, figuring out which tools to keep in the kitchen is about trial and error rather than careful review. So it's refreshing when a celebrity chef you know and trust helps guide home cooks towards the most helpful multitasking appliances out there.
In a video shared to Twitter by the Food Network, Ina Garten demonstrates how to quickly slice up Brussels sprouts for roasting or to make a salad. When done by hand, prepping all those sprouts can be time-consuming. So instead of reaching for a knife, Garten pops the Brussels sprouts into her food processor: In just seconds they're perfectly shredded. "I love the food processor," she says. "There should be a national holiday for the guy who invented it."
Here's how these chefs use food processors
If you've never used a food processor before, Bon Appétit says it's like having an "extremely powerful knife." And, it comes with a large bowl and a lid with a chute that lets you add ingredients while the processor is running. The attachments include a shredding disk that makes quick work of veggies like cabbage and cauliflower (and those Brussels sprouts) and a blade that does practically everything else: It blends sauces and dips, makes pastry dough, chops finicky ingredients, like onions, garlic, and ginger, grinds nuts, and pulverizes graham crackers to use for pie crusts. You can even get a blade to effortlessly knead bread dough. This appliance is definitely a multitasker! 
Ina Garten uses a food processor for many recipes, including Whipped Feta for Tomato Crostini (via YouTube), to grate spuds for her Perfect Potato Pancakes recipe shared on her website, and to make savory breadcrumbs for her Crispy Mustard Roasted Chicken. Martha Stewart is a fan of the appliance, too. She uses one in a tutorial on her YouTube channel to make a quick, homemade pasta dough. Stewart uses the pulsing function to blend ingredients gradually without the risk of overworking the dough. "MasterChef" and "Chopped" judge Aarón Sánchez uses a food processor to make a Cilantro and Cotija Cheese Pesto (shared on his website) in just two minutes.
This appliance is a smart investment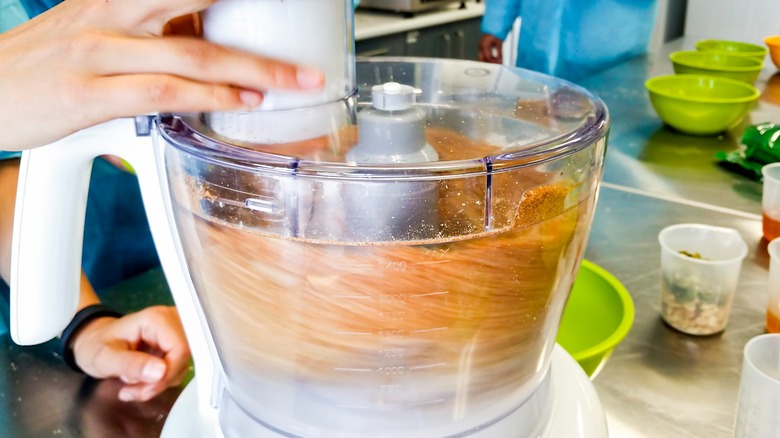 Dr. Victor Wong/Shutterstock
Bon Appétit notes that food processors do cost more upfront: They recommended a Cuisinart model that costs about $150 (via Amazon.) New York Magazine's recent list of recommended food processors includes a few higher-end models, like Braun's 12-cup unit for $200 and a chef's grade processor from Breville that costs $520. However, there are reasonably priced food processors on their list, too: A 10-cup model from Hamilton Beach for only $50 and mini food processors that are great for small jobs or small kitchens for less than $50. Because this is a workhorse of an appliance that you'll use often for all kinds of recipes, Bon Appétit notes it's worth investing in the best food processor you can afford. So if you're building your wedding registry or dropping hints for birthday presents, make sure a food processor is at the top of your list.
And since Ina Garten expressed such admiration for "the guy who invented it" on Twitter, let's take a moment to honor the two people who we have to thank for the food processor! According to Britannica, French inventor Pierre Verdon created the first home food processor called "Le Magi-Mix" in 1971. Two years later, American inventor Carl Sontheimer refined Verdon's idea even further and debuted his Cuisinart food processor. Whether these men get a national holiday for their culinary contribution remains to be seen, but we (and Garten) hope they will!