Hannaford Just Announced A Recall For Fresh Express Salads
Hannaford has just recalled a selection of their Fresh Express Salad Kits. In a press release for the product recall, they explain that the action is due to a potential listeria contamination of products made within their facility in Streamwood, Il. If you purchased such a package between December 2 and 19, you should look at the following list of products and item numbers to ensure you do not eat contaminated food.
In chopped salad kit selection, possibly contaminated products are the Chopped Asian Salad Kit with the universal product code (UPC) 7127930202, the Chipotle Cheddar Chopped Kit with 7127930604, Chopped Pomegranate Salad Kit with 7127930910, the Chopped Poppyseed Salad Kit with 7127930911, Sunflower Crisp Chopped Kit with 7127930906, Sweet Chopped Kale Salad Kit with 7127930605, Chopped Kit Caesar Salad with 7127930919, Southwest Salad Kit with 7127930602, and Bacon and Bleu Cheese Chopped Salad Kit with 7127930606.
In the case of chopped salads, look out for the Thai 'N' Cashews Chopped Salad with 7127930924, Twisted Avocado Caesar Chopped Salad with 7127930921, Twisted Greek Caesar Chopped Salad with 7127930922, and Twisted Asian Caesar Chopped Salad with 7127930923.
The more miscellaneous sections that could have listeria are the Veggie Medleys Farmer's Garden with 7127928102, Shredded Lettuce with 7127915101, Garden Salad with 7127910302, Sweet and Crunchy Tender Leaf Blends with 7127927118, and Sweet Butter Lettuce with 7127922103.
If you live in New York, Vermont, or Massachusetts, you should also toss your Baby Salad Spinach with 7127927100 and Flat Spinach with 7127913204.
This isn't the first recall for Fresh Express salads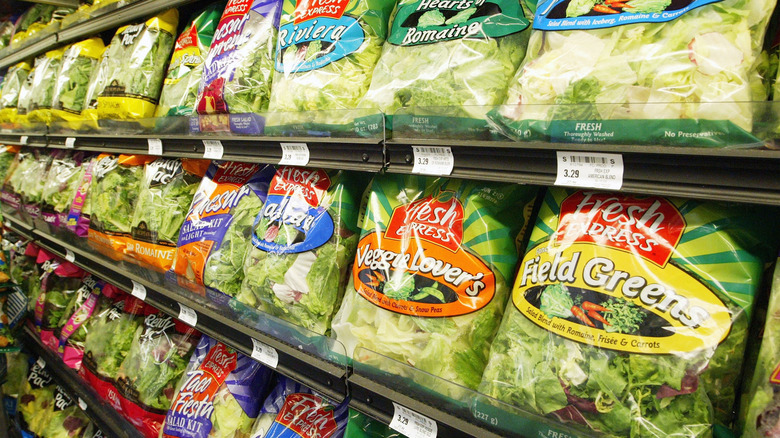 Justin Sullivan/Getty Images
Listeria is a scary illness to catch. Food Safety News reports that of the 1,600 cases that manage to occur, 260 are fatal. Those most at risk are the elderly, those with compromised immune systems, and the pregnant, who could pass on the disease to the child they're carrying. However, this is not the worst case scenario involving Fresh Express. After all, the possible contagion was noted and a recall issued.
Previously, as Forbes reported in 2017, Fresh Express salads had to be recalled because parts of a bat carcass were found in a bag of their salad. What's worse? It was found while the people were eating the salad. The corpse had deteriorated to the point where rabies was no longer detectable, so an urgent recall was issued and the two who had eaten bat contaminated salads were put on a heavy course of injections.
In other words, be happy there's a recall.