Reddit Is Loving This Dog Trio Sporting Aldi Christmas Pajamas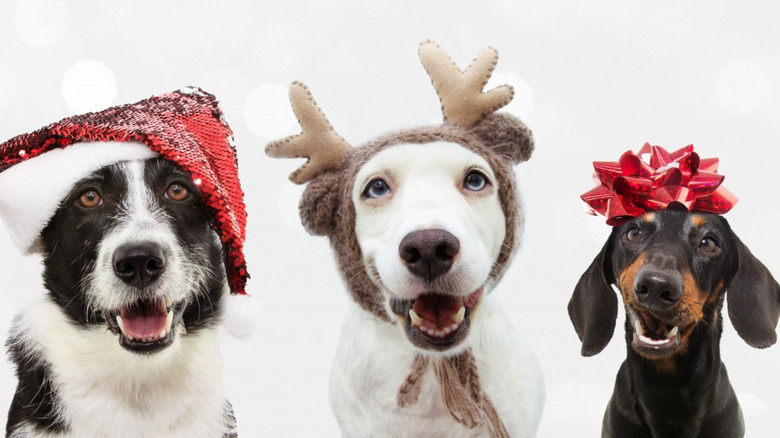 smrm1977/Shutterstock
There are all kinds of fun and festive traditions that help people get into the holiday spirit. That can mean baking Christmas cookies, putting up twinkle lights and festive decor, and, of course, donning your best holiday attire, from cozy hats and ugly sweaters to cheerful, holiday-themed pajama sets. And that last bit doesn't only apply to humans: Aldi is now selling the perfect pajama set to ensure that everyone in the family, no matter how many legs they have, can get in on these fun Christmas morning outfits.
Aldi is currently offering the charming new Heart to Tail holiday pet pajama sets, which come in three fun, soft, and durable prints for your pups: Buffalo Check, Christmas Tree, and Fair Isle, according to its website. Each set is also machine-washable, so you don't have to worry if your pet happens to get a little messy at suppertime. The jammies are available in sizes that run from extra small to extra large, which means dogs both little and big can rock this festive wear. After all, why should people get to have all the fun?
Aldi's pet pajamas are proving popular on social media
One shopper recently purchased a set of Aldi's pet pajamas for each of their three dogs, and the results were so cute that they couldn't resist posting a photo of their sweet pooches on Reddit. Predictably, the post was full of responses gushing over how adorable the three dogs looked in their Christmas best. "I am obsessed with your dogs. Precious. Those Christmas outfits were made for them!" wrote u/cosmeticcrazy. "Awww they are ready for Christmas!" replied u/joyful_aorta, while another called the pajamas the "cutest puppy fits ever."
The post also contained some useful sizing tips for fans that wanted to purchase a set for their own furry friend. The original poster explained that their French Bulldog fit just fine into a medium, while they went with a large size for their bigger, 50-pound Australian Cattle dog. The best part is, each pajama set is priced at $4.99 (via Aldi), so you can purchase one as a gift for your own pets, as well as for your friends, family, and neighbors, to let the whole crew match in these adorably festive pajamas.