Popular Christmas Cookies, Ranked Worst To Best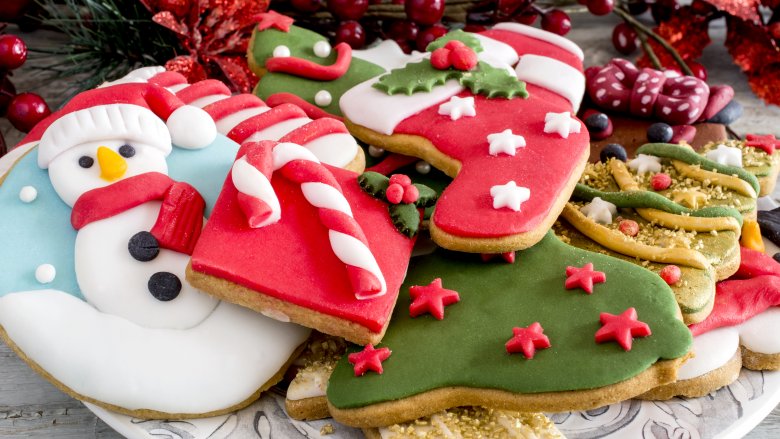 Shutterstock
We may receive a commission on purchases made from links.
A ranking of Christmas cookies from worst to best makes it sound as though there are "bad" cookies out there, which really isn't the case — with the obvious exception of two anomalies, fruitcake cookies and coconut macaroons, both of which should be ashamed at their attempt to align with the likes of delicious chocolate crinkles and festive gingerbread men. 
But are there "less good" cookies? Absolutely. Less good cookies would be those with dessert-ruining ingredients, like raisins. Or cookies that really just make you wish you were drinking a cocktail instead, like rum balls. Even so, it's hard to turn any cookie down, especially during the holidays when the seasonal treats come out to play and you've very seriously committed to a month of gastronomical debauchery.
Of course, we all have own opinions when it comes to food, but if we were assembling our dream cookie platter, here's how it would go down.
15. Fruitcake cookies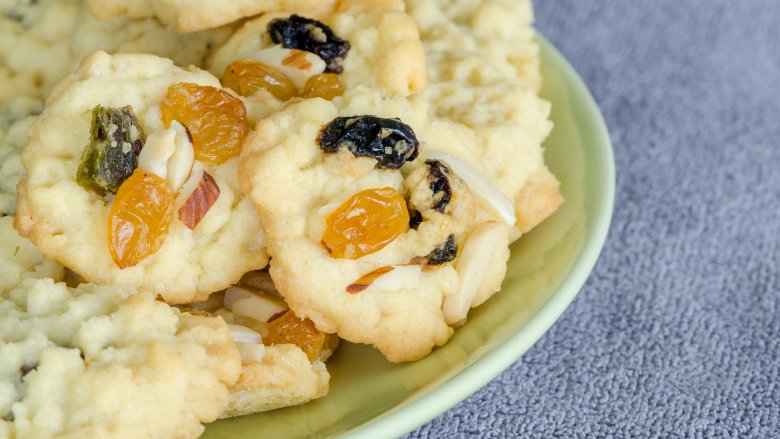 Shutterstock
If you've already made fruitcake cookies this holiday season, we have good news for you: In 2017, a 100-year-old fruitcake was found in Antarctica that was deemed "almost edible," and said to be in "excellent condition." How is that good news, you ask? Well, it means that each December, after nobody eats your fruitcake cookies, you can pack them up and put them away until the next year, again and again and again. Those cookies just might outlive you, so be sure to pass them down to the grandkids.
If you're still hellbent on making fruitcake cookies, and you actually want them to get eaten, go heavy-handed with the booze and skip the technicolor jellied fruit that's been sitting in the grocery store for five years. If they're soaked in enough rum — like, absolutely dripping with rum — and contain regular ol' dried fruit instead of that tub of bejeweled fruit-sugar, you might have a chance.
14. Chocolate dipped coconut macaroons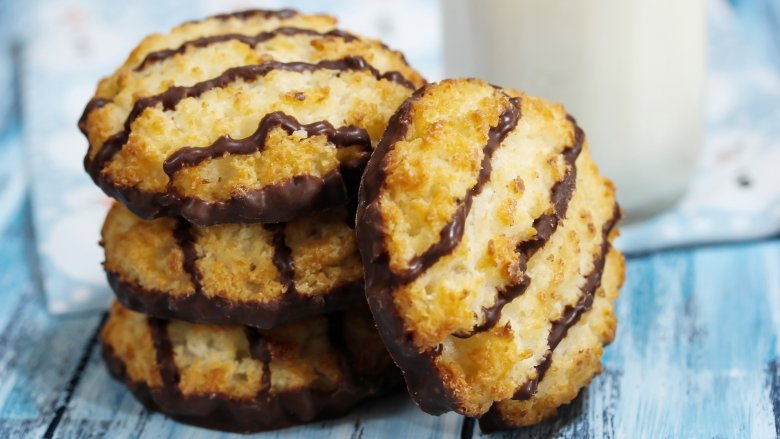 Shutterstock
On an almost daily basis, the internet informs us of all the things we do incorrectly, particularly when it comes to eating and cooking. For instance, we're eating our burgers the wrong way, we're making all kinds of mistakes with nacho cheese, and we're using our ovens all wrong. Yes, just about everything we do is wrong, wrong, wrong. And if you're eating chocolate-dipped coconut macaroons, you're probably doing that wrong, too. 
Maybe you weren't aware that there is a correct way to eat chocolate-dipped coconut macaroons, but there is. It's a two-step process, and step two is of utmost importance:
Lick chocolate off bottom of macaroon.
Throw remaining cookie in trash can.
Easy, right? From now on, with each macaroon encounter you have, you'll rest easy knowing that you're eating it the right way. (And for the record, a coconut macaroon sans chocolate shares slot number 15 with fruitcake cookies.)
13. Oatmeal raisin cookies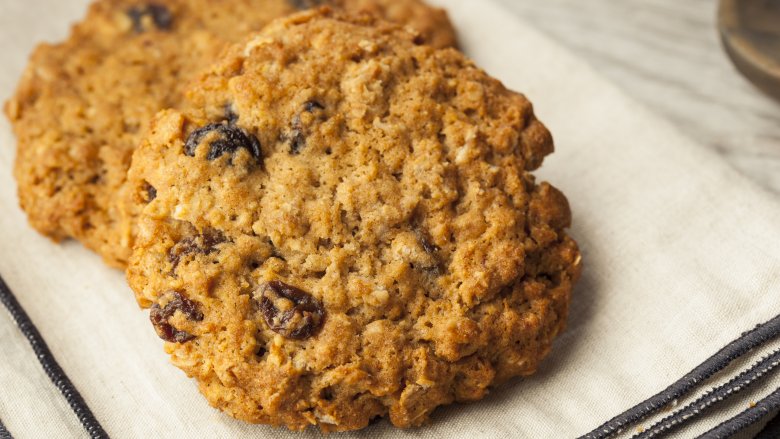 Shutterstock
Oatmeal cookies? Yes, please. Oatmeal raisin cookies? Hard pass. Sure, sure, raisins have some nutritional benefits, but do you know what they definitely do not benefit? Cookies.
Raisins in foods are fine, provided they are only one component of a snack in which they can easily be picked out. Like trail mix, for example. Raisins in trail mix are tolerable because you can eat all the M&M's, and almonds, and chocolate chips around them, successfully avoiding the shriveled grapes. But raisins in cookies are not so easily avoidable, and that is why they should never be included in otherwise delicious desserts. Try as you might, it's just not possible to nibble around every single raisin in a cookie, and inevitably your perfectly chewy bite of slightly savory and slightly salty oatmeal is interrupted by something overly sweet and sticky.
Just let us enjoy our oatmeal cookies unadulterated, please.
12. Thumbprint jam cookies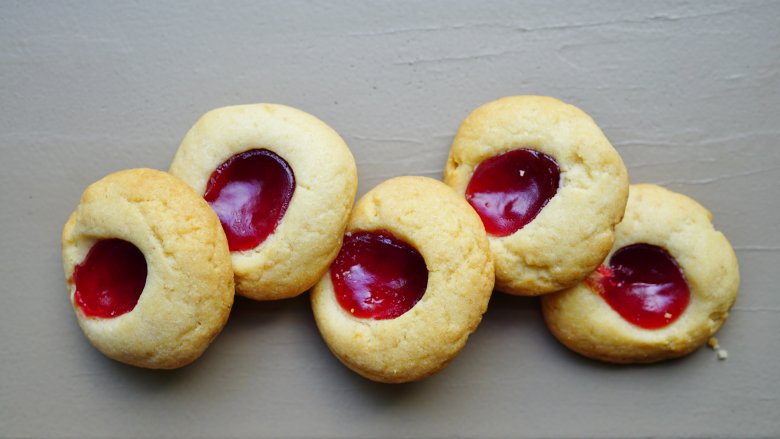 Shutterstock
Some things are just meant to be eaten together: Bacon and eggs. Peanut butter and jelly. Ranch dressing and... everything. Sure, you can have one without the other, but these flavor combinations reign supreme for a reason — it's almost sacrilegious to chow down on a burger without a pile of salty fries on the side.
Which brings us to thumbprint cookies. These classic holiday cookies are, in theory, not so bad (unless you're Ina Garten and roll them in coconut, which is inexcusable). Buttery shortbread bites topped with sweet, fruity jam? That's a tasty combination, to be sure. The problem with these cookies, though, is that there is no peanut butter, and where there is jam there should always be peanut butter.
Unfortunately, until peanut butter and jelly thumbprints start showing up more frequently at cookie exchanges, this Christmas treat will remain firmly near the bottom of the list.
11. Rum balls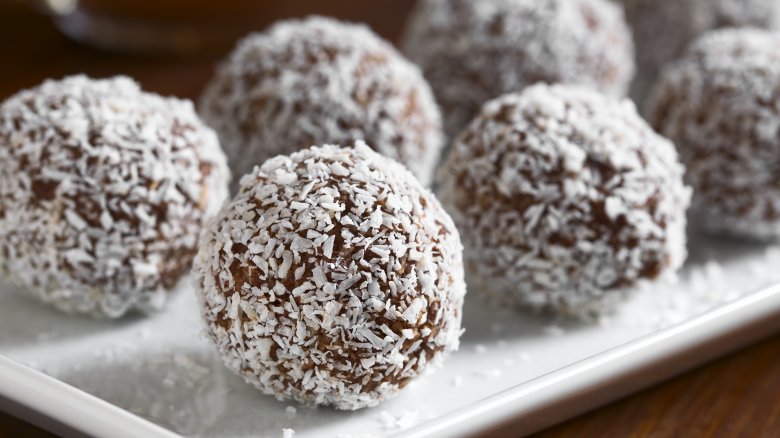 Shutterstock
Rum balls are the amateur baker's dream. In fact, there's no baking required at all, which earns these cookies some serious points. And there's no doubt that rum balls are tasty little morsels, unless they're rolled in coconut. Better options than coconut? Chopped nuts. Cocoa powder. Literally anything else — a packet of Hidden Valley Ranch seasoning mix would be preferable.
But here's the thing... Tasty as they may be, it's the holidays, and everyone is ready for a little Christmas cheer (or a lot of Christmas cheer, depending what their family gatherings are like). Rum balls seem like a great way to take in some booze in cookie form. The fatal flaw in this plan, however, is that you'd have to eat approximately 36 of those babies to consume the equivalent of a 2-ounce shot. Now, if you really love rum balls, maybe that sounds doable. Most of us, though, would probably be headed for the bathroom long before we felt any effects from the alcohol.  
10. Sugar cookies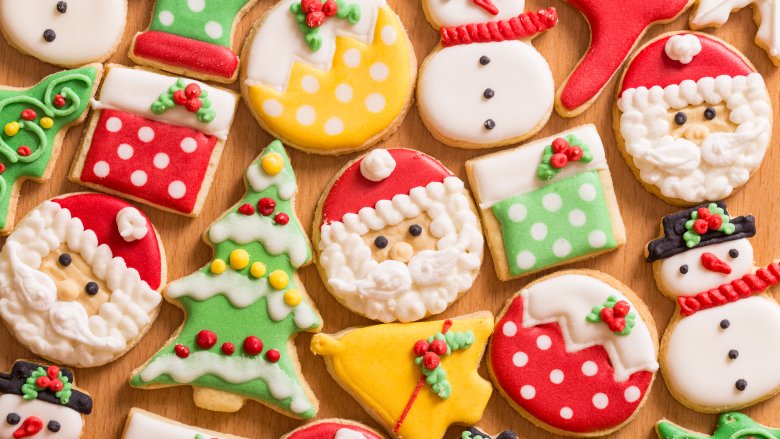 Shutterstock
Sugar cookies — the quintessential Christmas treat. There is absolutely nothing wrong with a standard sugar cookie. In fact, they're practically required on a holiday cookie platter. Plus, they contain no weird ingredients (ahem, raisins), and — this is a big one — you can buy the dough already made, slice it into cookies, and pass them off as homemade. If you really want to go crazy, bust out the cookie cutters and roll out the store-bought dough to make snowflakes and Santas.
But be warned: The minute you try to fancy up those oh-so-easy-to-make sugar cookies with royal icing, all hell will break loose. Suddenly your perfect treats have turned into a Pinterest fail and your kitchen is splattered with seven different colors of food dye. Remember: Plain sugar cookies deserve love, too. The chances of your decorated masterpieces turning out like the photo above are slim to none, and besides, royal icing doesn't even taste good anyway.
9. Persimmon cookies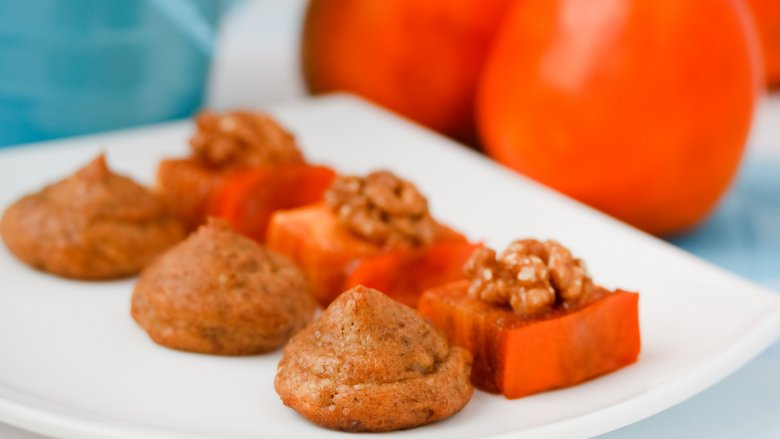 Shutterstock
Ah, persimmon season. If you have a tree that bears the orange-fleshed fruit, it's always exciting to see the first crop come in. You're exhilarated by the thought of all the seasonal treats you can whip up: Persimmon bread, persimmon jam, persimmons in salads, and of course, persimmon cookies. "I'll put persimmons in everything," you happily declare. 
But at some point, the inevitable happens, and the persimmons begin to overwhelm you. After you fill up yet another huge boxful you begin to resent them, and at this point you're rage-baking. Those cookies that you once deemed irresistible, with their warm baking spices and impossibly tender centers, are just a reminder of all the persimmons still to come. At last, you share everyone else's feelings about those so-so holiday cookies. You eventually snap, and find yourself having a Mommie Dearest moment, screaming to nobody in particular, "No persimmon cookies! What's persimmon cookies doing in this kitchen when I told you 'no persimmon cookies, ever!?'" 
8. Snickerdoodles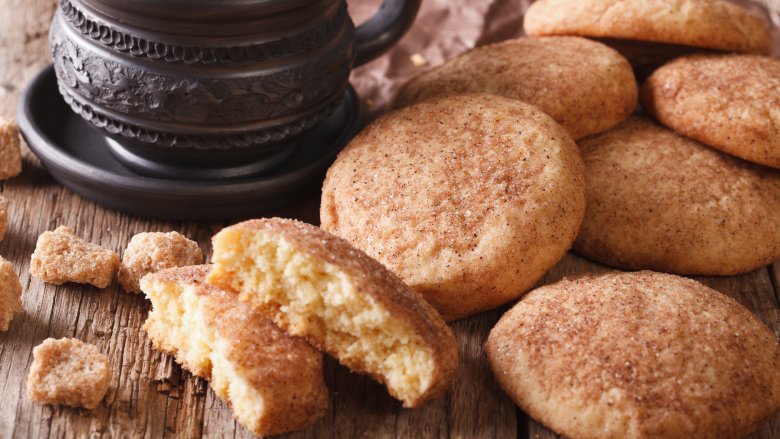 Shutterstock
Like sugar cookies only better because they're coated with cinnamon and sugar. On second thought, that makes them substantially more delicious than sugar cookies. And let's not forget, snickerdoodles are also softer and chewier than their crispy cousins, thanks to a secret ingredient: cream of tartar. 
Though the two cookie recipes are very similar, it's cream of tartar that's responsible for turning a regular ol' sugar cookie into a pillowy soft snickerdoodle with a slight tang and that texture we all know and love. Snickerdoodles without cream of tartar? That's just a sugar cookie rolled in cinnamon and sugar. 
Other than their perfect texture and superior flavor, this holiday staple has one more very important thing going for it: Unlike with sugar cookies, there is absolutely no decorating skill required when making snickerdoodles, which eliminates the inevitable disappointment you'll feel when your snowman comes out looking like Homer Simpson.
7. Peanut butter cookies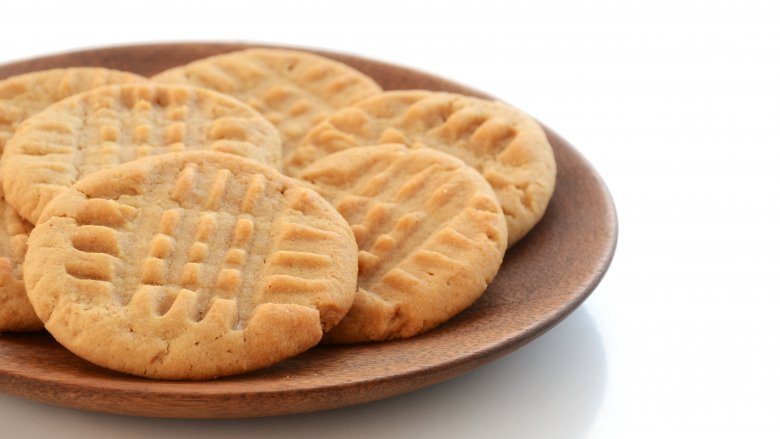 Shutterstock
There's just something about peanut butter cookies — they're fairly basic, yes, but in such a good way. Maybe they're rolled in sugar, maybe not. Doesn't matter — they're great either way. Maybe they're made with creamy peanut butter, or maybe it's crunchy. This doesn't matter either — both taste good. The standard pattern on top that's made with the tines of a fork is nothing fancy, but it's all this cookie needs. In other words, there isn't anything bad to say about this classic.
So why are they ranked at number seven if they're so good? In a cookie ranking from January to November, peanut butter cookies would firmly hold down spot number two. But during the holidays, they lose a little ground to make room for all sweet treats we only get our hands on once a year. One thing's for sure though: They will disappear at rapid speed from your cookie platter.
6. Danish butter cookies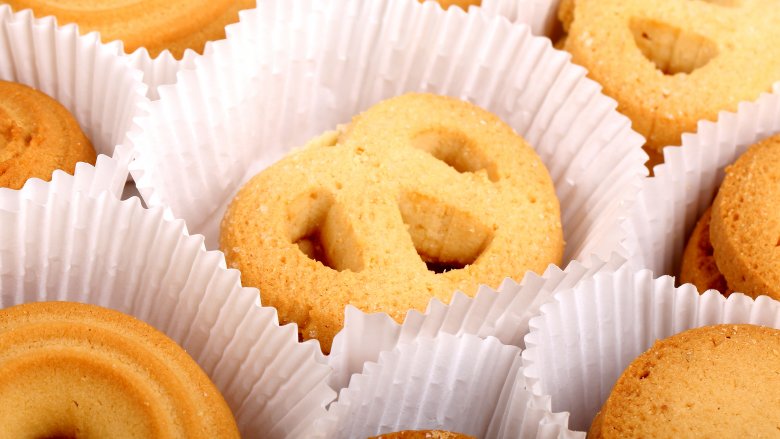 Shutterstock
You know it's Christmastime when the tins of food start showing up in stores. Trio of flavored popcorn? It's December, alright. The iconic blue tin of Royal Dansk Danish butter cookies? The holiday season is definitely upon us. For some reason, the food in those tins just tastes better. And yes, every cookie in that tin does taste generally the same, but we all still have our favorite. There's the one that has a hint of vanilla, and one that has a smidge of coconut, but it's the pretzel-shaped cookie that's coated in crystallized sugar that always goes first. 
Here's a helpful hint for the baking challenged: Do everyone a favor and buy these buttery treats for your cookie exchange. You'll avoid that awkward situation where you find your homemade creations in the office trash can later, and, as an added bonus, you can take the tin home and use it to store buttons, just like Grandma. 
5. Chocolate crinkles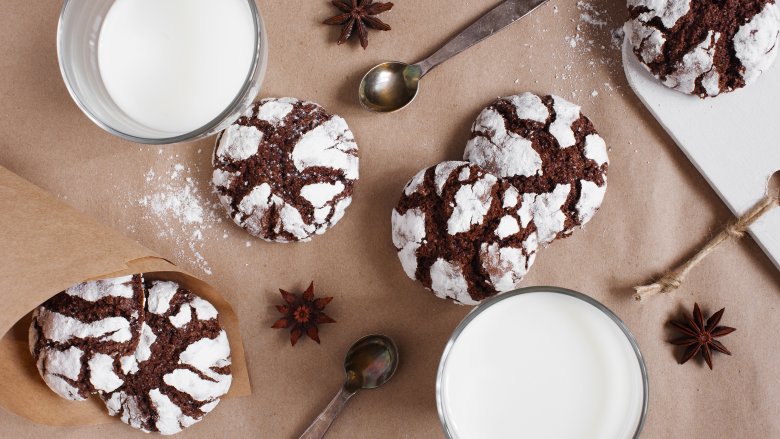 Shutterstock
Before you grab even one crinkle off the cookie platter, you're going to want to get yourself a tall glass of milk. Why? Because these cookies pack a seriously fudgy punch, and you'll need something to wash it down with. (Boozy eggnog happens to work just fine here, too.) 
Chocolate crinkles are like the brownie of the cookie world — with a soft interior that has just the right amount of chewiness, and a crackly exterior that easily gives way as you bite into it. Just look at that gorgeous powdered sugar coating that can barely contain all that chocolatey goodness. It's a sight to behold.
It's hard not to give crinkles a higher spot here, given they're the only all-chocolate cookie on this list, but top five isn't so shabby among these worthy competitors. It does beg the question though: Why aren't there more chocolate Christmas cookies in the world?
4. Pecan snowballs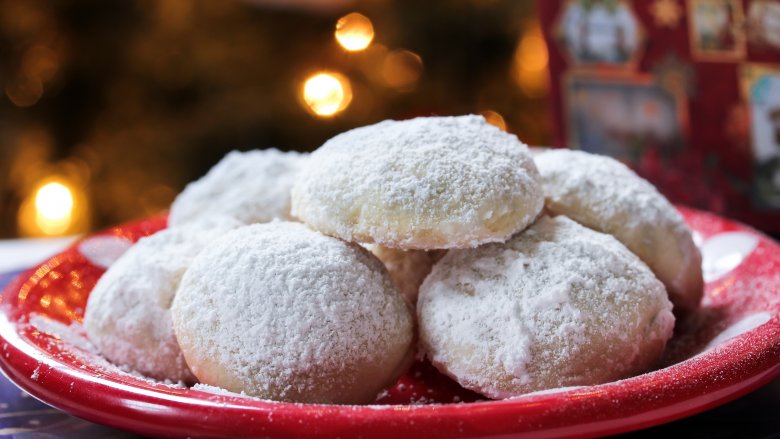 Shutterstock
Disclaimer: Pecan snowballs have to be made just right to hold down their number four spot on this list. You know the ones we're talking about... The delicate, buttery shortbread cookies that practically dissolve the moment you put them in your mouth. You barely even have to chew because they're so impossibly light, and you wonder if they're actually made of air (if air was made of confectioner's sugar and pecans, which sounds delicious). Those are the snowballs you could eat by the dozen without even realizing what you'd done.
But when there's a pecan snowball baking fail — and light and airy turns into hard as a rock — that's another matter altogether. Those failed snowballs definitely don't belong on this list, or a cookie platter for that matter, and actually make the decades-old fruitcake cookies sound pretty darn good. 
3. Peanut butter blossoms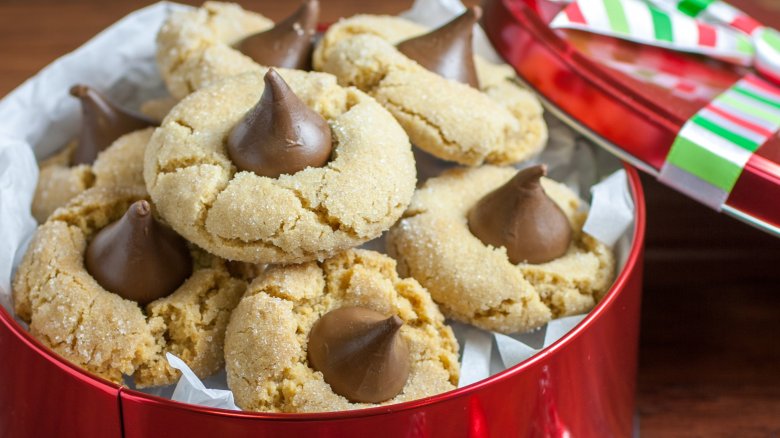 Shutterstock
Peanut butter and jelly is a very popular combination, yes, but some might argue that peanut butter and chocolate form an even more dynamic duo than the classic sandwich ingredients do. And yet, for some sad reason, peanut butter blossoms don't seem to pop up much from January to November. It's a real tragedy, because this sweet, salty, chocolaty treat has a lot to offer.
First, you've got the perfectly soft, perfectly chewy peanut butter cookie, which we've already established as being one of the best year-round cookies out there. But then, to take things to the next level, you've got the milk chocolate kiss pressed into the middle of that soft and chewy cookie, and since it's fresh from the oven when you do that, the kiss melts ever-so-slightly into the warm baked dough. 
In other words, peanut butter blossoms are utter perfection, and there is absolutely no need for jelly here.
2. Gingerbread cookies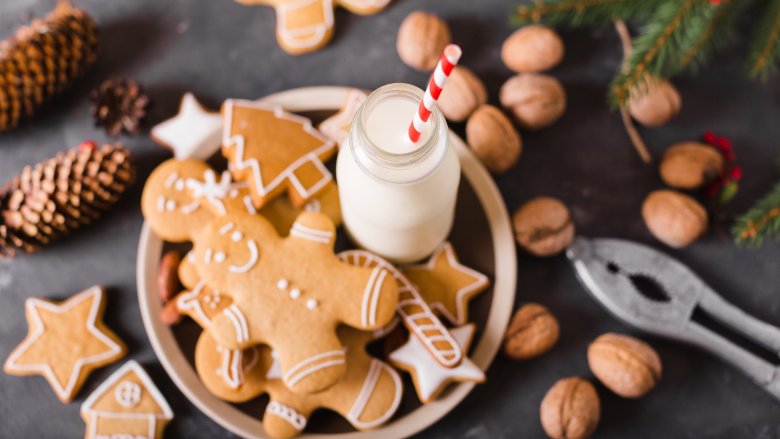 Shutterstock
A soft, chewy gingerbread cookie full of rich molasses and spice just screams holiday season. The flavors are synonymous with Christmas, and when those cookies are in man form, it's hard to come up with a more festive treat.
The only problem with gingerbread men is that things can go south in a hurry when you start the decorating process (much like the sugar cookies). Gingerbread cookies need no royal icing, no brightly colored frosting, and they certainly do not need to be adorned with shiny baubles that threaten to crack a tooth. No, gingerbread cookies should be enjoyed in their purest form, without any embellishments. 
If you've really got the cookie decorating itch, just buy a gingerbread house that you were never going to eat anyway, and go to town. But definitely make a batch of cookies, too. 
1. Chocolate chip cookies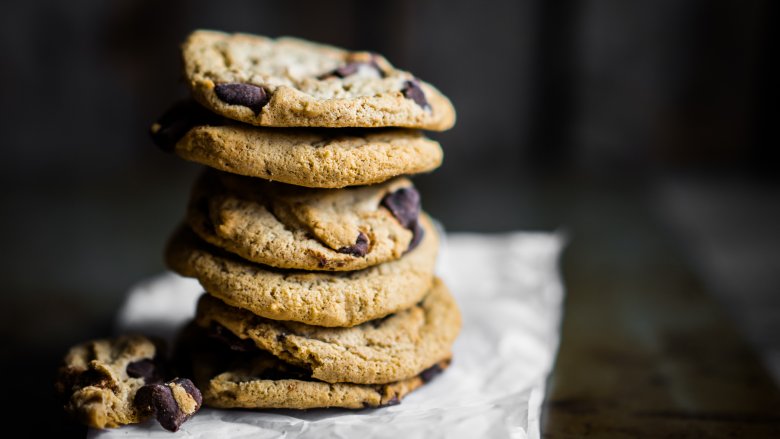 Shutterstock
Some might argue that your standard chocolate chip cookie isn't technically a Christmas cookie. But why would you exclude the best cookie of all from your holiday baking? Christmas or not, an expertly made chocolate chip cookie is king, and surely Santa Claus himself would agree. In fact, a cookie plate without chocolate chip cookies would most definitely earn you a spot on the naughty list.
Slightly crisp around the edges, a little chewy in the middle — it's truly perfection in cookie form. There's only one way a chocolate chip cookie can be improved upon, and that's when they're eaten hot from the oven, in all their melty chocolate glory. Sure, you run the risk of incurring a serious tongue burn from the molten chocolate chips, but that's a small price to pay for such a heavenly experience — and nothing a cold glass of milk can't fix.