Jack In The Box Just Added A Spicy Twist To This Classic Sandwich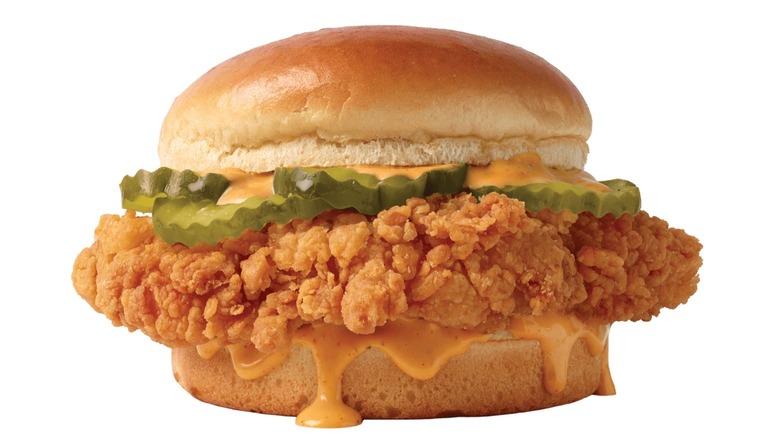 Jack in the Box
It has now been more than a year since that fateful day in mid-December 2020 when Jack in the Box gave in and threw down the gauntlet (finally!) in the already long-ongoing fast food chicken sandwich wars. The then-brand new Jack in the Box Cluck Sandwich, composed of a crispy-fried chicken fillet served on a warm brioche bun with pickle slices and a sweet-yet-savory sauce, clearly improved upon Jack in the Box's then-existing chicken sandwiches, which we reviewed here. 
Nevertheless, some Jack in the Box fans were put off by the company's insistence on referring to the fairly routine sweet-yet-savory sauce (made from mayonnaise, tomato paste, brown sugar, mustard, and spices) as "mystery sauce" (via Reddit). There was another potential problem: The Cluck Sandwich was originally supposed to be available for a limited time only, per the chain's press release. As it turned out, however, those who became fans of the Cluck had nothing to worry about. The Cluck Sandwich is still going strong — so much so, in fact, that Jack in the Box has added a spicy twist to its now-classic fried chicken sandwich. 
Well, two spicy new twists, apparently, according to Franchising.com, which reported earlier this month that Jack in the Box had announced the launch of its new Spicy Cluck Sandwich AND its even spicier Blazing Cluck Sandwich.
The new twist on Clucks "lean in" on the spicy
On December 13, Jack in the Box announced the launch of a new and spicy twist on its Cluck Sandwich, the Spicy Cluck, along with the even spicier Blazin' Chuck Sandwich (via Franchising.com). Both of these spicier takes on the classic Cluck "lean in" on the heat, with the Blazin' Chuck taking things to an even hotter level. 
"Our fans wanted us to bring the spice ... so we did," said Ryan Ostrom, Chief Marketing Officer of Jack in the Box. Ostrom also clarified that as far as Jack in the Box is concerned, "spice isn't just a flavor profile, it's a passion and attitude," and "fans will taste that passion and attitude in each bite." It's not at all clear from Jack in the Box's statement what makes the Spicy Cluck different from the Blazin' Cluck. What's clear, though, is that either way, you can expect a "bigger and crispier" fried white meat chicken fillet, served on brioche with sliced pickles and some version of "Jack's Good Good sauce" (which may be what Jack in the Box meant by "mystery sauce" all along). 
Judging from the reaction on Reddit's fast food subreddit, Jack in the Box fans are loving it. "Not nearly as spicy as expected but packs a ton of flavor," one Redditor noted. In addition, some Redditors speculate that the amped-up spiciness comes not just from the sauce but also from the breading.