Jack In The Box's New Entry Into The Chicken Sandwich Wars Includes A Twist On This Classic Dance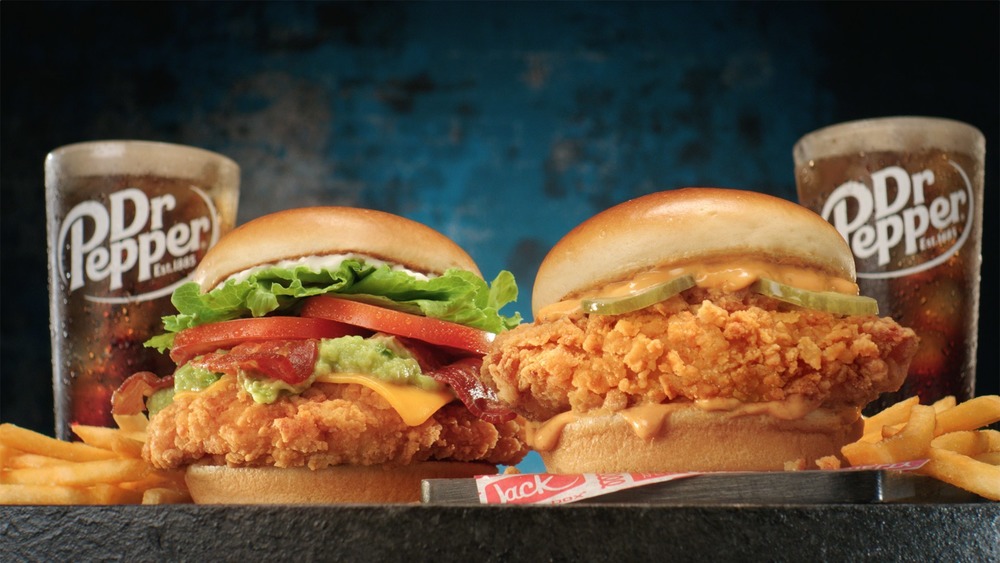 Jack in the Box
Good news chicken sandwich lovers, acclaimed fast-food chain Jack in the Box has finally released their much anticipated chicken addition to their already impressive menu. And let's face it, we could use more good news this year — or what's left of the year. Meet the Cluck Sandwich, the latest contestant in the famed chicken sandwich wars, according to a press release. This chicken delight is one sandwich you'll probably be hearing lots about on social media. The limited time Cluck Sandwich is packed to the bun with flavor and flair. Nestled inside a warm brioche bun, you'll find a crispy chicken fillet that's cooked to perfection and topped with a mystery sauce and pickles.
As if the release of the new chicken sandwich isn't enough, to celebrate the huge release Jack in the Box is also partnering with mega-star singer and actress Becky G to add a twist to the classic chicken dance. Yup, it's official. The chicken dance is now remixed, and for a good cause. Partnering with artist Becky G means this dance is sure to sweep through TikTok and Instagram.
Jack in the Box dance is for a good cause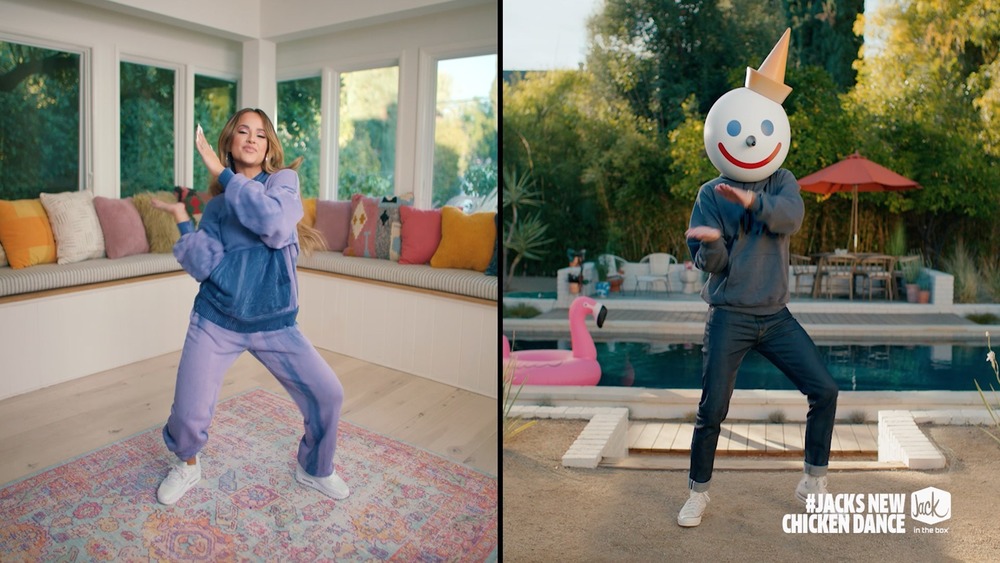 Jack in the Box
If you're planning on showing the world your cluck cluck moves, the press release states you should use #JacksNewChickenDance between Dec. 17 to Feb. 14, as Jack in the Box will donate $1 for every dance shared to No Kid Hungry and match up to $100,000. "Having the opportunity to combine two things I love, dancing and helping others, is something I always strive for when collaborating with brands," Becky G said in the press release. "When I was approached with the chance to help create a TikTok dance that will raise funds for No Kid Hungry with Jack in the Box, I was so excited to participate." 
To help encourage fans to get up and dance, Jack in the Box also enlisted the help of famous TikTokers like Joshua Sadowski, The Williams Fam, and Matt McCall. Follow them for a chance to see clever breakdowns of all the new moves. The Cluck Sandwiches will be served for a limited time only at select Jack in the Box locations.