How Bobby Flay's Girlfriend Influenced His Holiday Cooking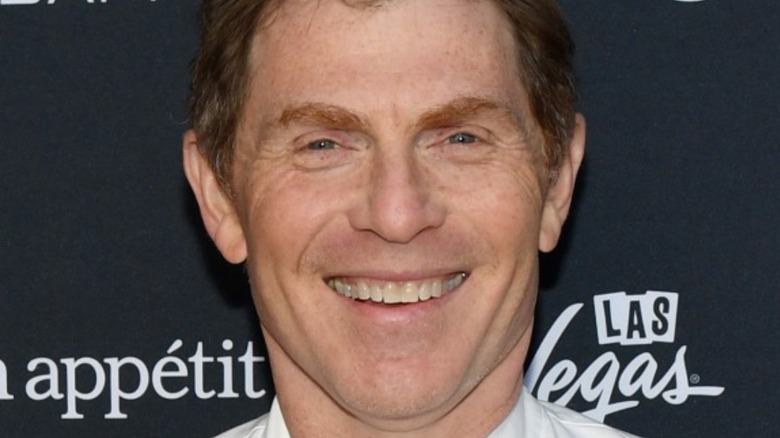 Ethan Miller/Getty
It looks like one of the most eligible bachelors in food celebrity land is off the market. Bobby Flay is apparently smitten with his new girlfriend, writer Christina Pérez. Speaking to People in a recent interview, he said she is "so lovely" and added that "she's always the light at the end of the day for me." Insert a love-struck googly-eyed emoji. Pérez, who is a vegetarian, is apparently rubbing off on Flay, as girlfriends will do, in terms of lifestyle, and even on the way he cooks and eats, as the famed TV chef says she is teaching him to cook "with a lot less meat."
It's no secret that Flay loves food. According to his website, he holds food as the "center of his universe," and is forever grateful that his French Culinary Institute education and life experiences have afforded him the opportunity to live his culinary dreams. Now that he has an ideal girl by his side, his holiday menu, which, according to a December 14 Twitter post, was being cooked up by himself and his daughter, Sophie, encompasses many celebratory meals. "Eve, Day, Dinner, Brunch, Cocktails and beyond," will likely include a nod to Pérez's Puerto Rican heritage.
Feasting together for the holidays
As the happy couple are planning on being together for the holidays, Bobby Flay told People that he was considering indulging in the Island's flavorful cuisine on Christmas. As he explained, he loves the food and wants to acknowledge his new flame's Puerto Rican roots. The grand Puerto Rican Christmas meal, typically served on Christmas Eve, or Nochebuena, usually consists of lechón (roast pork), as well as various seafood dishes, and is toasted with coquitos, a delicious Puerto Rican take on eggnog.
We know that the Flay kitchen will be serving up the traditional Italian seafood repast known as the Feast of Seven Fishes on Christmas Eve, so incorporating some Puerto Rican seafood dishes that are often served during their Christmas Eve celebration, like bacalaitos fritos con bacalao guisado (salt cod fritters with cod salsa) or tostones con camarones guisados (plantain fritters with stewed shrimp) would be an obvious option. As Flay has successfully immersed himself in the preparation of many authentic international cuisines in his day, we're guessing his culinary kiss to his beloved will be, well, out of this world.