We Tried Chrissy Teigen's New Chicken Chips. Here's How It Went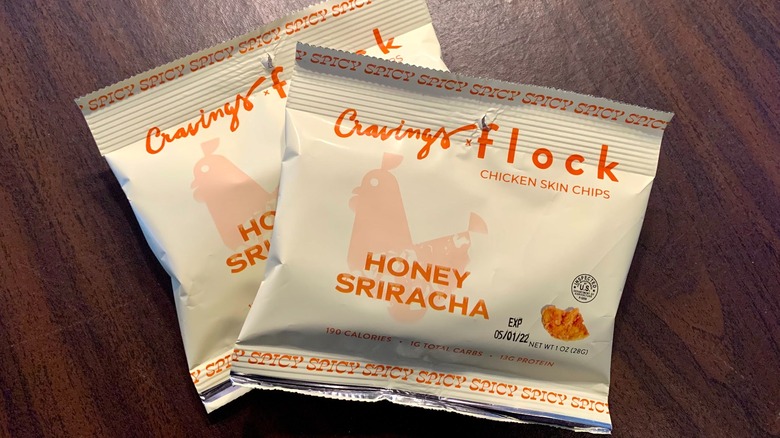 Anne Taylor/Mashed
While the meat inside is certainly enjoyable, the key to a great fried chicken dish is the crispy skin. The crunch should reverberate across the dinner table as you bite into a leg or thigh. Just the thought makes our mouths water. Wouldn't it be great if we could enjoy the taste of fried chicken skin without the multi-hour hassle of marinating and deep-frying a bird?
Enter Flock Chicken Chips. This brand, known for making keto-friendly chips out of fried chicken skins, partnered with Chrissy Teigen's company Cravings to create a bold new flavor. On December 7, Cravings x Flock Honey Sriracha Chicken Skin Chips were released to give consumers a Thai-inspired version of Flock's popular high-protein snack. According to a press release shared with Mashed, these chips combine the "bold sweetness of honey and the heat-packed punch of red chili peppers to create a mouth-watering sweet and savory flavor profile like no other." Here's what you need to know about this new snack.
What are the ingredients in Cravings x Flock Honey Sriracha Chicken Skin Chips?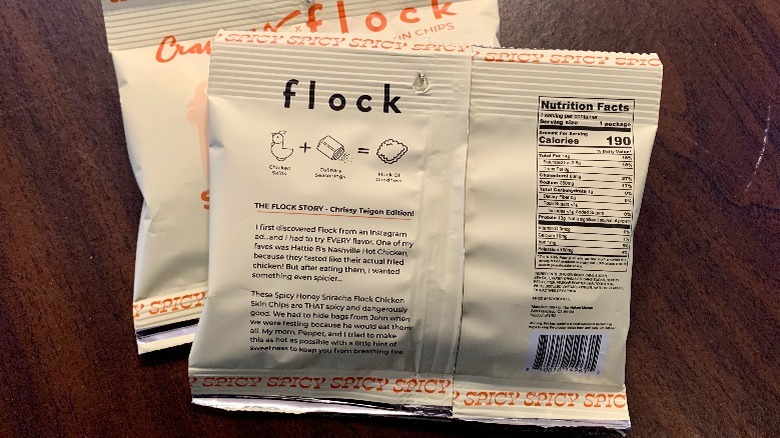 Anne Taylor/Mashed
People who like unprocessed snacks will appreciate the ingredients list of this one. These chicken skin chips only contain a handful of ingredients, the first one being chicken skins that are fried in soybean oil. The remaining items on the nutrition label all come together to create the sweet and spicy seasoning that coats each chip. Cane sugar and honey granules add sweetness while sea salt, red pepper, vinegar powder, ginger, and extractives of paprika give a spicy aftertaste. The chips also contain "natural flavors," although it's unclear exactly what those are.
Each serving comes in a one-ounce bag that's about half-full of chips. The handful of chicken skins seems small when we first opened the package, but after we ate them we realized the serving size was well thought out. These chips are filling! The heat is no joke either, and we weren't sure if our tongues could have handled many more bites. The bags are a little hard to open and require being torn diagonally to get inside. This may not be an issue for some people, but it means you're forced to pour chips into your hands instead of reaching inside the bag to pull them out one at a time.
How much does this treat cost?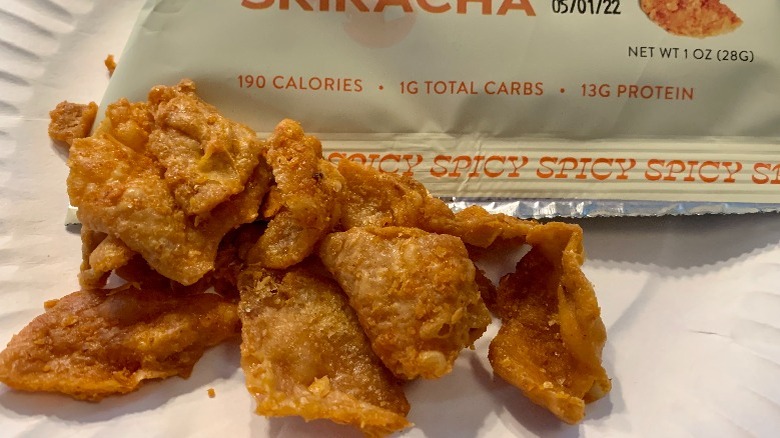 Anne Taylor/Mashed
The Cravings x Flock Honey Sriracha Chicken Skin Chips are currently only available online through the Flock or Cravings websites. They must be purchased in a pack of eight bags at $3.25 per bag, which totals to $26 for the entire purchase. Shipping costs will vary for items purchased through the Cravings website while Flock states on its website that "shipping fees are $5 per pack." Taxes will depend on your location. Flock also guarantees 100% satisfaction and has a 30-day refund policy. The Cravings website states that it is "usually unable to change or cancel an order after you've placed it."
Flock Chicken Chips does sell some of its products in other stores, including Fred Meyer and Netrition.com. Many items from the Cravings brand were sold at Target until the retailer dropped Teigen in May 2021 after it was revealed that she had repeatedly bullied model Courtney Stodden in 2011. However, no physical retailers currently sell the honey sriracha flavor of these chicken skin chips.
Cravings x Flock Honey Sriracha Chicken Skin Chips are available nationwide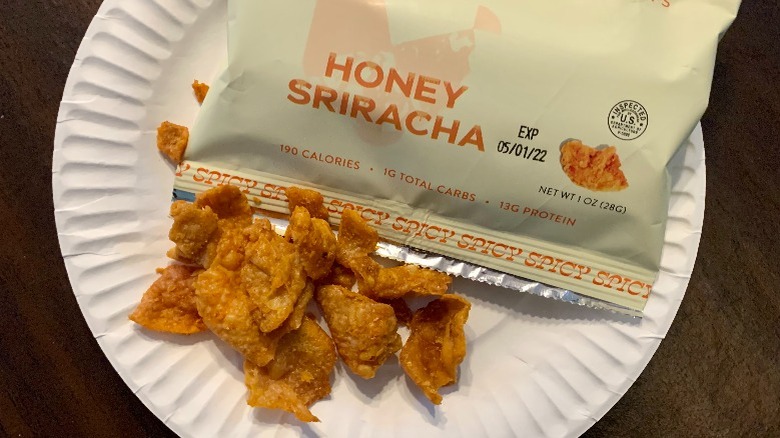 Anne Taylor/Mashed
Because these new chicken chips are only sold online, they're available to anyone in the country. Cravings states that it ships to the contiguous United States, although it is unable to deliver to PO Boxes, APO, FPO, or DPO at this time. Flock ships nationwide, including Hawaii, Alaska, Guam, and Puerto Rico. They also deliver to United States military bases.
The Cravings x Flock Honey Sriracha Chicken Skin Chips have not been listed as a "limited time offer," so it is unclear how long they will be available. Flock partnered with the well-known hot chicken restaurant Hattie B's in June 2021 to create a Nashville Hot flavor of their chicken chips. Those chips are available on the Flock website as of December 2021, so it's not unreasonable to assume that the Cravings partnership will last for at least six months as well. However, we don't know this for sure, so order a pack soon if you'd like to try them.
How do these compare to other Flock products?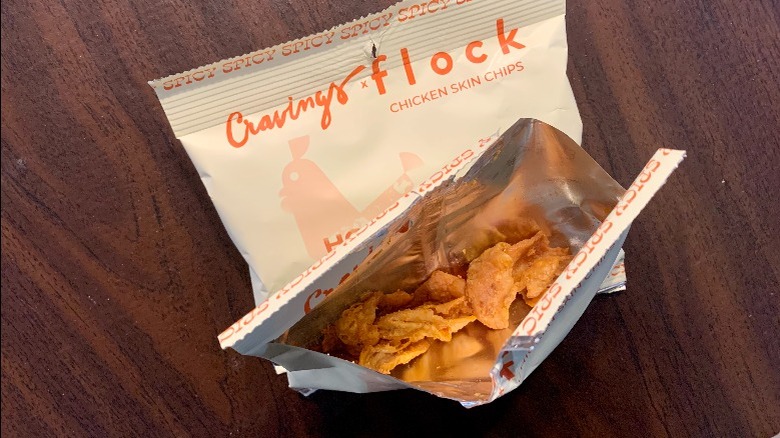 Anne Taylor/Mashed
Flock currently sells four flavors of chicken skin chips in addition to Honey Sriracha. Those flavors are Hattie B's Nashville Hot, Salt and Vinegar, BBQ, and Original. The Hattie B's Nashville Hot chicken skin chips are similar to the Honey Sriracha, with a more distinct barbecue flavor from ingredients like brown sugar, paprika, and ghost chili powder. While those chips will please any spicy food fan, the Cravings chips have a more consistent burn that lasts longer than the Nashville version.
We have to say, Honey Sriracha is our favorite flavor of the bunch. While all of the Flock flavors are tasty, the Cravings partnership created a chip with the perfect blend of sweet and spicy. We appreciate the tang of Salt and Vinegar, the smokiness of BBQ, and the saltiness of the Original flavor, but we'd choose to reach for Honey Sriracha every time. Flock also sells panko "bread crumbs" made from pork rinds and bacon jerky. Both of these products are tasty, but we're partial to the chicken skin chips.
What's the nutritional information of Cravings x Flock Honey Sriracha Chicken Skin Chips?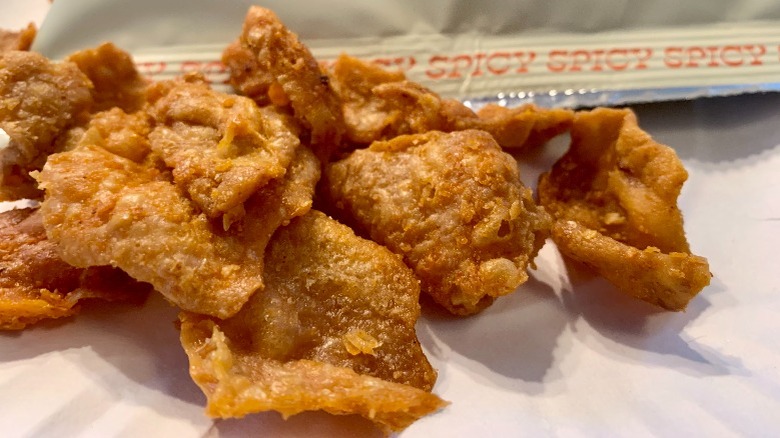 Anne Taylor/Mashed
Flock's chicken skin chips are marketed as a low-carb, keto-friendly, and gluten-free snack. No one is trying to claim that fried chicken skins can replace carrot sticks when you're on a diet, but these can be a good treat for anyone on a keto or low-carb meal plan. Each one-ounce bag contains only one gram of carbohydrates and less than one gram of sugar (via Flock). One bag, which is one serving, has 190 calories and 13 grams of protein as well, making this a low-calorie, high-protein snack to munch on.
So what's the bad news? It's not surprising that these chips are relatively high in fat, boasting 14 grams per serving. However, only 3.5 grams are saturated fats and there are no trans fats to be seen. Each bag also has 80 milligrams of cholesterol, 350 milligrams of sodium, and zero grams of fiber. Should you eat these every day? Probably not, especially if you're watching your fat intake or cholesterol levels. However, they can definitely fit into most diets when enjoyed occasionally.
Are these chicken skin chips worth the hype?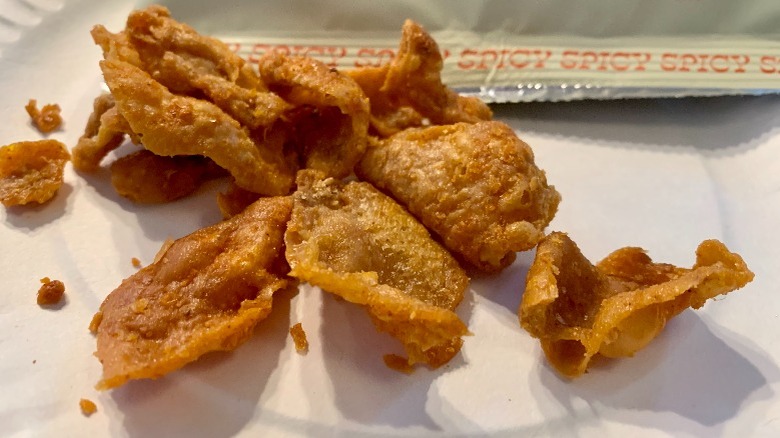 Anne Taylor/Mashed
We have to admit that we had never tried fried chicken skin chips before this product came out. We're happy to say that we were pleasantly surprised and are ordering more as we speak. We found these chips to be delightfully crunchy with a great flavor profile. The sweetness from the honey and sugar is the flavor that hits your tongue first. It's immediately followed by a distinct fried chicken flavor that made us feel like we just peeled the skin off of a freshly fried batch of chicken.
After chewing for a few seconds, the heat from the sriracha starts to kick in and packs a powerful punch without overwhelming the chicken skin flavor. The heat continues to linger in the back of your throat for several minutes after eating and gets more powerful with each bite. However, we never found the spiciness to be too intense. Overall, we loved this new product and will probably make it a staple in our pantry moving forward.