The Surprising Origin Story Of Nashville Hot Chicken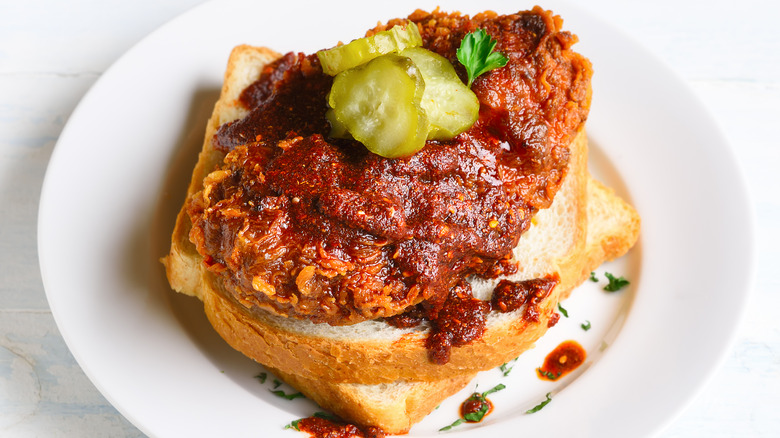 Shutterstock
For the most passionate of spice lovers, few foods are considered more craveable than Nashville hot chicken. This fiery brand of fowl, which originated at a Tennessee institution with a royal name, marries a southern classic with a hit of tongue-tingling heat. Over its 76-year history, Prince's Hot Chicken Shack has been a staple of the Nashville community and is credited by many as the birthplace of the dish that has taken the culinary world by storm.
Offering several flavors of chicken, including mild, medium, and hot, Prince's has served its chicken the same way since the start, with briny sliced pickles, a slice of white bread to soak up the fiery, flavorful juices, and a choice of sides. Timothy Davis, author of "The Hot Chicken Cookbook,"told NPR that "Prince's is the ground zero of hot chicken." However, the origin of Prince's legendary dish is more salacious than you might expect.
The scandalous beginnings of Nashville hot chicken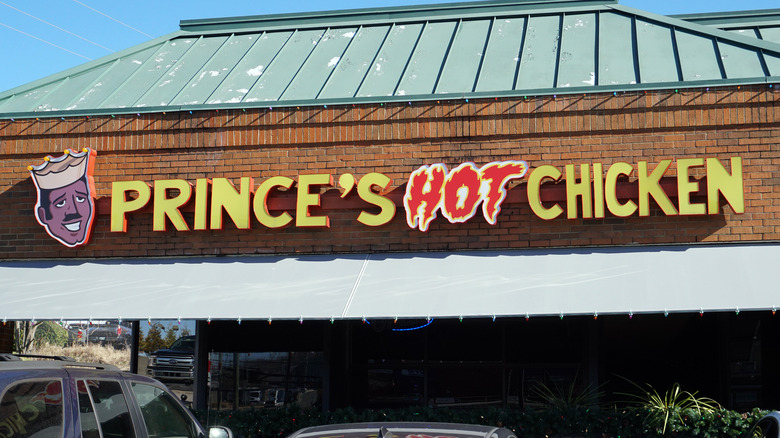 Shutterstock
As southern legend goes, the origin of hot chicken can be traced back to a well-known womanizer named Thornton Prince, who was "tall, handsome, and good-looking," according to his great niece, André Prince Jeffries. "Even in the height of the Great Depression, Thornton Prince knew how to have a good time. He enjoyed the nightlife and had a well-earned reputation as being quite the ladies' man," the restaurant's About Us page explains.
Per Prince family lore, after stepping out on his "steady girl" one Saturday night, the next morning Prince was served up a plate of fried chicken that had been doused with hot pepper to teach him a lesson. Apparently, despite the unexpected heat, Prince loved the taste of the fiery fried dish and began sharing it with friends and family.
After perfecting a hot chicken recipe, Thornton Prince went on to open his first chicken shack — then called BBQ Chicken Shack — which served up the dish to late-night diners. In 1989, André Prince Jeffries continued the family's hot chicken legacy by opening the restaurant's iconic East Nashville location and renaming it in the family name.
According to Davis, "there's no secret" to preparing hot chicken, beyond "a ton of cayenne." The fiery dish is typically prepared by marinating the chicken parts in buttermilk, breading, and deep-frying, before coating the chicken in a cayenne pepper-based paste that gives the fowl its signature heat.
How Prince's — and hot chicken — became a Nashville institution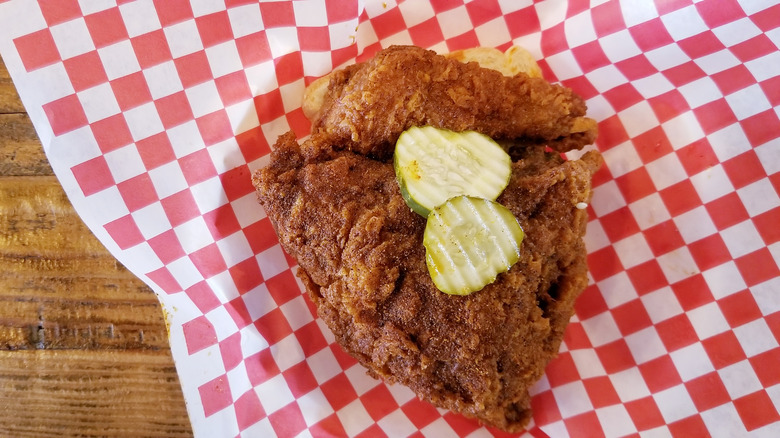 Shutterstock
From its earliest days, Prince's has drawn in countless fans. Many come back time and time again and are willing to travel great lengths to taste the original. Bobby Meadows, a 64-year-old native who has been eating Nashville hot chicken since he was 12 years old, told NPR that he regularly makes the half-hour pilgrimage just to get his fix. "It's got a craving worse than anything. And when you get to thinking about it and your mouth gets to water, you might as well turn your truck around and go get you some, 'cause it ain't going to get no better," Meadows said.
On any given day, customers craving a taste of Prince's legendary chicken are likely to encounter a line wrapping around the building at all hours of the day and night. Despite moving locations numerous times over the years, and not doing any form of advertising, Jeffries credits word of mouth and a loyal customer base for keeping Prince's in high demand over the years (via Southern Foodways) — with or without the charms of her infamous uncle.