These Chefs Are 2022's Rising Stars, According To Food Network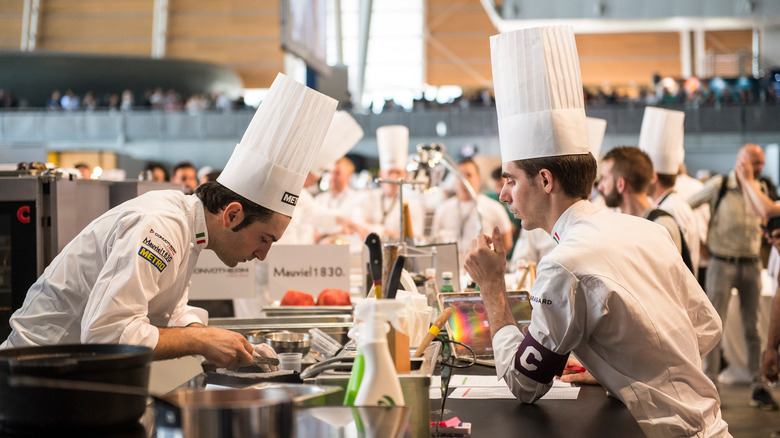 Stefano Guidi/Shutterstock
Most food fans are familiar with a myriad of famous chefs and their namesakes. Ina Garten, otherwise known as the Barefoot Contessa, made a name for herself as a home cook who teaches fans how to make enticing meals for gatherings. Gordon Ramsay is known for his Michelin-starred restaurants and harsh but secretly soft demeanor as a mentor on several shows. And Bobby Flay has been known for 27 years as a personality and chef on Food Network, with an inability to be beat in cooking competitions. And that's just a few of the many big names that have become culinary superstars. 
But, as years pass, so do torches, and it's now time for a slew of new names to come into the kitchen and take up their rightful place front and center on our TV screens. To that purpose, Food Network has chosen to pick the next generation of rising star chefs, and you are going to want to pay attention to them in the next year.
Look for these budding talents to take center stage on TV and online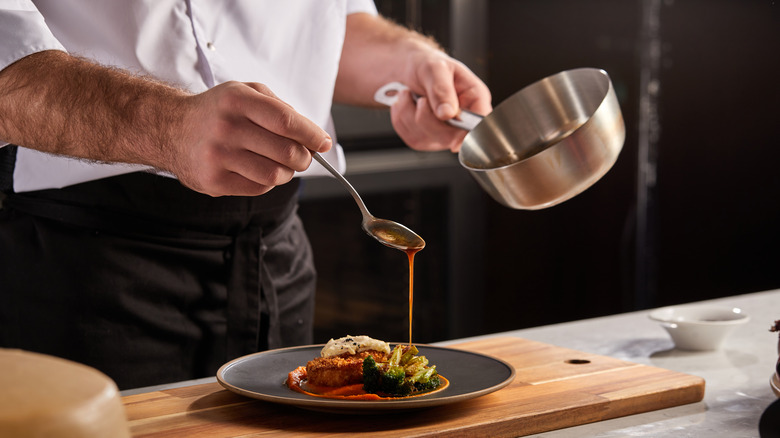 Roman Chazov/Shutterstock
Time Magazine has their annual Top 100 Most Influential list, and People names their Most Beautiful stars each year, but did you know that Food Network now has a "best" list all their own? Their new ranking aims to highlight the best and brightest culinary minds, as picked by those working for one of the most premiere sources for food news and entertainment. According to Deadline, on December 20, the network released their inaugural "Hot List," and it includes 12 peopled earmarked as "Food Stars to Watch in 2022." The roster includes "social media superstars, leading recipe testers, classically trained chefs, and culinary competition powerhouses," per the article.
As Yahoo reports, the 12 featured food personalities include Tabitha Brown, The Try Guys, Ahmad Alzahabi, Kelsey Barnard Clark, Darnell Ferguson, Matt Broussard, Cliff Crooks, Rhett & Link, Joe Sasto, Kathy Fang, Eric Adjepong, and Kalen Allen, who Food Network insists present unique and attention-grabbing attributes that will surely propel them even further in the year to come. An online special is planned soon where viewers can learn more about each one, per the article.
"At Food Network, there's nothing more exciting than finding the next incredible culinary talent. Each of these dozen chefs and influencers has a completely distinct and unique point of view. Bringing these electrifying experts together for our inaugural hot list is the perfect opportunity to draw attention to them," Courtney White, President, Food Network and Food Streaming Content, Discovery, told Deadline. "We invite our audience to join us in celebrating these dynamic food stars on the rise."