A Costco Employee Gave This 2-Year-Old Customer The Sweetest Surprise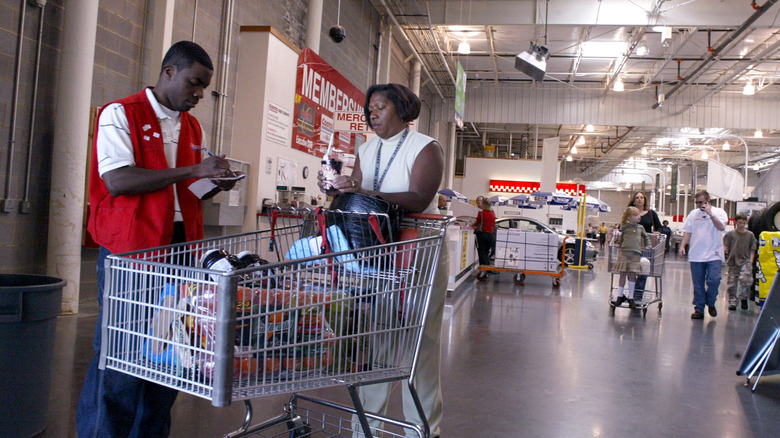 Bloomberg/Getty Images
Those who shop at Costco or similar warehouse stores are likely familiar with having their receipt checked at the door. As Taste of Home points out, some shoppers might think this is to catch potential shoplifters, but that isn't the only reason.
According to Business Insider, one function of the receipt check is to make sure customers have what they paid for — no more, no less. Another reason employees check the receipt is to make sure it was printed that day, and isn't being used to score some extra goods.
Receipts that pass the checkpoint are marked. At some locations, the mark is just a simple line. At other locations, receipts get marked with a smiley face, such as those drawn by one well-paid TikToker. And still, at other locations, employees might note a receipt with a thoughtful little sketch. We all appreciate acts of kindness, but for children especially, these moments make a huge difference — and one mother recently shared so on Reddit.
A simple gesture goes a long way for this young Costco shopper
One Costco shopper took to Reddit after their latest trip. According to the caption, the employee who checked their receipt sketched a child's face on the back, making the shopper's two-year-old very happy.
People who saw the post on the forum loved the sentiment behind it and applauded the employee for taking the time to make a child's day. One person commented, "I really like that they do this! My husband and I were talking about it recently. My daughter loves getting a smiley face or a flower on the receipt." Another person commented, "They always did this for my son and now he always asks for a happy face. Every time I go to Costco he wants to go get his happy face."
User BrijReddit, who posted the photo, emphasized how much the gesture meant. They said, "This was scribbled fairly quickly by an old sweet lady at Livermore Costco. It made our day. Thank you for this kind gesture. Going to keep this."