Fast Food Employee Acts Of Kindness That Will Make You Cry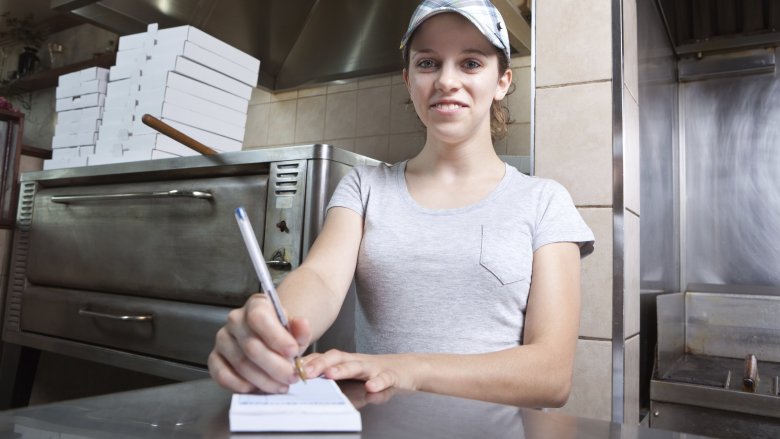 Shutterstock
Every day, we're bombarded with the dark, dismal, and depressing news of the world. Social media is filled with stories of people doing all kinds of terrible things, so let's switch it up a bit. Let's take a look at the people who went out of their way to brighten someone's day. In doing so, many made an impact they couldn't possibly have expected. These fast food employees went above and beyond to show you don't have to have super powers to save the day.
Qdoba's employee makes a special effort
In 2015, David Jones was grabbing a quick bite at a Qdoba in Louisville, Kentucky, when he caught one of their employees doing something he knew he had to film. The employee was Ridge Quarles, and when NBC News talked to him after the footage went viral, he said he knew the customer well enough to know what she wanted to order. On that day, though, he didn't hesitate when she asked for some help eating.
Her name and personal story weren't shared, but Quarles said after she gets dropped off, she has to wait outside until someone sees her or another customer offers to help. And when she asked him for help eating her meal, he did exactly that.
Jones was impressed by that simple act of kindness, and so was the world. He told NBC, "It seems to me that if everybody in the world would just use the little simple gift that they have to maybe benefit somebody else, think what the world would be like."
McDonald's employee saves police officer's life
Pedro Viloria was working the drive-thru at the Doral, Florida McDonald's in March 2017, when his night took an unexpected turn. He was about to hand an order out the window when the SUV in the drive-thru started to move, and the kids in the back started to scream. Viloria jumped out the window and ran in front of the car to help stop it (via NBC Miami).
Another employee (who requested anonymity) helped perform CPR on the driver, while two other customers also ran to the woman's aid. Fortunately, one of those customers was an off-duty fire rescue officer, and they were able to stabilize the woman.
Viloria stayed with the kids while others helped their mother, later saying, "I was trying to tell them it will be all right, the kids were breaking my soul. ... She's alive and that's enough, if I had to die to save that woman, I would have." He didn't know at the time he was saving an off-duty police officer, and the owner of the McDonald's said Viloria's selfless act wasn't a surprise. He's just that kind of guy.
DQ employee calls out thief, and more
Joey Prusak started working at the Hopkins, Minnesota Dairy Queen when he was in 8th grade, and by the time he was 19, he'd worked his way up to manager. In 2013, he was involved in an incident with two customers that would have went unnoticed, if another customer hadn't witnessed the whole thing and sent an email to the store owner.
Prusak was serving a blind man when the customer dropped $20. The woman behind him in line picked it up and pocketed it, and Prusak called her out on it. She refused to give the money back, saying it was hers. Not accepting that sort of thing in his store, Prusak told her to leave, then went above and beyond. He pulled out his own wallet and gave the man his own $20. When that act of kindness and honesty went viral, Prusak said he never intended to make the news, he only wanted to do what was right.
Burger King employee comes to the rescue
In December 2017, Rebecca Boening was driving on the Texas interstate when she felt her blood sugar drop. Boening — a diabetic — needed to get some food, so she pulled into the nearest Burger King drive-thru. She struggled while placing her order, apologized, and explained she was having a diabetic episode.
It was only moments before she saw an employee running out to her with a cup of ice cream. Employee Tina Hardy's husband is diabetic, so she knew exactly what needed to be done. After Hardy went back inside and got Boening her food, she told her to pull off to the side to eat. Hardy wanted to keep an eye on her to make sure she was all right. Boening shared the story on her Facebook page (via Today Food), and it went viral. There was an outpouring of thanks, and donations on the YouCaring page Boening set up to try to raise money for a car for Hardy. One good deed deserves another.
Hardee's employee lends a hand
Sometimes, it doesn't take much to make someone's day — just a reminder there's still good people out there. In 2015, the NY Daily News picked up the story of Kailen Young, a 17-year-old Hardee's employee. He was washing windows at his Knoxville, Tennessee location when he helped elderly Bobbi Clare to her car. Clare was using a cane, and Young was caught by other customers offering her his arm.
Young was presented with a $1000 check from Hardee's for his actions, but said he was shocked at how out-of-the-ordinary that simple gesture was seen to be. But Clare's comments summed up just how much of a difference even the smallest of actions can make in someone's day.
"I felt a little touch of heaven, that kindness and goodness in the world. We need that so much, don't we?"
McDonald's employee inspires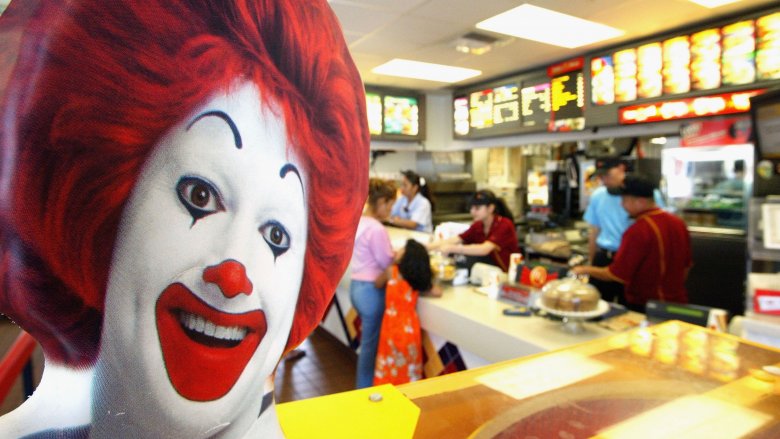 Getty Images
Language is an integral part of your identity, and there are a ton of lesser-known languages that are consistently shrinking. New Zealand's census records show the number of people who speak te reo Maori is on the decline, and that's what made Jershon Tatana's actions so important.
The McDonald's employee wasn't just taking orders in September 2017, he was taking orders in his customers' native language. He was overheard by Jeremy Tatere McLeod, a language advocate who was there for breakfast with a group of te reo speakers. "He started speaking back — we were absolutely blown away. We were very pleasantly surprised," he told the NZ Herald. It's hugely important, too. Advocates organize events to normalize speaking the language, and are struggling with how to keep it relevant and important to future generations — just like Tatana, who's setting a serious example.
Chick-fil-A manager lends a helping hand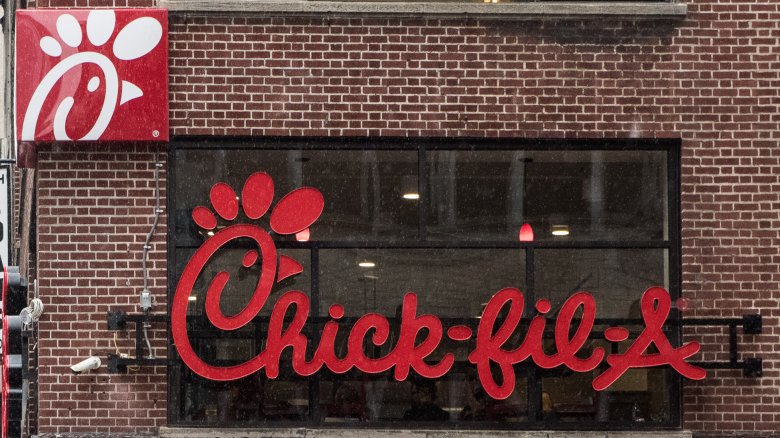 Getty Images
In 2014, Birmingham, Alabama was treated to a strange sight: snow. It wasn't just a dusting, either, and by the time everyone realized just how much snow they were going to get, many people were stuck. That included thousands of people who were trapped in their cars on the interstates.
That's where one Chick-fil-A owner, Mark Meadow,s and his employees came in — they opened up their doors to shelter those in need. Then, employees started cooking and trudging out into the snow, delivering hot sandwiches and something to drink to people who were stranded. By that point, Fox News says some had been trapped in their cars for seven hours, and seeing Chick-fil-A employees emerging from the storm had to be completely surreal. It was even more surreal when cold, hungry motorists realized the hundreds of sandwiches they gave out were completely free.
A year later, Mark Meadows made Fox News headlines again. It was another cold winter, and when one man ventured into Chick-fil-A wearing only jeans and a hoodie, he approached Meadows and asked if he could do some work in exchange for a sandwich. Meadows gave him the meal — and some gloves.
Domino's workers realize regular customer needs help
Work at a fast food location long enough, and you'll get to know your regular customers. For one Domino's location in Oregon, they had one super-regular customer who had placed an order almost every day for seven years. When the orders suddenly stopped, the team decided they'd better check on him.
Manager Sarah Fuller sent one of their regular drivers to his home, after calling his house and getting no answer. When the driver got there, lights were on but no one came to the door. They called 911, and when emergency response teams arrived and broke open the door, they found themselves responding to a medical emergency.
The man was rushed to the hospital, and the Statesman Journal reported he was not only grateful to the Domino's team for saving his life, but that he was, at the time, in fair condition.
Wendy's employee braves storm
There's a ton we don't know about this story, because it comes from a single picture posted on Reddit in 2013. The photo shows an elderly man using a walker, leaving a Wendy's location in the sort of storm that makes most people decide to wait in their car and see if it lets up. He's being helped by an employee, who grabbed one of the umbrellas from their outside tables to hold over the man as he made his journey to his car.
The caption reads, in part, "Faith in humanity partially restored." We agree.
McDonald's employee moves customer to tears
Let's head to a McDonald's in central Chicago for this one, and an employee The Independent only identifies as Kenny. Kenny was a cashier in 2015, and when an elderly, wheelchair-bound man asked him, "help me please", Kenny didn't hesitate. He figured out what the man needed, then disappeared — to wash his hands and put on gloves. When he returned, he closed his register and sat down with the man to cut his food and help him eat.
Destiny Careeno saw the whole thing, and said it moved her to tears. She posted a picture on Facebook, saying it held a special meaning for her as someone with a disabled family member. Careeno wanted to recognize those who went above and beyond to lend a helping hand, and tell the world just how much such a gesture could mean not just to the person, but to those around them. Kenny's kindness was recognized by the chain, and by social media, who shared the picture hundreds of thousands of times.
Pal's Sudden Service employee saves toddler's life
You never know when you're going to find yourself in the middle of an emergency, and for Pal's Sudden Service employee Kaela Eads, that happened in March 2017. According to CBS, Eads was just wrapping up her shift when a customer ran to the drive-thru window with a toddler in her arms. She had been just about to drive away when she realized the boy wasn't breathing, and Eads ran out. The 18-year-old had gotten her CPR certification from school, and started her attempts to get the boy breathing again.
And she did. By the time emergency services arrived he was breathing — faintly — and was rushed to the hospital. Eads followed up with the family later, and found the boy was doing well. "I guess everything happens for a reason," she said later. "I ended up being the only one that could do it, so I was very thankful for that, and the mother assured me that she is very thankful for that."
Taco Bell employee's special skill helps in a pinch
If you've ever wondered whether or not the things you learn in high school have a practical application, Caleb Francis has the answer: they do. When it came to picking high school electives, he decided to learn American Sign Language. He had a knack for it, too, and after two years of classes he was fluent enough to be able to talk to a deaf customer who came into Taco Bell during his shift. Another customer caught the interaction on video, and Francis was lauded for his ability to reach out and make the man's day a little easier.
The customer was lost about how to place his order, but Francis was able to step in, communicate, and turn a potentially difficult experience into a pleasant one. News 5 Cleveland tracked Francis down after the exchange was posted online, and he says he honestly just loves being able to reach out to someone and make their day just a little bit better.
Domino's employee pays for a police officer's lunch
In recent years, law enforcement has been under a microscope. Popular opinions of officers have made a hard job even harder, and in 2016 one Domino's employee from Kentucky decided she was going to make a small gesture to say 'thank you.' Ashley Calvert decided she was going to buy lunch for the next officer that came through, and that ended up being Officer Paul Roemer. Roemer was halfway through a difficult shift, and even though he tried to decline the offer she insisted — and he left with a smile.
American Now says he took to social media to post about the gesture, and it got the attention of Calvert's manager. He thanked her personally, too, and shared his own story. His father was a police officer who made the ultimate sacrifice, dying in the line of duty more than 40 years prior. It just goes to show, you never know who your kindness will touch.
Pizza Hut employees intervene in hostage situation
The Washington Post says Cheryl Treadway was a fairly regular customer at the Pizza Hut in Avon Park, Florida, so getting an order from her was nothing out of the ordinary. What was strange was the note she'd attached to her order: "911hostage help!"
Employees immediately took action and called for help, reaching out to the local sheriff's office and alerting them to the message and the possible danger. Treadway met them at the door of her home, telling them her boyfriend was armed and refusing to let her and her three children leave the house. He did, however, allow her to order a pizza, which is when she sent the message. Thanks to the employees who got her message, officers were able to persuade the man to release his hostages and leave the house. He was arrested, and Treadway was lauded for her quick and creative thinking.
KFC employee upgrades elderly customer's meal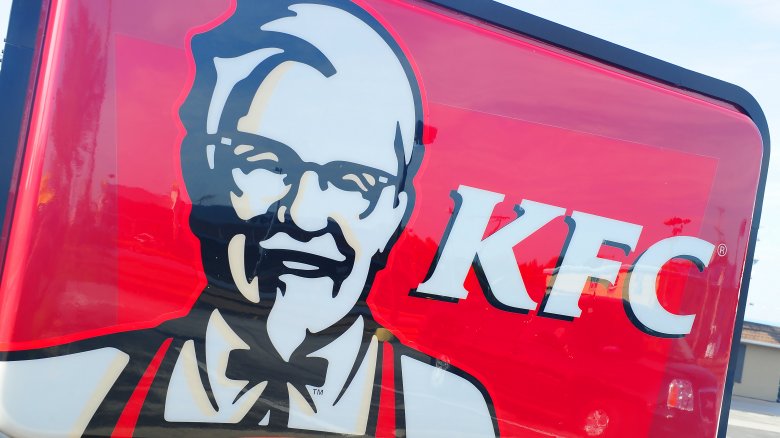 Getty Images
There are acts of kindness going on all over the world, and you can look to Bukit Merah, Singapore, for proof of that. The Strait Times picked up the story after it was posted on Facebook, and says it started when an elderly, partially blind man went into a KFC and ordered a single piece of chicken. He was somewhat known to customers and employees, and was usually seen selling tissue paper.
An employee identified as Ms Muza took his order, and paid out of her own pocket to upgrade him to a full meal. She then helped him to his table and brought him his food in a touching moment that was noticed by a customer who posted about it on social media, saying, "At the end of the day, ... to witness an incident like this, to me, really brings Singapore to a new level of humanity."
McDonald's employees help stroke victim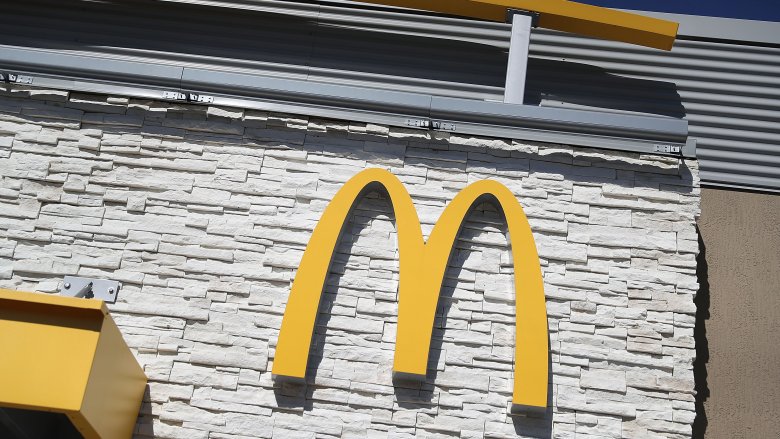 Getty Images
In 2011, 74-year-old Mary Jamali suffered a stroke outside of an Orange County, California McDonald's. Employees quickly came to her aid, bringing her water and shading her from the sun while waiting for the emergency services they called. A helicopter soon rushed her off to the hospital, but that left behind her 79-year-old husband, Habib.
Those McDonald's employees weren't done yet, and 19-year-old Jose Leon offered to drive the understandably distraught man to the hospital to join his wife. While the other workers volunteered to cover for him, Leon got in the couple's car and headed off to the hospital. He filled the hour-long drive with friendly, reassuring chat, and once there, he stayed and helped Habib fill out the necessary paperwork. According to Bakersfield.com, it wasn't just a ride to the hospital. "It's unbelievable," Mary's sister, Julie Moshir, told them. "There are still a lot of good people in the world. It's beautiful." One of Leon's coworkers drove out to pick him up and give him a ride back, and Mary Jamali's prognosis was reported as very good.