Instagram Is Loving Padma Lakshmi's Christmas Tree Update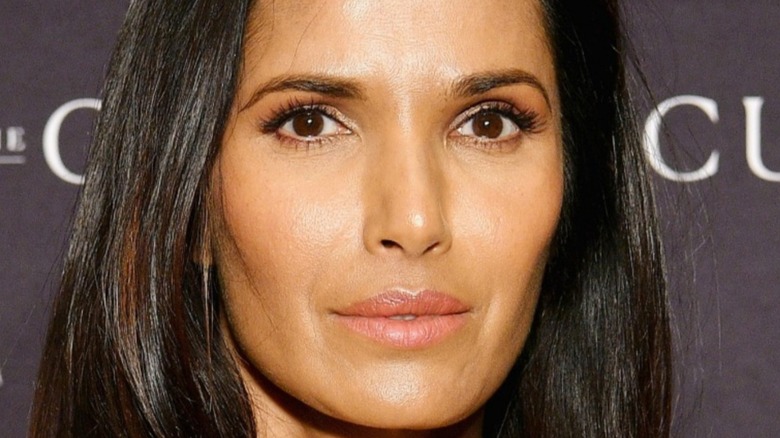 Dia Dipasupil/Getty
Padma Lakshmi has found a ton of ways to win fans over. This food personality and host of "Top Chef" has authored best-selling books on food, helped found the Endometriosis Foundation of America, learned five languages, and raised a daughter as a single mother, per Insider. According to Vanity Fair, Lakshmi has tried to keep her daughter out of the public eye as much as possible, but from time to time she loves to honor her daughter on social media. This holiday season, the personality bridged this year's celebrations with some of her daughter's first memories of Christmas for a stirring post.
Over on Instagram, Lakshmi posted a series of photos of herself and her daughter as an infant decorating a Christmas tree together alongside recent photos of the pair putting the finishing touches on their current tree. In the first photo, Lakshmi props up her daughter on her shoulders, while the most recent one aims to recreate the original, showing Lakshmi holding up her 11-year-old daughter. She captioned the post with, "How it started vs How it's going," and fans couldn't wait to share their thoughts.
A holiday post that has Instagram talking
Instagram followers can't get enough of Lakshmi's post. Comments like, "So adorable," and "Beautiful! Merry Christmas ladies!!" line the post, while others chimed in with, "Happy holidays to you and your family Padma!!!" and "Little hands be all grown up now wow. Merry Christmas." Some loved the family bonding and said, "I love the mother daughter duo," while others simply wished the family the best, replying with, "Peace and happiness for you at Christmas and always. Wishing you a very Merry Christmas Padma and little helping hands."
As everyone gets ready for the new year, expect to see less and less throwback Christmas tree photos on social media. With any luck, Lakshmi will post more family photo recreations with her daughter next season and fans can stay on the lookout for more cute snapshots from the food personality's family life. In the meantime, soak in the holiday cheer while you can and get ready for Lakshmi and "Top Chef" to return in early 2022, per Daily Mail.