Shake Shack Vs. In-N-Out: Which Is Better?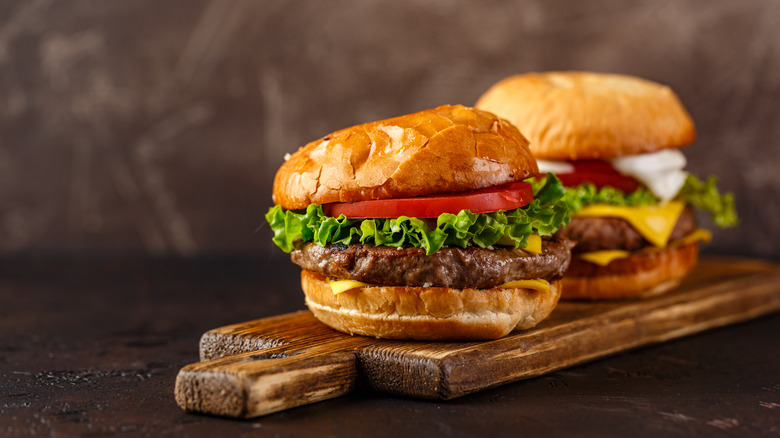 Irina Burakova/Shutterstock
Shake Shack and In-N-Out may not have ignited the same East and West coast feud as Biggie and Tupac, but each seems to have their respective home turf loyalists. Shake Shack's roots come from one of the greatest culinary cities in the world, New York City, while In-N-Out comes from sunny, coastal Los Angeles. In-N-Out's motto is quality, boasting that their stores don't have a freezer or microwave because everything arrives fresh. But don't count out Shake Shack for not having quality ingredients. This company bakes quality into the company culture.
When comparing the two, you have to analyze the Shackburger and the In-N-Out Cheeseburger. The Shackburger anatomy consists of a burger patty, American cheese, ShackSauce, lettuce, tomato, and a burger bun. The In-N-Out Cheeseburger consists of a burger patty, American cheese, spread, onion, lettuce, tomato, and a burger bun. They may seem too identical to be able to tell the difference, but we've found plenty of ways to tell one from the other. The real question is, which one's better? Let's break them down to each component to find out.
The meat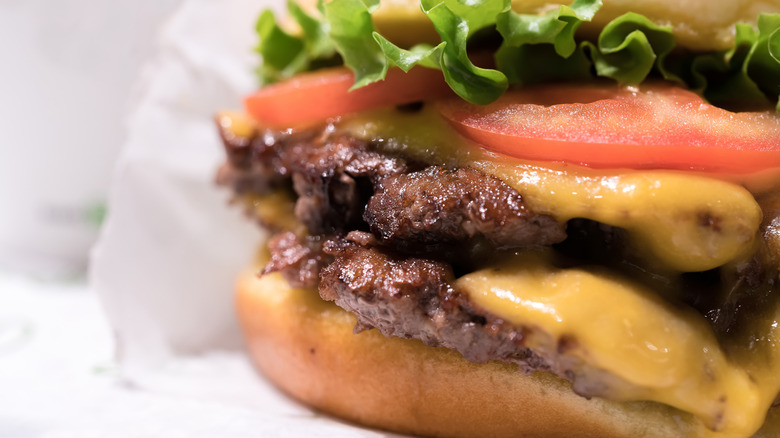 YAO23/Shutterstock
There's so much that qualifies an excellent burger patty. The taste, texture, and juiciness are just a few critical factors. So who does it better? For starters, Shake Shack's burger meat is, by far, the juicier of the two. At the same time, In-N-Out's meat can fall apart easier due to its relative lack of moisture. Shake Shack's holds together perfectly through every bite. While Shake Shack hasn't released the exact blend of their meat mixture, they've revealed that their butcher is Pat LaFrieda, and it's speculated their blend is a combination of sirloin, chuck, and brisket (via Reddit). This type of blend likely gives Shake Shack patties a richer, more savory flavor profile than In-N-Out.
In-N-Out has chosen to keep it simple by using 100% USDA ground chuck free of additives, fillers, and preservatives. They even have their own facilities for patty production located so they can control the entire production process. While In-N-Out may have the quality control down, Shake Shack seems to beat them on patty taste.
A little extra effort went into making the Shake Shack burger patty, and it's apparent in taste and texture. The fact that they smash the meat to caramelize the outside of the patty makes the winner in the meat category.
The bun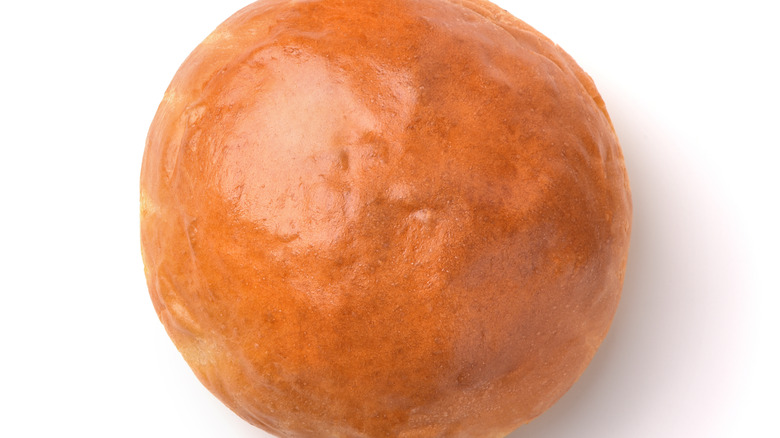 Anton Starikov/Shutterstock
Shake Shack uses a potato bun sourced from Martin's Potato Roll and Bread, a company that boasts that "consumers love the soft texture of this roll and its ability to hold up to a hefty burger piled high with condiments." Shake Shack takes the bun game a step further by buttering and toasting them on the griddle before loading them with meat, cheese, and all the fixings. The company has always been passionate about achieving the perfect bun-to-meat ratio (via The Daily Beast).
On the other hand, In-N-Out doesn't reveal much about their buns, but if we had to guess, we'd say they're likely using classic potato buns, like Shake Shack. While we couldn't determine the exact kind of bun for sure, we learned that Puritan Bakery in Carson provides buns to In-N-Out locations in Southern California. This family-run bakery uses recipes passed down through the generations and knows just how vital the burger bun is (via OC Register). It's easy to see how In-N-Out has acquired a pillowy, delectable bun, the perfect encasement for their savory burgers. That being the case, we called the bun debate between the two joints a tie.
The cheese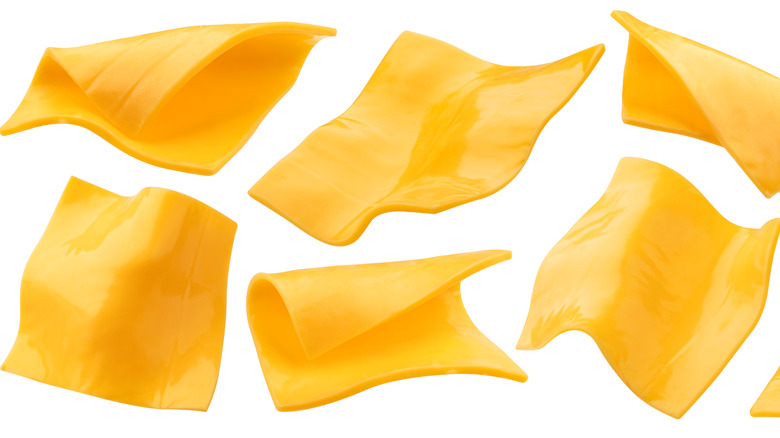 Spalnic/Shutterstock
Both restaurants use American cheese on their burgers, and thank goodness because this iconic and illustrious golden cheese yields the creamiest, most delectable texture. While the kind of cheese used may not be unique, the distinguishing factor may lie in the amount of cheese each uses. In-N-Out uses two slices of American cheese, while Shake Shack uses one slice. The cheese is definitely less prominent in the Shackburger. However, the flavor is still delicious and adds a layer of creaminess without overwhelming the other ingredients, making for a phenomenal Insta-worthy photo opp. 
Mark Rosati, Shake Shack culinary manager, explains to Eater the extra thought that went into this burger choice "There's just something classic and universal about American cheese that I think add[s] an extra layer of warmth to the burger," Rosati explains. "This is comfort food, and we want to make it as comforting as possible."
However, because In-N-Out gives customers extra cheese, we'll call the cheese debate a win for them.
The sauce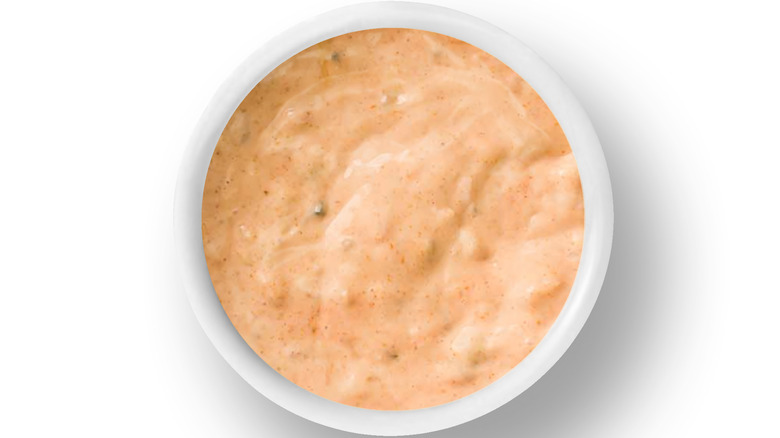 Derek Brumby/Shutterstock
Neither In-N-Out nor Shake Shack exposes the secret of their magical burger sauce on their websites. But there are many copycat recipes online suggesting some have cracked the code. Interestingly, they're both compared to Thousand Island dressing and described as salty, a little sweet, and tangy. Additionally, a crunchy textural component suggests pickle relish, and onions might be in the mix.
While it's pure speculation, food blogger Rodney Lanthier posts his version of the In-N-Out spread on his blog, Hot Rod Recipes, guessing a combination of ketchup, mayonnaise, white vinegar, sweet relish, white sugar, and yellow onion. Alternatively, Private Chef Sabrina Snyder recreates the Shake Shack sauce recipe on her blog Dinner Then Dessert using mayonnaise, ketchup, yellow mustard, chopped dill pickle, garlic powder, paprika, and cayenne pepper. Sounds pretty similar to the In-N-Out version.
As you can imagine, it's hard to tell the two apart, but we love that In-N-Out is confident enough to spread this delectable sauce over everything, as evidenced by their Animal Style menu option. In this case, we'll give the sauce win to In-N-Out.
The fresh toppings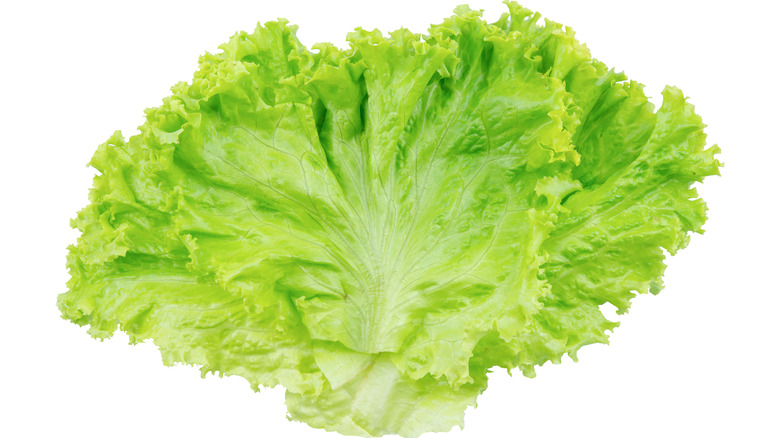 Natee Photo/Shutterstock
In-N-Out adds fresh lettuce, onion, and tomato to their burgers. Additionally, they go the extra mile by "hand-leafing" the lettuce in each location. The onions are freshly sliced, and you can choose to have them grilled if you're seeking a savory caramel flavor to your burger. Their tomatoes are ruby-red and thick-cut for an acidic, moist bite.
The Shack Burger keeps it simple by offering green leaf lettuce and tomato. While simplicity can be a good thing, it can count against you if it's not executed well. Unfortunately, the lettuce used is too delicate and can become soggy inside the burger. When eating a rich and meaty burger, there's nothing like getting the extra bit of freshness and crunch from the toppings inside, which Shake Shack doesn't quite deliver on.
Because In-N-Out uses firmer lettuce that they "hand-leaf" in stores and offer an onion option two ways, the toppings win goes to In-N-Out.
The fries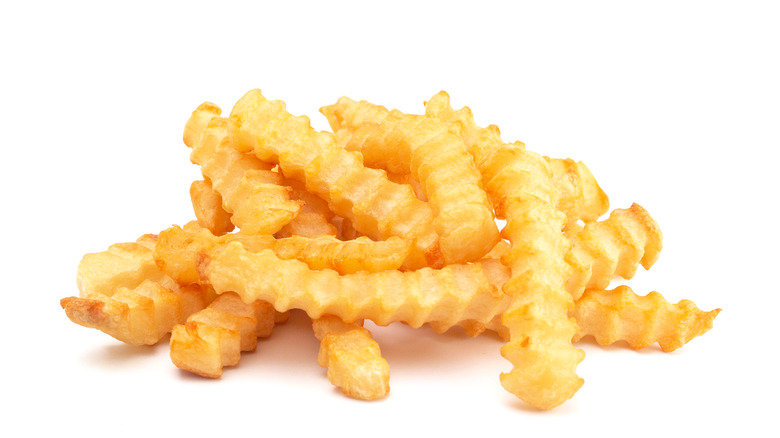 P Maxwell Photography/Shutterstock
A burger joint's fries might be almost as important as the burger itself. Shake Shack seems to have gotten the memo because their fries are some of the best in the industry. They're crinkle cut and fried to golden perfection. They're salty and crispy on the outside and fluffy on the inside. They offer the perfect balance of salt and fat, making impulse control nearly impossible.
In-N-Out's fries are regular cut, and the chain states they cut their potatoes in house. While it sounds good in theory, there are some fundamental flaws with this fry. Because they're fresh cut, they seem to have a fresher flavor and texture. It's great In-N-Out is sticking to their guns on the freshness angle, but the fries seem to lose much of the crisp, fatty goodness we get from other burger restaurants that use pre-cut, flash-frozen fries. What we're left with tastes like a stale version of a home-baked fry. Lackluster, plain, and dry are the words that come to mind when describing the In-N-Out fry.
The battle of the fries yields a pretty clear winner, and Shake Shack has In-N-Out beat by a longshot.
The shakes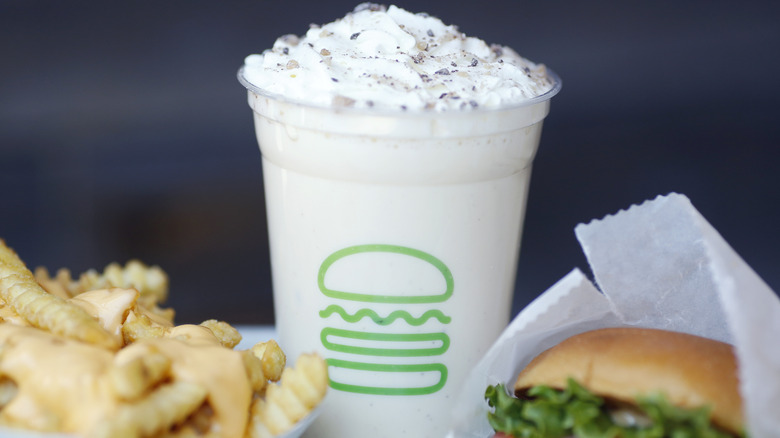 Bloomberg/Getty Images
In-N-Out shakes come in three different options: strawberry, chocolate, and vanilla. Their website says their shakes are made with real ice cream. While these shakes are pretty flavorful, the texture is slightly on the icy side. As soon as it begins melting, it gets a little watery.
On the other hand, Shake Shack gets extra fancy with their shakes, stating on their website that they're hand-spun per order and contain cage-free eggs. They offer the same classic options as In-N-Out: strawberry, chocolate, and vanilla. However, it's pretty apparent immediately that Shake Shack shakes are far creamier and more decadent. They're sweet, packed with flavor, and stay frozen for a longer period of time.
While these two burger restaurants go head to head by offering the same flavors, we have to give it to Shake Shack for ensuring the creamiest shake texture and most decadent flavors of the two.
The number of menu options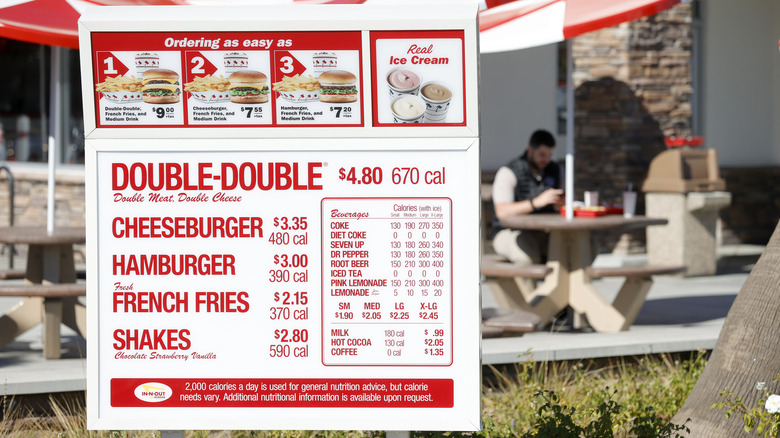 Justin Sullivan/Getty Images
In-N-Out is known for a phenomenal burger, but they may just as well be known for their simplified menu. If you're headed to In-N-Out, you're probably not in the mood for salad. All bets are on that you're craving a cheeseburger. It is, after all, their classic menu item, and there's little deviation from burgers to be found on the menu. However, they try to offer a vegetarian option: the grilled cheese, which actually tastes amazing. Otherwise, their variations are basically down to whether or not you want an extra burger patty, extra cheese, or extra sauce. This level of simplicity is something to love unless you're vegan.
Shake Shack offers far more options, including meals suited for vegetarians, chicken lovers, and those in the mood for a hot dog. And don't think these alternate options are second-best to their Shack Burger. Social media continuously blows up by featuring their shroom burger, which oozes with melty cheese.
Most certainly, if you've got dietary restrictions to consider, Shake Shack will be the restaurant of choice.
Beverage options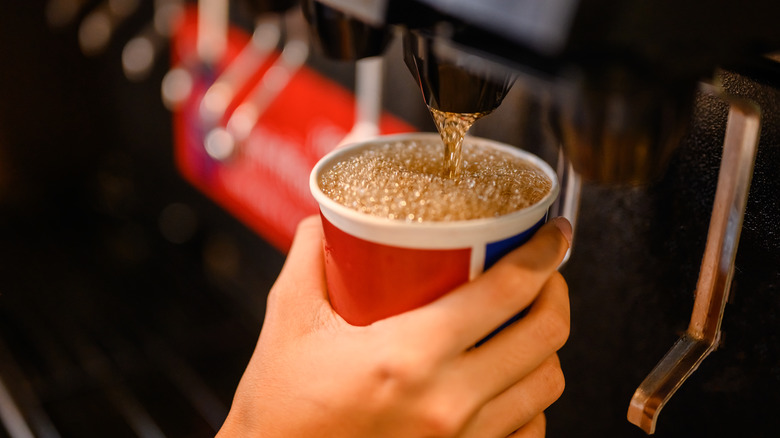 Day Of Victory Studio/Shutterstock
In-N-Out, as you might imagine, keeps their beverage menu simple. They offer a variety of Coke products, Dr. Pepper, pink lemonade, zero sugar lemonade, and iced tea for soft drinks. Additionally, they also offer milk, coffee, and hot cocoa. Admittedly, hot cocoa is a unique and fun addition to the menu, though it may be a strange combination with a burger. But we'll toss some extra points their way for hot beverage offerings.
Shake Shack, true to style, offers a plethora of options that include more gourmet-style beverages, including organic iced tea with honey, freshly made lemonade, and sparkling water. In addition to the in-house drinks, they also offer Coke products, Dr. Pepper, Fanta Orange, Fanta Grape, and Sprite.
While In-N-Out offers hot beverages, Shake Shack gets our beverage vote because they provide more soft drink options and make some of their drinks from scratch using quality ingredients and sweeteners.
The price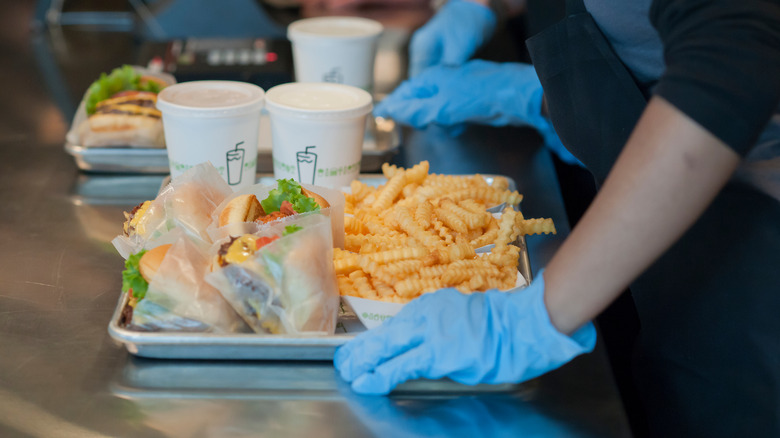 rblfmr/Shutterstock
If you're a price nut, you may feel a little miffed at what Shake Shack charges for their burgers. If you want a takeout burger experience, you may not want to pay restaurant prices. And yet, Shake Shack gets away with charging premium prices. You can expect a basic burger, fries, and a shake at In-N-Out to cost around $6 to $7, which is approximately a third of the cost of a comparable meal at Shake Shack. We'd guess this is due to the premium ingredients they use, like the blend of meats curated by a renowned butcher and the special potato buns sourced from a specialty bakery.
While the Shake Shack burger is delicious and it's apparent that special attention goes into the craft of its creation, it's hard to imagine paying three times as much for such a similar offering as In-N-Out. For this reason, we had to hand it to In-N-Out for offering a great burger at a reasonable price.
How well it travels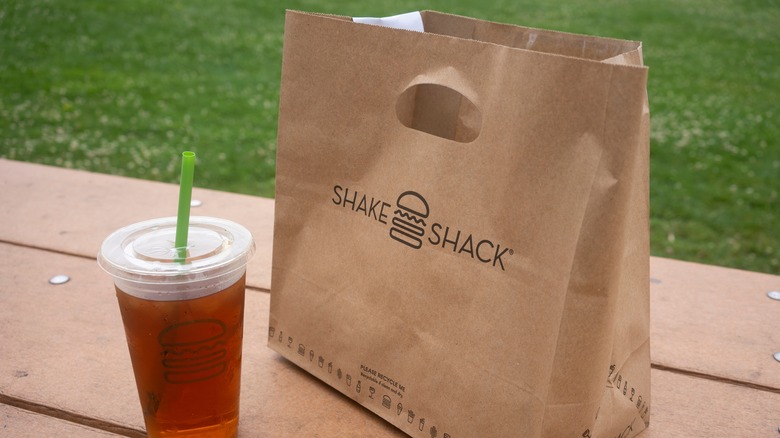 Tada Images/Shutterstock
Once again, it seems like we're splitting hairs in trying to compare these two nearly identical burgers, but actually, there was a clear winner for best traveling burger. Obviously, we need a burger that will still taste amazing even if our food delivery person has three other stops ahead of us. While In-N-Out doesn't deliver, their burgers still hold up exceptionally well for more extended periods of time than Shake Shack. We want to know that the long wait is still worth it because the burger doesn't disappoint on flavor or texture thirty minutes after being bagged.
However, In-N-Out seemed to pull ahead in this particular category. Why? It goes back to the topping choices — namely, the lettuce. No one likes soggy greens on their burger, which can be an unfortunate outcome of the Shake Shack burger. Alternatively, because In-N-Out uses a crisper varietal, it seems to act as an impenetrable barrier, keeping ingredients separate, and thus, no bun gets overly soggy. Shake Shack may need to consider a different lettuce type if they want to beat In-N-Out in this category.
The dining experience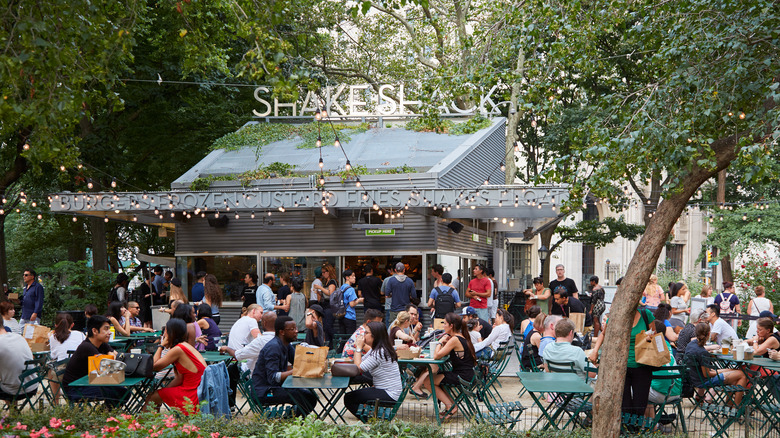 andersphoto/Shutterstock
In-N-Out locations all seem to deliver on the same promise of being clean, fresh, and friendly. Their restaurants take on a bit of a retro vibe, and they encourage eating in your car by providing cardboard trays that hold your food, you know, just in case you can't make it all the way home before digging in. It's hard to have a bad experience here, and their staff seems to care about providing quality service.
On the other hand, Shake Shack seems to take on a completely different feel. When you step into a Shake Shack restaurant, you get the feeling you're in the company of foodies and hipsters. Many of the restaurants include trendy decor and funky outdoor dining areas. It's a place you can hang with friends while grabbing food, making this fast-food experience feel more like casual dining.
While In-N-Out appeals to in-car dining customers, Shake Shack offers a better in-restaurant dining experience.
Restaurant access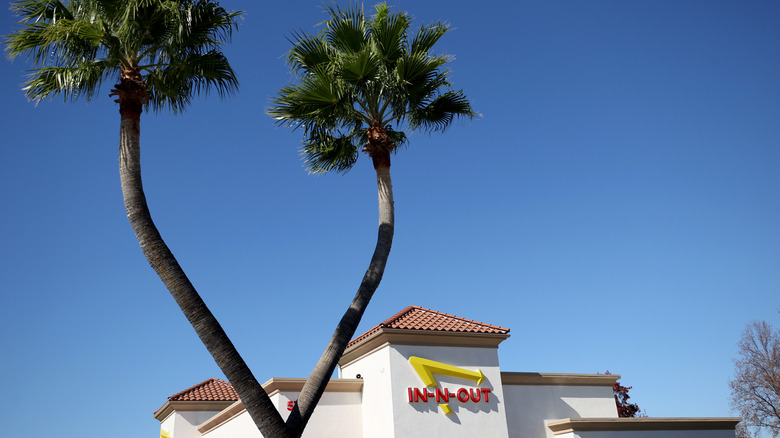 Justin Sullivan/Getty Images
In-N-Out currently operates in Arizona, California, Nevada, Oregon, Utah, Colorado, and Texas and promises to operate no further east than that, according to Chron. This is because In-N-Out is committed to geographic exclusivity, promising to only operate on the west coast. Comparatively, Shake Shack can be found in New York, Pennsylvania, Florida, New Jersey, Connecticut, Massachusetts, Virginia, and Washington, D.C. Additionally, they've gone international and can be found in United Arab Emirates, Lebanon, Qatar, Kuwait, Saudi Arabia, United Kingdom, Turkey, and Russia, in addition to the United States.
It's clear that Shake Shack is on its way to being a dominating force for burgers on a global scale, which may eventually leave In-N-Out in their dust. Or, at a minimum, it may mean In-N-Out is seen more as a local favorite versus a global behemoth. Regardless of what the future has in store, the fact that Shake Shack operates on a global scale means they pull out ahead of In-N-Out in this category.
Final verdict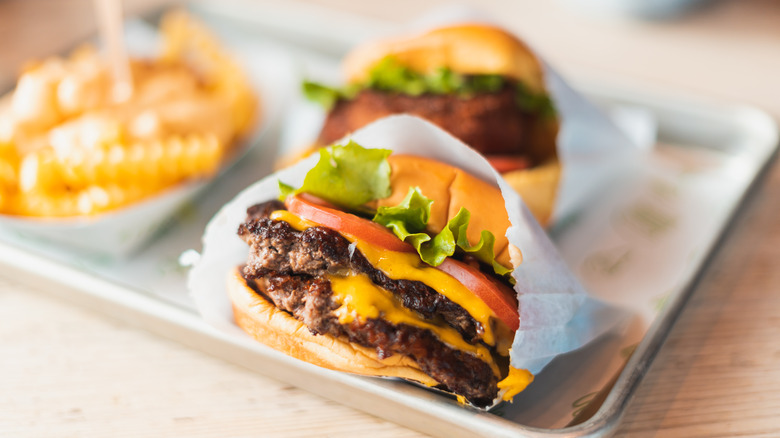 Manu Padilla/Shutterstock
So which is the ultimate winner when it comes to the showdown between Shake Shack and In-N-Out? In-N-Out overtook Shake Shack in five categories, including the cheese, the sauce, the fresh toppings, and the price. In-N-Out's commitment to fresh ingredients and maintaining geographic exclusivity is reflected in the quality of their food. However, it also hindered them when it came to the taste of their fries and restaurant access.
Shake Shack beat In-N-Out in seven categories, including the meat, the fries, the shakes, the number of menu options, the beverage options, the dining experience, and restaurant access. While both burgers are incredibly delicious, if we look at the entire customer experience at each restaurant, it's apparent Shake Shack has come out ahead. Perhaps this is why they can justify their hefty prices. With this level of quality, service, a commitment to being a global offering, and the exceptionally delicious caramelized burger meat, it may be more than justified.
Now, who's up for burgers?