Don't Order A 'Shroom Burger At Shake Shack Before Reading This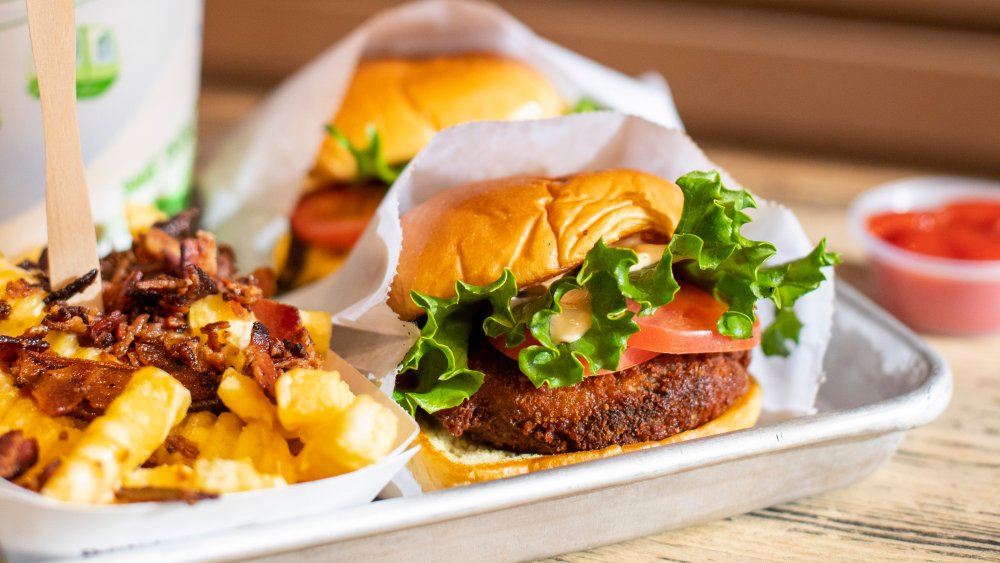 Shutterstock
Fast food is one of the easiest ways to get instant gratification as you satisfy cravings with a delicious helping of crispy fries and a juicy burger. Unfortunately, as everyone knows, it's not the healthiest way to fulfill that hankering. It doesn't help either that some menu items have way more calories than you might assume. However, it's true that some fast food items are healthier than others and it's possible to enjoy yourself in moderation. 
Yes, this means you don't have to completely quit fast food, it's just simply a matter of learning which choices are healthier. Did you know that some items on Shake Shack's menu are better for you than the others? Take the Single hamburger, for example. According to Washingtonian, this is a protein-laden burger that is comparatively lower in terms of overall calories. Shake Shack's nutritional guide states that it has 400 calories, 22 grams of fat, 25 grams of protein and 24 grams of carbs. It still has 10 grams of saturated fat, but it's still better for you than say, the 'Shroom burger.
This may come as a huge surprise if you're a fan of the 'Shroom burger. But there are a few reasons why you should probably skip it the next time you order.
Why you should avoid Shake Shack's 'Shroom burger
When you walk into a Shake Shack outlet and rifle through the menu for a seemingly wholesome option, you may find yourself wondering if avoiding meat is the healthiest alternative. That's when you notice the vegetarian-friendly 'Shroom burger and think you should go for it. Well, Shake Shack says that the dish is a blend of melted muenster cheese and cheddar cheese, featuring fried portobello mushrooms, lettuce, tomato, and the ShackSauce. Still sounds innocent, right? Not so fast.
Unfortunately, this mushroom-based burger isn't quite a healthy option if you choose to go for Shake Shack's version. Firstly, it's fried rather than baked or grilled. It also has so much cheese — more cheese than you'd get in a regular burger or even a cheeseburger. According to the brand's nutritional information, you're looking at 550 calories, 31 grams of fat, and 49 grams of carbs. In terms of protein content, there's only a measly 18 grams, which is a real disappointment considering how much protein other options contain. So, when at Shake Shack, you're better off sticking to a classic option like its hamburger.