Wendy's Fans Won't Want To Miss This Free 6-Piece Nugget Offer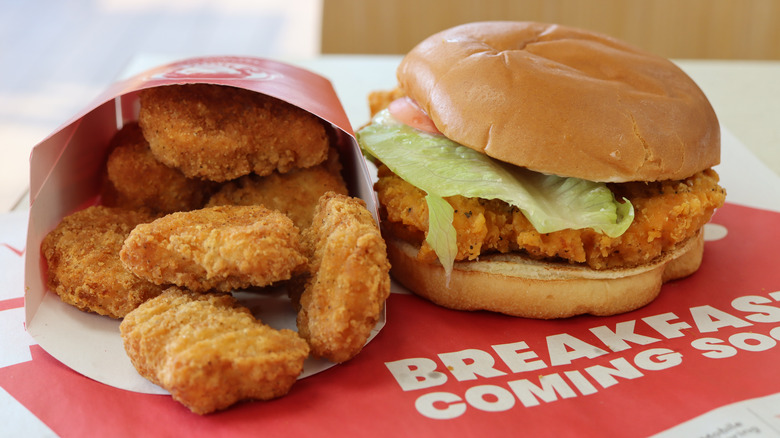 Deutschlandreform/Shutterstock
Just because Christmas is over doesn't mean the gift-giving has stopped. If you got used to ordering goodies from McDonald's holiday-exclusive Mariah Carey menu and find yourself still craving free food, then Wendy's has you covered. While the chain's latest freebie might not be as festively star-studded as the Mariah menu, it certainly doesn't disappoint — especially if you're a fan of Wendy's chicken nuggets. From December 27 to January 2, Chew Boom reports, you can pick up a free six-piece chicken nugget with any meal from Wendy's. The catch, however, is that you have to place your order online through the chain's mobile app to qualify for the offer.
Wendy's has been offering free food throughout the whole month of December, with this six-piece nugget deal being the last of the year. Per Thrillist, Wendy's doled out everything from buy-one-get-one-free spicy chicken sandwiches to free chili if you purchased any item through its mobile app. If you haven't downloaded the app and you missed out on those deals, there's no need to feel blue: You still have a few days to snag some nuggets before the calendar turns to 2022. And if nuggets (somehow) aren't your thing, Wendy's is also offering another popular menu item that you can get free for right now. 
Wendy's is giving away free Baconator Fries, too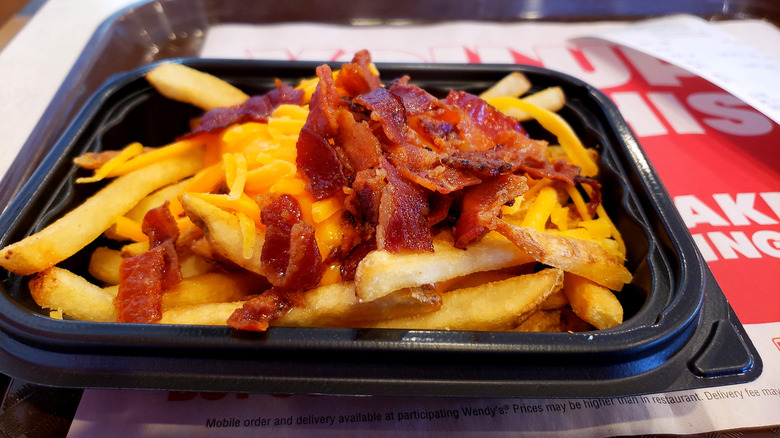 Retail Photographer/Shutterstock
While chicken nuggets — especially free ones — aren't a bad gift to get, Wendy's is also offering a heartier, cheesier alternative to thrifty customers. The company is currently giving out its famous Baconator Fries, those fresh-cut french fries that are slathered in melty cheese and chopped-up bacon, for free until January 2 (via Thrillist). Along with the nugget deal, this is among the last of the week-long promotions set up by the chain for the month of December. Now, we know what some of the more money-savvy readers are thinking: You could get an entire meal for free just by going to Wendy's! Although that's a wonderful thought, you shouldn't get your hopes up too high in expecting to score both freebies at the same time.
According to EconoTimes, the free Baconator fries cannot be used alongside other promotions like the six-piece nugget deal. This means that when you're ordering through the Wendy's mobile app, you'll only be able to get either the free fries or the free nuggets along with the rest of your purchase. Otherwise, you'll just have to make two separate trips to Wendy's to take full advantage of these promotions. Just be sure to get your orders in by January 2 to start off your new year on the right foot.