Babybel Cheese Has Great News For Vegans
Whether you've been vegan for years or are a plant-based-eating newbie, you are all too aware of all the things you can't eat — like cheese. That's a tough one for a lot of people to give up, especially when you consider how popular cheese is, with more than 1,800 varieties around the world (via Wisconsin Cheese) and a 19% increase in per capita cheese consumption in the U.S. over the last decade (via International Dairy Foods Association). From mozzarella to Parmesan to cheddar, cheese made with animal milk is a no-no for vegans. Fortunately, there are plenty of vegan cheeses available that are made with non-dairy milk alternatives, like almond milk or soy milk. You can choose from well-known brands like Daiya, Follow Your Heart, and So Delicious.
You can also now enjoy Babybel cheese — yes, even if you're vegan. The beloved brand, which is famous for its bright red wrappers and tiny circles of cheese, recently came out with its first-ever vegan option. Here's what you need to know about this dairy-free cheese and where you can buy it right now.
The vegan Babybel cheese will only be available in the UK for now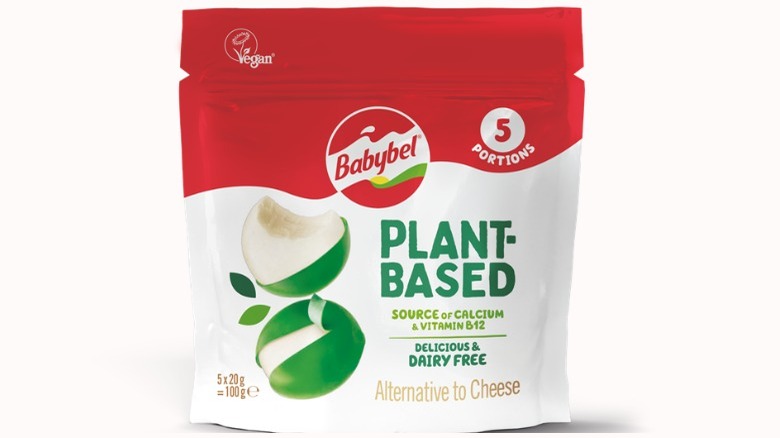 Bel
"A new kind of delicious goodness is coming soon to snack time," Babybel posted on Instagram, noting that the new cheese is a good source of calcium and Vitamin B12. According to the photo, the vegan Babybel cheese will come in a green wrapper instead of the iconic red wrapper. People are very excited about the soon-to-appear vegan Babybel cheeses, which will hit grocery store shelves on January 1 (via The Grocer). Unfortunately for those of us who live in the United States, however, the cheese will only be available in the U.K. — specifically at Sainsbury's — at first. Babybel's brand manager Ollie Richmond explained The Grocer, "We've seen overwhelming demand for the development of a vegan-friendly Babybel over the years, and with the plant-based market continuing to grow substantially, the new launch is perfectly timed to meet this consumer appetite."
The cheese will come in packs of five and is sold in recyclable packaging (via VegNews). The brand says it plans to expand the vegan Babybel cheese to more stores and countries in the coming months, according to previous reports from Vegan Food And Living. The site also noted that Babybel is rumored to be launching vegan versions of its popular Laughing Cow cheese as well sometime in 2022.