Gwen Stefani And Blake Shelton Nailed Their Christmas Timpano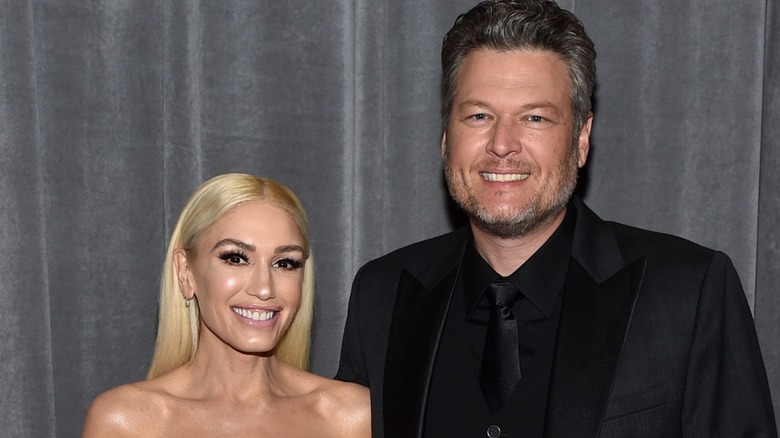 John Shearer/Getty
Every family has their Christmas cooking traditions. Maybe yours has a killer secret cookie recipe, or perhaps every year you gather around while Grandma slices into her annual bûche de noël. Musical artists and newlyweds Gwen Stefani and Blake Shelton are no different: It turns out that the couple has many holiday food traditions to choose from for their future Christmases together, as Stefani once told Bon Appétit that as a child, her Christmas mornings always began with cinnamon rolls prepared by her great-grandmother.
This Christmas, however, Stefani took to her Instagram Stories to show off her family's latest holiday cuisine collaboration: a timpano. This Italian delight, as People reports, is a pasta dome concocted from meatballs, sausage, cheese, and marinara sauce, then baked in a crust. The dish was a flop for the couple last Christmas, but that didn't stop them from trying it again this year. "We are cooking — we got some Italian timpano dome going on here. I will show you if it actually works out this year!" Stefani posted, showing followers how to prepare it. At last, one triumphant Instagram Story features Shelton flipping the hot pan to release the perfect timpano — and Stefani jumping up and down and cheering as it gently slides out onto a platter. Shelton, Stefani, and family break out in song and dance, celebrating the successful execution of the difficult dish.
The Stefani-Shelton gang had a food-filled Christmas
There's a reason Stefani and Shelton were so ecstatic about their successful timpano: It was one of the family's many, not just two, yearly attempts at the dish. "The fifth annual cutting of the timpano pasta dome — Lord hear our prayer!" Shelton joked in Stefani's Instagram Stories (via People). When planning the Stefani-Shelton family Christmas meal, Stefani told Entertainment Tonight that they were not only determined to nail their timpano, but also planned to make everything from scratch and to "go big." "We love making the memories," Stefani said, who also took to Instagram to post a video spanning across a beautiful tablescape with candles and cranberry wreaths, plus a picture of a gorgeous gingerbread house with a sign labeling it the "Stefani-Shelton" home.
Whether or not the pair will continue making traditional Italian fare and gingerbread desserts next holiday season, one thing's clear: Gwen Stefani and Blake Shelton are looking to uphold family traditions, one challenging recipe at a time. The couple told Southern Living their goal is to take on a different difficult dish every year. "Thank you for pushing me ... to find new creative ways to feed our family," Stefani told Shelton in the interview.