Frito-Lay Just Rick-Rolled Us All
There was a very special time over a decade ago when clicking on any seemingly inconspicuous link you received from a dear friend, loving family member, or even a close co-worker could take you unsuspectingly straight to a video of Rick Astley rocking a ginormous overcoat and swept up hair belting out his hit "Never Gonna Give You Up." What a time to be alive! The trend, known as Rick-rolling, may just have been given a second life by a popular potato chip brand.
According to FoodSided, Frito-Lay has teamed up with Astley on a New Year's campaign meant to keep folks focusing on the positives in life. Rather than making a list of bad habits to break, the singer – along with Frito-Lay - is encouraging people to make room for "thoughtful" snacking in their 2022 routines. In keeping with the "New Year New You" campaign, Frito-Lay vice president of marketing Ciara Dilley told FoodSided the brand is "flipping the script on new year's resolutions by encouraging people to approach the upcoming year with a positive mindset and focus on not giving up the things they love." Better yet, sharing what you're never gonna give up may even pay off!
Frito-Lay is giving out prize money for sharing what you're holding onto in 2022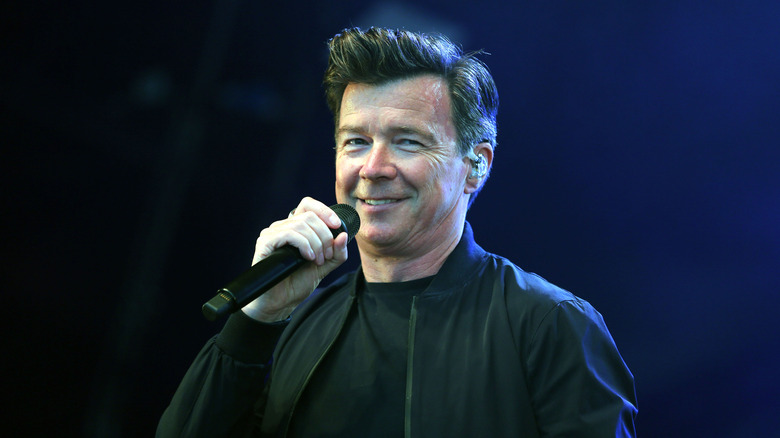 Mick Atkins/Shutterstock
If your pockets are feeling a little light after the holidays, Frito-Lay may have a proposition for you. On their newly launched New Year campaign website, the company is asking consumers to send in their "Never Gonna Give It Up" resolutions for a shot at winning $1,000. Submissions should be written and may include a video, and up to three entries are allowed per person. Just how good are your odds? According to the rules, Frito-Lay is giving out 18 of those enticing Grover Clevelands.
Rick Astley took some time to share his feelings on keeping a positive outlook with FoodSided. "I think the negativity that thinking puts into your body is far worse than what you're actually eating sometimes," the singer revealed. Astley also told the food-focused outlet that his own snack of choice is Original Baked Lays. If you are interested in telling Frito-Lay about a favorite snack or indulgence that you're looking forward to holding onto in 2022, make sure you get in you do it before the February 27 promotion deadline. We know one thing we're not willing to give up. We could explain it, but you might just have to see it for yourself on YouTube.