The Untold Truth Of Lay's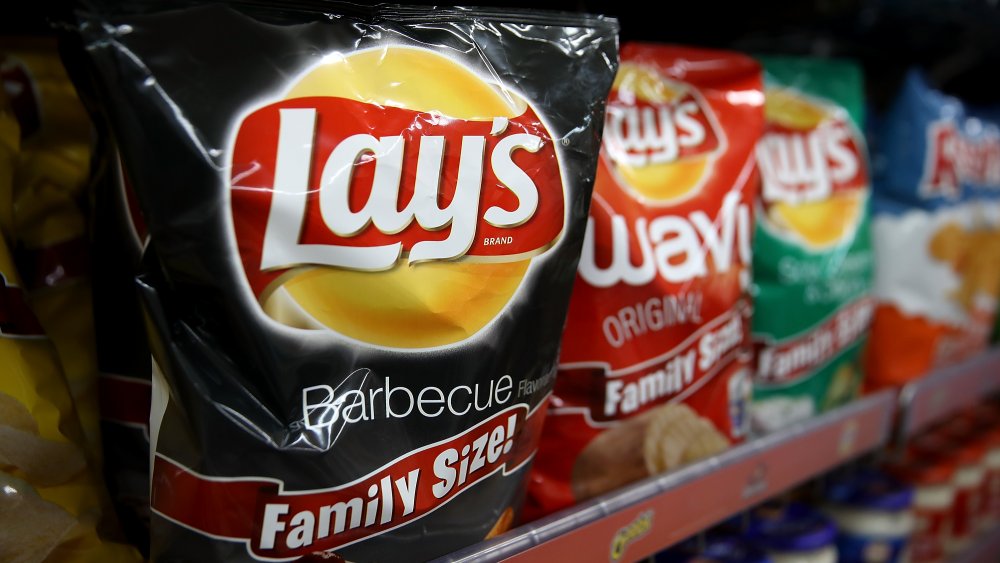 Justin Sullivan/Getty Images
Snack food giant Lay's has found its way across international grocery store aisles over the course of time. The company is rightfully famous for its potato chips in numerous flavors. According to the brand's official website, the company's inception took place all the way back in 1932 when businessman Herman W. Lay started his business in Nashville, Tennessee, selling potato chips that were manufactured by a company based in Atlanta, Georgia. Fast forward six years and the enterprising businessman bought the company in question. First called H.W. Lay & Company, the brand got its current iconic name in 1944 when Herman decided to simplify it to Lay's Potato Chips. The brand has achieved many milestones during its time — for instance, it's the first major snack food organization to promote itself through TV commercials. 
Herman Lay's success in the food industry is undeniable. As explained in his 1982 New York Times obituary, Herman was dedicated to his company and employees, initiating employee-friendly initiatives in the workspace while working on his company's brand voice. Herman's hard work paid off, and Lay's became a dominant brand in the market. A list by Eat This, Not That! awards Lay's original, oven-baked version the top spot among its contemporaries for being relatively healthy (and not fried). Ranker puts Lay's Sour Cream & Onion flavor in the second spot, and credits audience votes for its unbeaten popularity.
The brand offers a large variety of flavors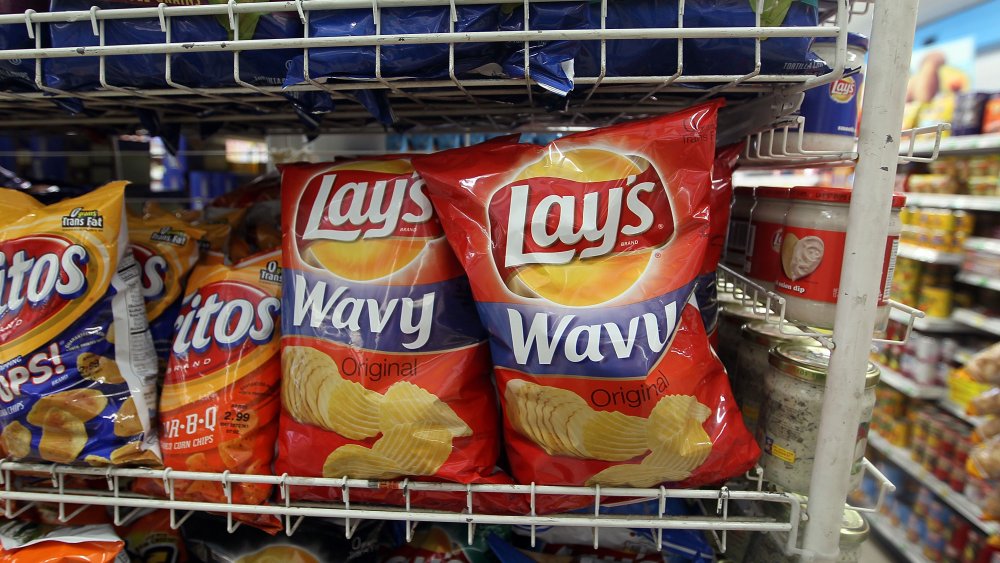 Joe Raedle/Getty Images
You're probably familiar with Frito-Lay, but did you know that Fritos and Lay's were originally competitors? According to Insider, the two went up against each other for three decades before finally teaming up and merging as one in 1961. Another milestone in the company's history is its merger with Pepsi-Cola that led to PepsiCo. That said, as explained by Delish, Herman was always on good terms with his peers at Frito, which made it easier to combine their strengths and operate as a single company later.
Lay's has always been serious about its expansion plans, and now offers a wide variety of flavors in different locations across the world. Many of these flavors are exclusive to the places where they're being sold, and sometimes marketed by different names, including, but not limited to, Walkers, Sabritas, Chipsy, and Smith's. There are over 160 options from which to choose. Some of the most unusual flavors include options such as Cappuccino, Vegetable Soup, and even something called Beer N' Brats (via Business Insider). That said, the brand's flavors branched out with their popular barbecue potato chip in 1965.
Lay's isn't afraid of experimentation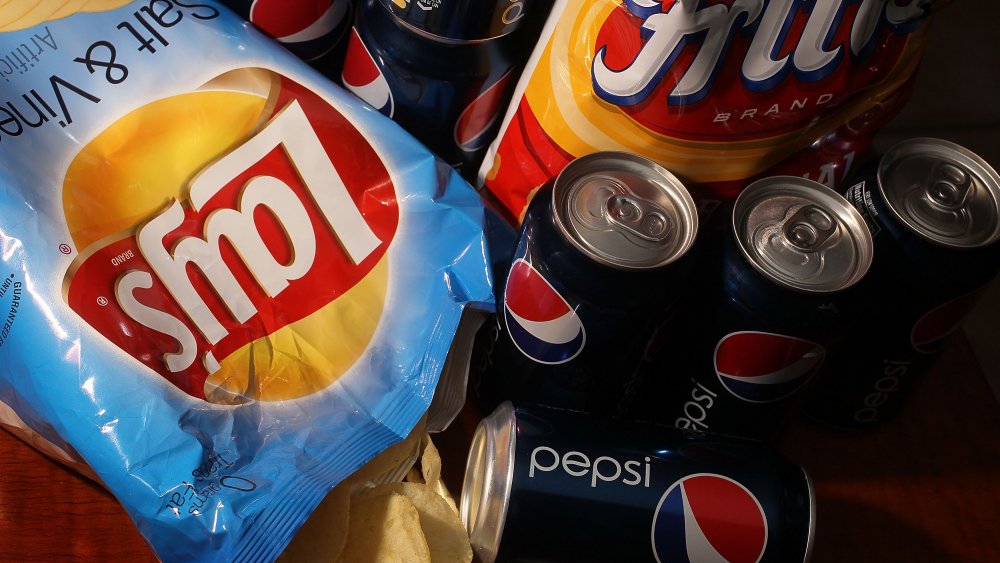 Joe Raedle/Getty Images
Lay's doesn't hesitate to let its admirers come up with ideas for the brand. For example, the company's "Do Us a Flavor" campaign encourages customers to send pitches for flavors they'd like to see in their chips, and possibly win as much as $1 million, says the PepsiCo webiste. Unconventional, delicious and crazy ideas all have been considered, according to Delish. The "Do Us a Flavor" campaigns have been repeated in the past, with winners (in no particular order) like cheesy garlic bread, kettle-cooked wasabi ginger, and southern biscuits and gravy. 
Jody Denton, head chef at Frito-Lay's kitchen, shared more about the creative process. The experienced chef, who has spent more than three decades in the industry, said that the team is encouraged to go nuts while brainstorming. "We get together and have these creative brainstorm sessions and they tell us, 'Don't worry about if you don't think you can do it, just put it out there,'" Denton explained to the Dallas Observer.
As for the snacks' source: Lay's potato chips have somewhere around four or five potatoes in each bag, reports ABC News. But they're delicious, right?