Duff Goldman Called Out Robert Irvine's 'Questionable' Fried Egg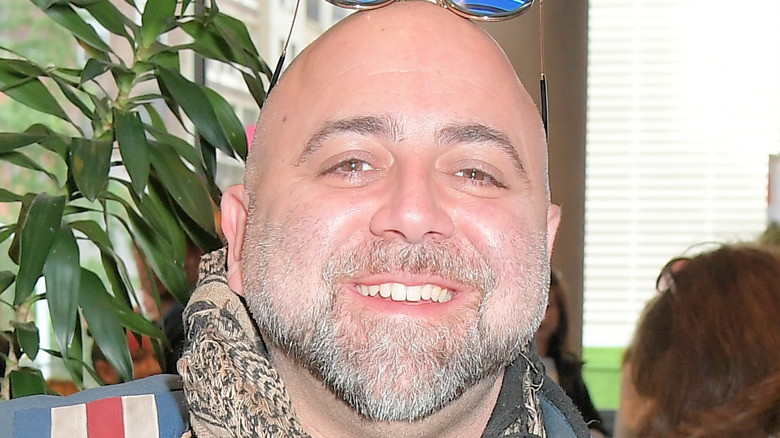 Chance Yeh/Getty Images
Ever wonder what famous chefs look at on Instagram? Well, thanks to a recent comment from celebrity chef Duff Goldman, we know he certainly peeks at the Food Network's Instagram page. Of course, Goldman can frequently be seen on the network judging edible entries on shows like "Holiday Baking Championship" and "Kids Baking Championship" (via Food Network), so it's only natural he would jump on the Gram to judge another chef's work.
After Robert Irvine, another well-known chef on the Food Network, made an instructional post on Food Network's Instagram page explaining how to fry an egg using grapeseed oil, Goldman was quick to weigh in. "I personally don't agree with this...This egg looks sunny side up? Over easy?" Goldman wrote, admitting that he "didn't watch until the end." 
Goldman obviously doesn't think Irvine's egg cooking instructions are all they're cracked up to be, and has some very different advice of his own when it comes to frying eggs.
How to fry an egg the Duff Goldman way
It seems Robert Irvine's fried egg instructions really didn't sit well with Duff Goldman. Not only did Goldman take a crack at Irvine's tutorial in the comment section of the original Instagram post, but he also made an entirely new post on how to fry an egg over on his own page. In his video, Goldman said that Irvine's method was "questionable at best." Goldman explained "As a breakfast cook for many years, I have egg opinions," and by the looks of it, he has a lot of them!
To start with, Goldman disagrees that eggs should be cooked in grapeseed oil, and believes they should actually be cooked in butter. He also thinks that the edges on fried eggs should be crispy, unlike the edges in Irvine's video. As for the color, Goldman said "Anybody who doesn't like color on their eggs, I think that's just weird."
Goldman didn't stop there. He even pointed out that "Robert's egg looked a bit limp which is fine for sunny side up, but for a fried egg...you want an egg with a little more body to it." As one commenter wrote, "Shots fired." For his summary, we're not sure which was sassier: Goldman's sign-off in the video ("And, then, Robert that's how you fry an egg.") or his wrap-up in its caption ("Hope this clears up any confusion. Enjoy!"). It is clear, however, that Goldman just doesn't believe in different yolks for different folks.