Anne Burrell's Holiday Gap Feelings Are Super Relatable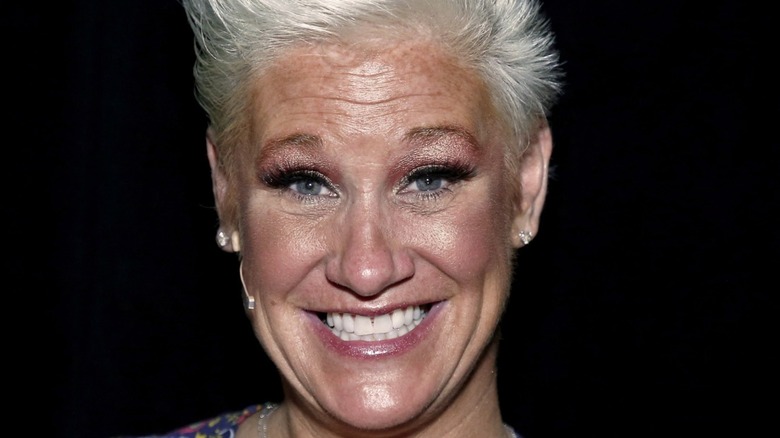 John Lamparski/Getty
The week between Christmas and the new year has a reputation for being one long blur. If you're working, you might find yourself with a skeleton crew as many people tend to take this week off. If you're not working, you may not even know what day it is, and you might be binging on both leftovers and Netflix. 
One writer for The Atlantic calls this span of time "Dead Week," declaring it "a time when nothing counts, and when nothing is quite real," and describing it as a break from the constant on-the-go mode Americans are often in during the rest of the year. But Americans aren't the only ones who enjoy this gap week. Norwegians appreciate this time so much that they have named it 'Romjul,' which means spending time with friends and family at home. This time is considered an annual relaxing ritual to do nothing but eat leftovers and stay cozy (via ASDA Good Living).
Despite possibly feeling a bit hazy during this off week, many people, including your favorite celebrities, take the time as an opportunity to relax, pick at the remaining Christmas cookies, and extend their holiday celebrations. Celebrity chef Anne Burrell shared a bit of what her gap week is like with her Instagram followers, and we are all for it.
Celebrating gap week with cozy socks and champagne
Anne Burrell took to her Instagram showing her 607,000 followers what she's up to during the in-between week. The post shows her feet in cozy, knit socks propped up on a coffee table along with two glasses and a bottle of pink champagne. "I LOOOOOOVE the gap/I don't know what day it is between Christmas and New Year's Eve... pajamas all day, pink champagne and 'feel good movies'. Cozy socks courtesy of my AMAZING sister," Burrell captioned the photo. 
Fans chimed in on Burrell's gap week inactivity writing, "My kind of 'holiday time!'" and "More more and more of this!" Most users, however, went crazy over the cozy socks from Anne's sister with comments including, "Love those colorful cozy socks! Good job sis," "Those socks are rad!," and "Nothing says love like hand knitted socks!!!!!!!."
The chef's Instagram account shows us that her holidays were full of family-centric celebrations, including a trip to the Wollman Skating Rink in New York City, attending the iHeartRadio Jingle Ball, and a Rangers game at Madison Square Garden. With a jam-packed schedule like that during the holidays, we must agree that Anne's socks and champagne are well-deserved.