Aldi's Açaí Superfruit Packs Make Breakfast A Snap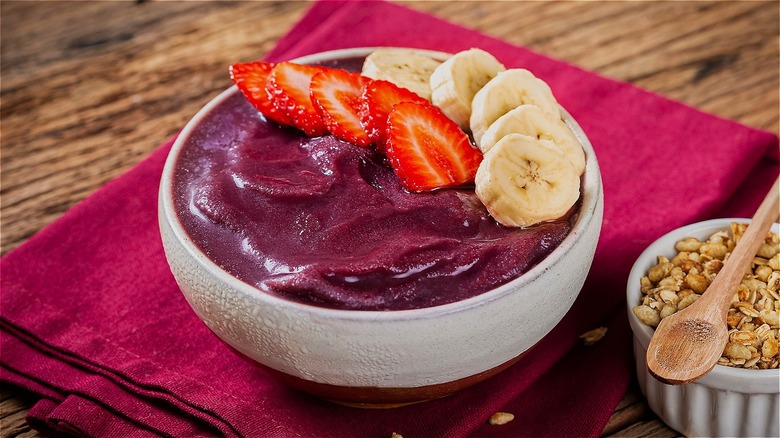 WS-Studio/Shutterstock
Full of color and flavor, açaí bowls can make waking up in the morning a whole lot easier. You've probably heard the name thrown around before, and maybe tried a bowl or two, but do you actually know what this trendy breakfast food is?
According to Healthline, the base of every açaí bowl consists of pureed açaí berries — deep purple fruits native to both Central and South America. However, as anyone who has eaten an açaí bowl knows, the snack isn't complete without its toppings and special ingredients: whether you opt for cubed mango, granola, chia seeds, or medjool dates (trust us on this one). Not only are these purple bowls delicious and rich in antioxidants, but they're also downright gorgeous. While they may sometimes cost a pretty penny, at least you'll always get a stunning photo for social media out of the meal, as well.
While there are so many things to love about these fancy smoothie bowls, one of the downsides is, typically, people living in the U.S. can't easily make them at home. Luckily for fans of this Brazilian dish, Aldi answered your breakfast prayers with these açaí superfruit packs.
The affordability of Aldi's açaí superfruit packs makes them even more enticing
If you've been waiting for the opportunity to start making these vibrant purple bowls at home, your time has come at last. Instagram user @adventuresinaldi took to the platform to celebrate this exciting new find at the affordable grocery store. "I don't know about you, but I love me some açaí bowls," they wrote. "Aldi is making it so easy with these organic packages." This Instagram caption accompanied a picture of two different açaí bowl superfruit packs: the Original Blend and Pure Unsweetened. Created by the brand Simply Nature, each pack advertizes that it is vegan, gluten-free, and Non-GMO.
The best part? Each package comes with four açaí servings and will only set you back $3.99. While an açaí bowl at an upscale cafe might have a $7-$14 price tag, according to Dollars and Sense, with these packets you can create a customized bowl for yourself for only a few bucks. Not bad!
Other Aldi fans seemed just as thrilled about the product. "Ooooh this looks good," one excited user commented. Due to the affordability and simplicity of these frozen açaí packs, don't be surprised if they disappear from store shelves soon.