Simple Smoothie Bowl Recipe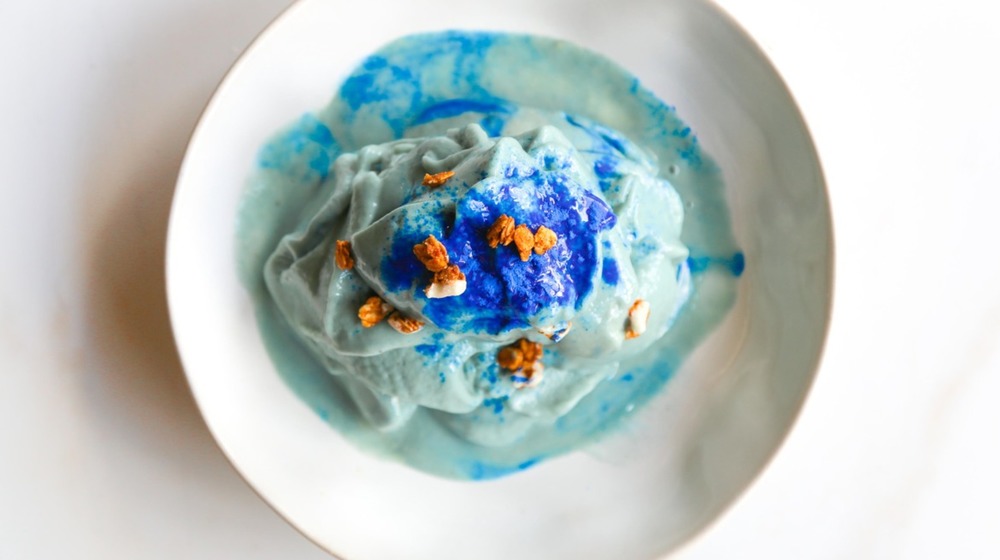 Maren Epstein/Mashed
Never heard of a smoothie bowl? Professional chef and healthy eating advocate Maren Epstein, who shares tips at Eating Works, is here to educate us! "A smoothie bowl is a smoothie that is thick enough to be eaten with a spoon. It has the consistency of ice cream," she told Mashed. 
And yes, you can make this tasty snack, treat, or meal at home. "It tastes so decadent and yet it's only made from four healthy ingredients," Epstein says, adding that her inspiration for this particular creation was "all of the beautiful blue smoothie bowls I see on Instagram!" 
So whether you're craving a smoothie you can enjoy sans straw for yourself, or want to whip up something special for your kids, this is a fun, accessible recipe that offers plenty of benefits. "My daughter enjoys it as a healthy alternative to ice cream," Epstein told us, adding, "Most adults would eat a smoothie bowl as an after workout snack or for breakfast. The healthy carbohydrates from the fruit makes this meal perfect for a quick refuel after the gym." She also confessed, "I'll eat it as a late afternoon snack when I'm craving something sweet."
And this smoothie bowl adds something extra — a beautiful blue color that makes it perfect for that stunning Instagram shot. Epstein told us, "The blue color makes the smoothie look magical and other worldly — especially for something that doesn't use artificial food coloring."
Get your smoothie bowl ingredients set up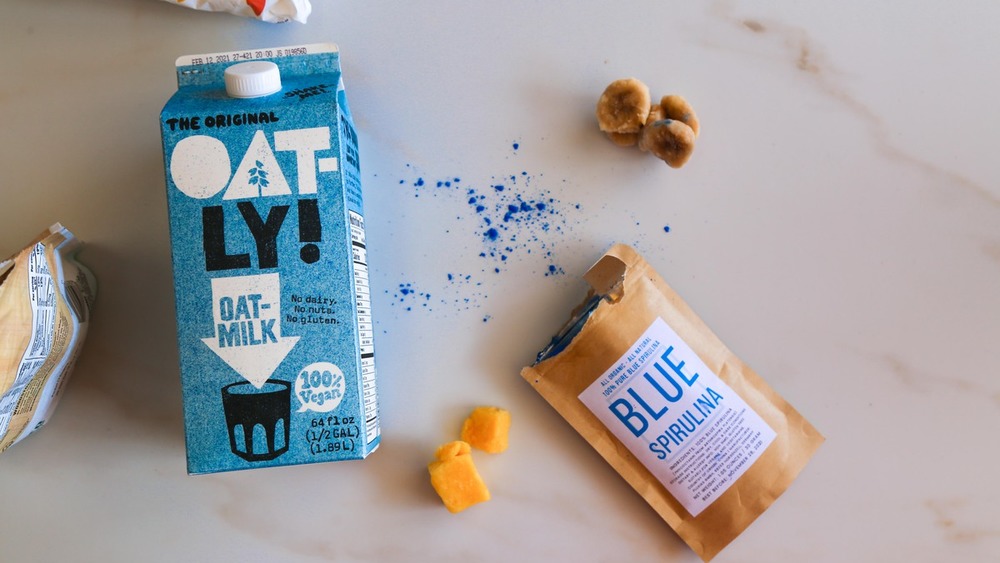 Maren Epstein/Mashed
As Epstein said, you'll only need four ingredients for your vibrant smoothie bowl: frozen mango, frozen banana, oat milk, and blue spriulina. Wait, what? Hold on — we promise to explain what this magical blue powder is, and why it's super healthy for you. Meanwhile, if you don't have oat milk, or aren't a fan, Epstein notes, "You can use any type of milk. Dairy milk would be just as effective in making this smoothie rich and creamy." 
Now onto the super-easy steps to create a treat you'll make again and again.
Add mango to the blender to get your smoothie bowl started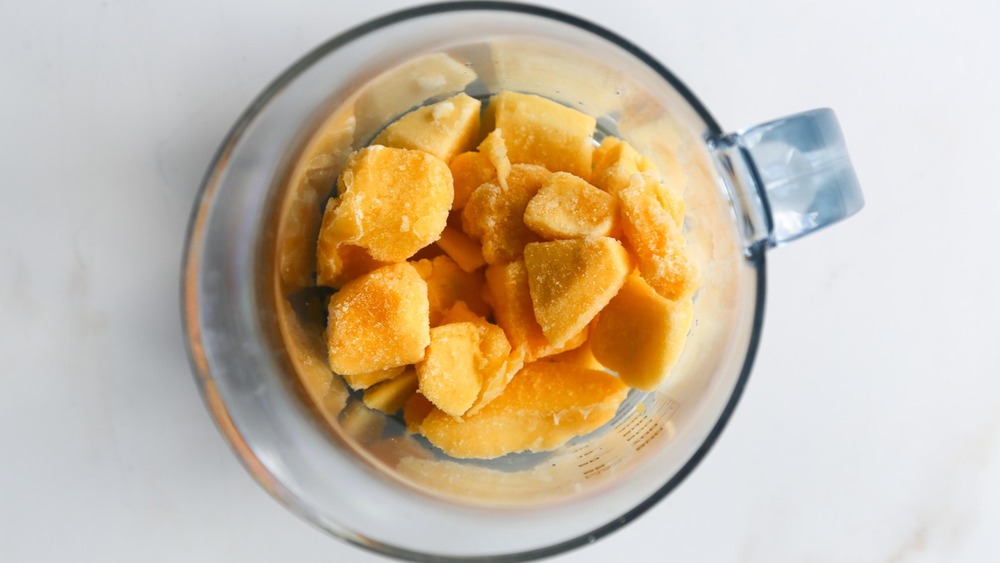 Maren Epstein/Mashed
The first thing to do when making this smoothie bowl is simply add your frozen fruits to the blender. As for why Epstein picked mango and banana specifically, as opposed to frozen berries for instance, she shared with Mashed, "I chose mango and banana because I have made other recipes with that combination in the past. So I know it's tasty! I also needed fruits that had a pale color so that the blue would shine through." 
Ah, yes. The blue. We're almost ready for that step, which dials up the magic of this versatile recipe.
Add banana to the blender for the smoothie bowl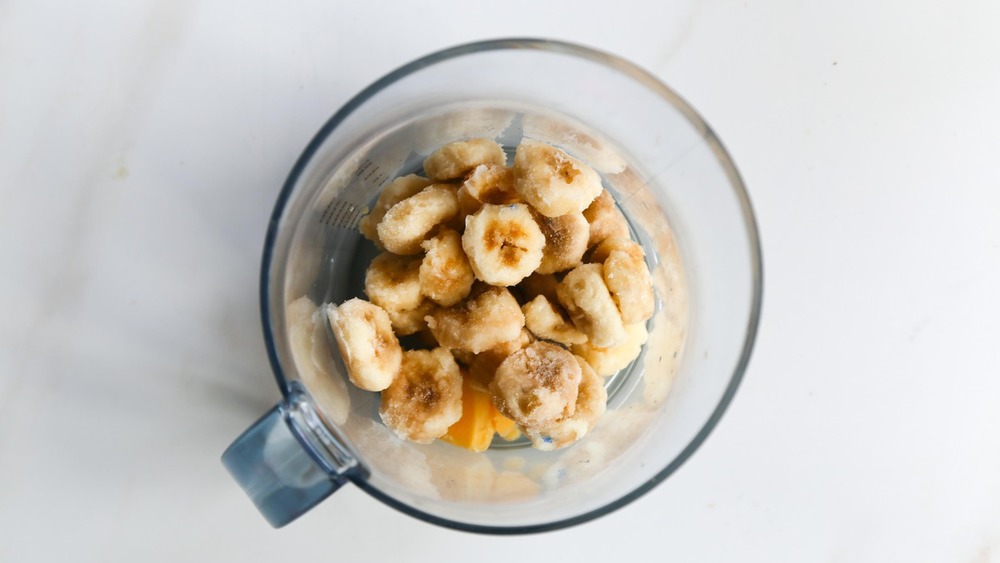 Maren Epstein/Mashed
First, just a note about your frozen banana. You can either buy it at the grocery store, or try freezing banana yourself. That's right — you can freeze banana to use at a later time, like when you are ready to whip up a smoothie bowl! 
It turns out there are plenty of methods to effectively freeze banana for use in this recipe, or in a variety of other smoothies. If you're going to use them frozen, the best method is to peel the bananas and break them into smaller sizes, then lay them out on a cookie sheet and freeze for about an hour before placing them in a sealed container. No more throwing away those too-ripe bananas — just throw them in the freezer for your next smoothie bowl. 
Add the color to this smoothie bowl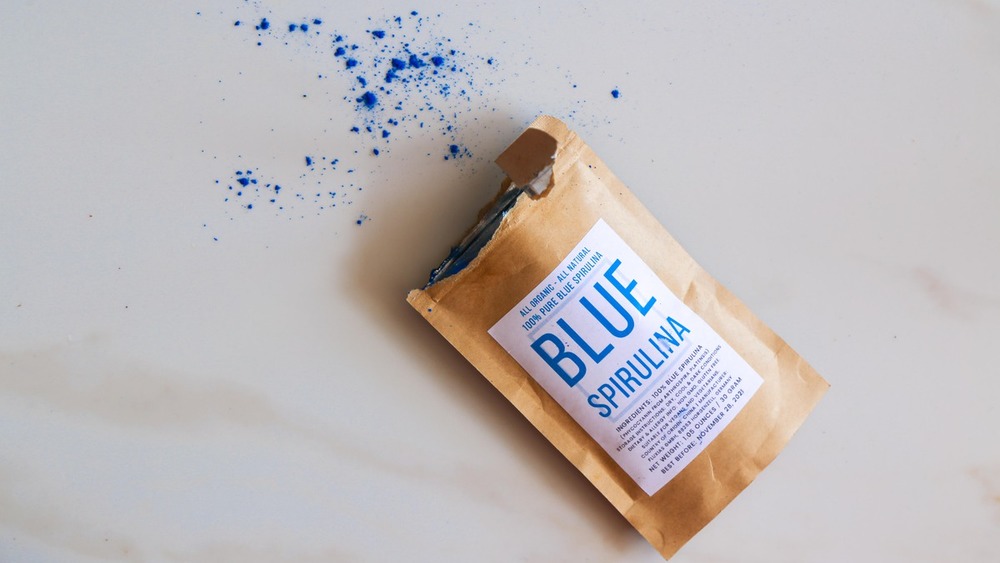 Maren Epstein/Mashed
Don't worry if you've never heard of blue spirulina, which you'll add to your blender next. Because, confession, we weren't sure either. But as Epstein told us, "Blue spirulina is a form of algae. It's tasteless but turns food into that amazing indigo color!" Its brilliant hue is not the only reason to use this powder, however, because as Epstein explained, "The health benefits of spirulina are almost too numerous to list."
Not only is spirulina high in many nutrients, according to Healthline, but it also has anti-inflammatory properties, is rich in antioxidants, and can sometimes lower bad cholesterol (LDL). Spriulina may also have anticancer properties, may reduce high blood pressure, and could be effective against anemia.
All of this from a smoothie bowl? Yes please!
Of course, if you can't track down blue spirulina — and you can't wait for an Amazon order — you always substitute with frozen Acai packets. The benefits aren't the same, and it will change the flavor, but it'll still be a vibrant, gorgeous color (and it'll still be delicious). 
Blend your smoothie bowl and watch carefully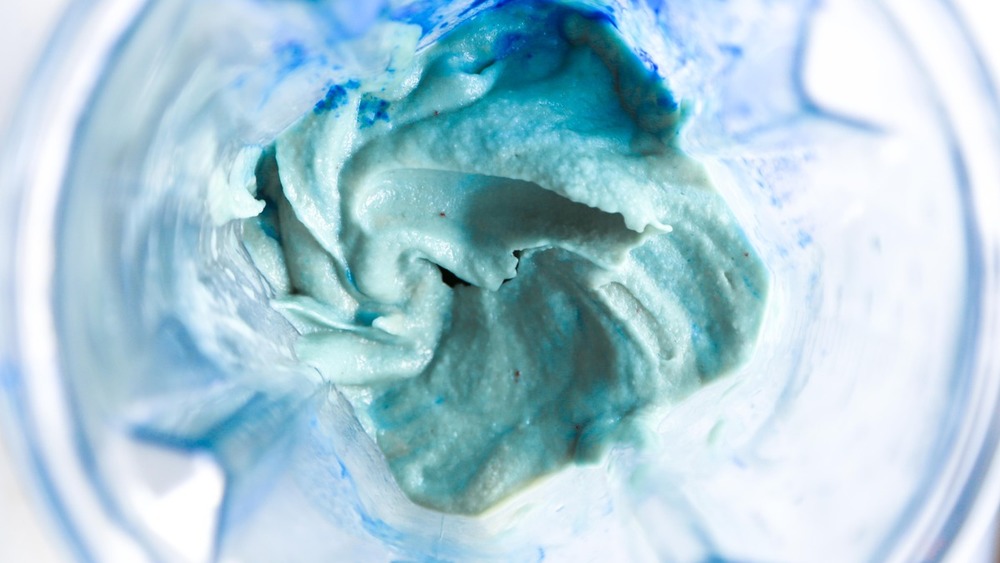 Maren Epstein/Mashed
The next step is to add a little oat milk — about 1/4 cup — and blend that smoothie bowl. Then, use a tamper (if you have one) to push the ingredients down. As Epstein told us about this step, "The tamper is a long plastic rod that you can insert into the opening at the top of your blender. It's used to push the ingredients down into the blade. Using a tamper is integral to making a thick and rich smoothie bowl since we don't want to use too much milk. This would result in a runny bowl!" Of course, if your blender doesn't have a tamper, you can just stop blending periodically to scrape the sides with a spatula. 
You'll add small increments of oat milk until you reach the consistency you want, which is basically that of delicious and healthy ice cream. And if turns out too runny, it's no problem — just add more frozen fruit to thicken it back up.
Plate your beautiful smoothie bowl creation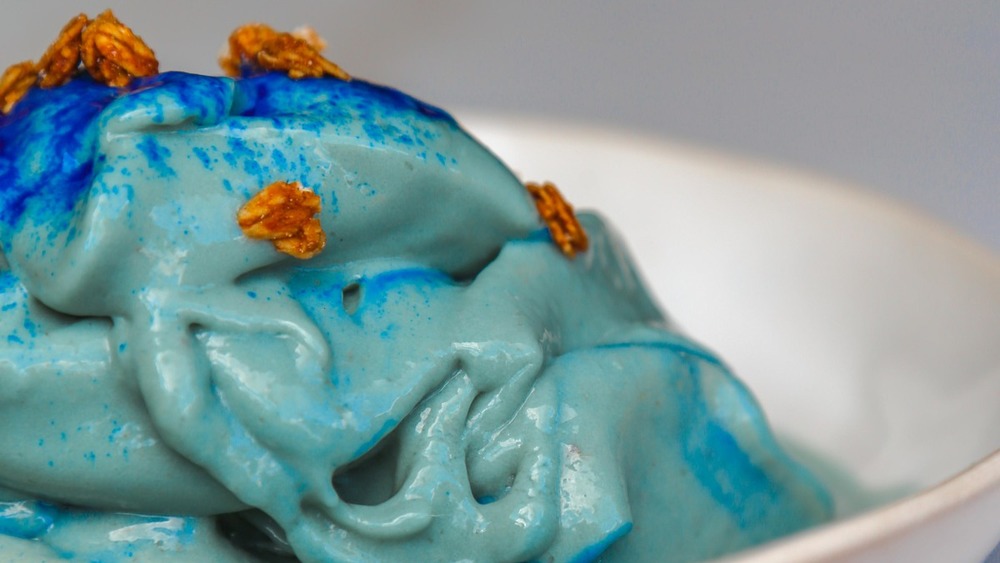 Maren Epstein/Mashed
The final step is to pour servings into bowls, and garnish your creation with granola, which is of course optional, especially considering there are so many other options for finishing off this creative dish. "You could garnish this bowl with literally anything," Epstein told us, offering several suggestions: "Sliced kiwi, bee pollen, chopped nuts, hemp seeds, almond butter, and agave would make wonderful toppings. Sky's the limit!" 
Cheers!
Simple Smoothie Bowl Recipe
Whether you're craving a smoothie you can enjoy sans straw for yourself or want to whip up something special for your kids, this is a fun smoothie bowl recipe.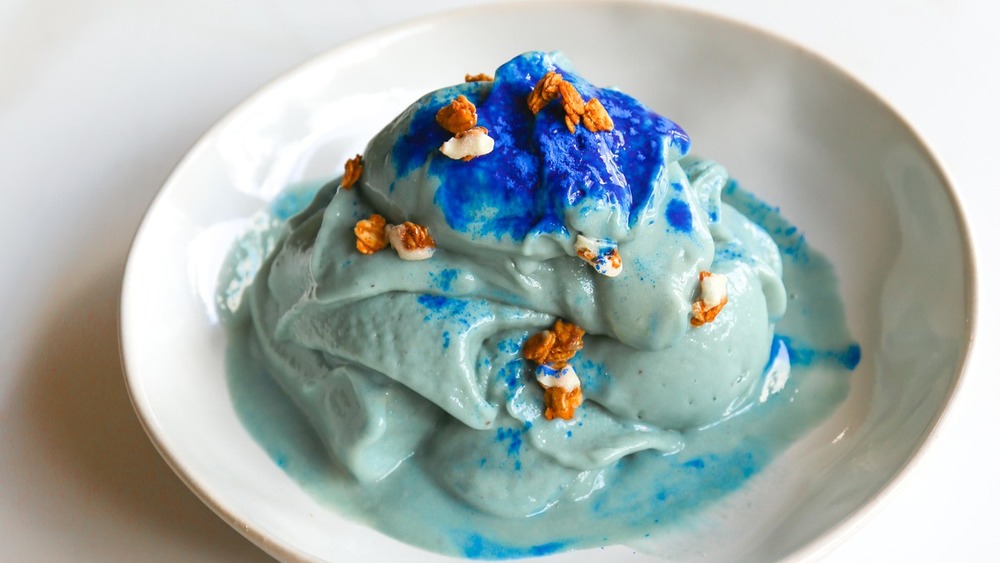 Ingredients
2 cups frozen mango
1 cup frozen banana
½ -1 cup oat milk or dairy milk (or more if needed)
1 teaspoon blue spirulina
Optional Ingredients
Directions
Combine mango, banana, and blue spirulina in the blender.
Add ¼ cup oat milk and blend. Use the tamper to push ingredients into the blade.
Continue to add oat milk in ¼ cup increments until the smoothie blends and is the consistency you want.
It's ready when four peaks appear in the blender with an "X" in the middle. The smoothie should have the consistency of ice cream.
Nutrition
| | |
| --- | --- |
| Calories per Serving | 129 |
| Total Fat | 2.0 g |
| Saturated Fat | 1.0 g |
| Trans Fat | 0.0 |
| Cholesterol | 4.6 mg |
| | |
| --- | --- |
| Total Carbohydrates | 27.5 g |
| Dietary Fiber | 2.8 g |
| Total Sugars | 20.5 g |
| Sodium | 27.2 mg |
| Protein | 3.1 g |