This Ina Garten Recipe Set Jennifer Garner's Kitchen On Fire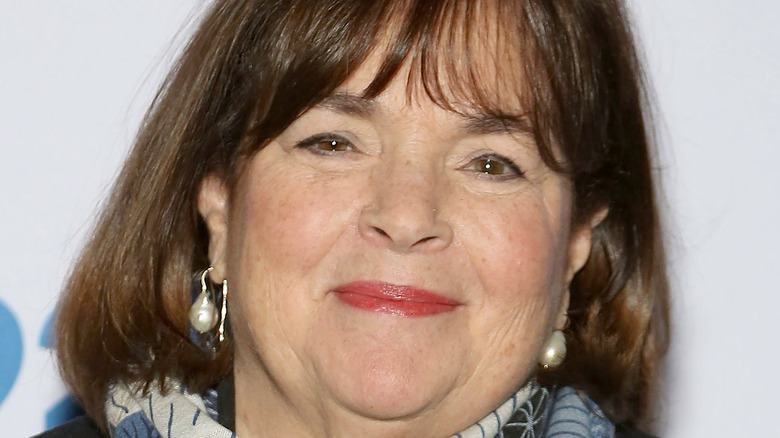 Manny Carabel/Getty Images
Ina Garten is not just a celebrity chef — she also has a lot of celebrity fans, including "13 Going on 30" actress Jennifer Garner. The actress shared a "Pretend Cooking Show" video on Instagram, noting she has been making Garten's beef bourguignon (per Garten's official website) for a long time. Garner added, "It's one of my family's Christmas traditions ... The smell of this perfect stew makes me feel happy, cozy, and relaxed."
However, this Christmas, things went a little awry in Garner's kitchen. After adding cognac, she went to light the alcohol on fire, as per the recipe — from Garten's "Barefoot in Paris" cookbook — and the entire pot went up in flames so high they reached over the stove's vent hood in Garner's impressive home kitchen. "Can you believe that just happened," she exclaimed, then looked over the pot after the flames had safely died down enough to approach, and stated, "That was wild!"
The problem, Garner noted, was that she doubled the recipe, and therefore also doubled the cognac. Before adding the doubled measure of alcohol, she questioned whether that was a good idea, and said, "I don't know if we need all of this." After the blaze confirmed she was right, she emphasized: "Don't double the cognac."
The flames got Ina Garten's attention
Jennifer Garner is such a fan huge of Ina Garten's that Today reports the actress was inspired to create her own social media-based "Pretend Cooking Show." And Garten is an admirer of Garner's as well, she told People in 2018, "I love her videos so much ... She is adorable and smart ... that's just who she is. I just think she's really special."
The celebrity chef herself took to the Instagram post to commiserate with Garner: "That's my favorite!!! And I almost set the kitchen on fire every time! Happy New Year!!! Love you," followed by three red heart emojis.
But Garten wasn't the only celebrity to empathize with Garner's mishap. Holly Robinson Peete sympathized, "Oh girl I will burn this whole place down! Yikes," with fire and fireman emojis. Garner's videos have a lot of well-known fans, including Brad Paisley's wife, Kimberly Williams-Paisley, who commented, "I love the Pretend Cooking Show!!!" and Eva Longoria exclaimed, "Omg we have to cook together!!!"
Despite the fire misadventure, the video turned out to be successful in getting some other celebrity friends to try their hand at making Garten's beef bourguignon. Rita Wilson declared, "I am going to try this one!" — though hopefully, she means the recipe, not the bonfire.