Jennifer Garner's Mom Gets Strong Fan Reaction After Returning To Pretend Cooking Show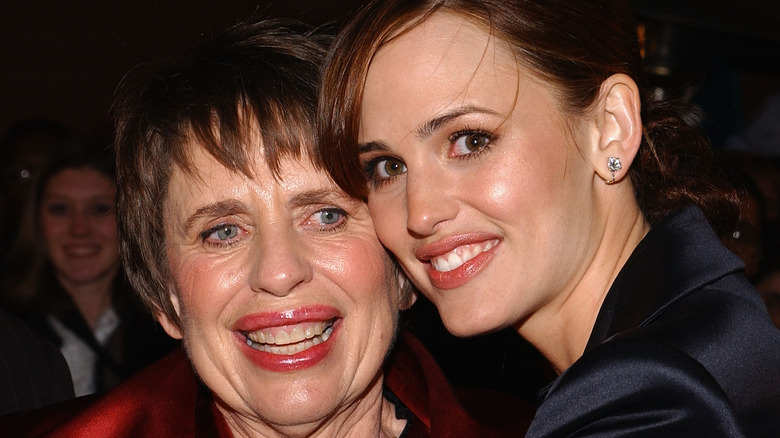 Getty Images/Getty Images
Jennifer Garner fans know all about her "Pretend Cooking Show," where the "Yes Day" star films herself making all of her favorite recipes, sharing all of the fun mistakes and joys of cooking as if she were hosting a traditional show. Garner is absolutely brilliant in these videos that she posts on her Instagram account, and no doubt her followers are always craving the next one. Garner's mom, Patricia appeared on the show in the past and was a huge hit (via People). Well recently, Garner invited her back to make a blackberry cobbler that almost seems more fun to watch them prepare than it would be to eat. (We said "almost.")  
Garner shared the video on Instagram, where it has close to 3 million likes, with the caption: "My mom says you'll have everyone at the potluck eating dessert first with this summer staple." She also sent some love in a shout-out to her "bonus mom, Mrs. Lantz." The mother-daughter duo could not be sweeter as Garner's mom instructed her to wash the blackberries and then to "mix a cup of flour, a cup of sugar, and a large egg." Garner reminded her mom about adding salt, and her mom was "glad" because she "quite often forget[s] the salt." (Raise your hand if you do, too!)
Garnering all the fandom
Before the mom and daughter popped the cobbler into the oven, Garner asked, "Are we supposed to have buttered or prepared that pan at all?" Her mom seemed so no-fuss, replying, "We probably should have, honey, but it's gonna have to work cause we didn't" (via Instagram). Upon seeing Garner pull the dessert out of the oven and serve it with vanilla ice cream, you might wish you could dig a spoon into the white baking pan, as well. The dish looked delish!
Many of the actress' celebrity friends and followers were fangirling over both the cobbler and Garner's mama. Sharing their admiration and approval, one commenter wrote, "Gosh she's so sweet. Your mama is our kinda woman. BUTTER." Katie Couric offered a simple, "Yummmmmmmmm" followed by a heart. And Viola Davis wrote, "Delicious!!! I'm making this!"
How is it that Garner's "Pretend Cooking Show" hasn't been swooped up by one off the big networks? Well, the "Alias" star said she isn't really up for it. She told Rachael Ray (via YouTube), "I don't know enough to have my own cooking show ... I like a three-and-a-half-minute cooking show that I do with my friend in my kitchen and an iPhone, and it's done." But never say never. The actress recently inked a deal to star in and produce films for Netflix (which has been home to quite a few food shows), according to The Hollywood Reporter. Here's hoping that if she does make a non-pretend cooking show, it will include her sweet mom.