This Buttery Dunkin' Coffee Had TikTok Divided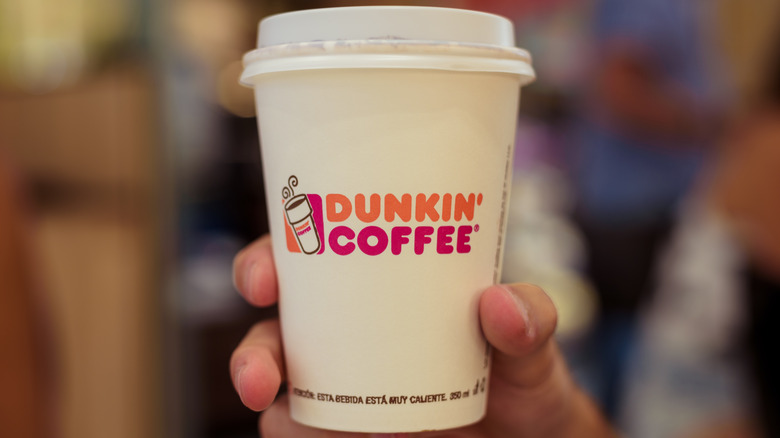 JCDH/Shutterstock
What makes the perfect cup of coffee? Die-hard connoisseurs may tell you that drinking it black is the only way to go. However, a 2019 study conducted by Reddi-Wip found that a majority of java lovers in America actually prefer to doctor up their morning coffee with some sort of add-in like a creamer, syrup, or sweetener as opposed to sipping on it in its purest form (via PR Newswire).
This isn't a new concept, either. According to Coffee Review, coffee drinkers have been using milk and sugar to improve the taste since the 17th century, while flavored coffee syrups came onto the scene in the early 1900s (via Jayarr Coffee). These days there are dozens of different add-ins to choose from, especially at coffee shops where baristas have seen some extreme orders over the years, from patrons asking for over-the-top and sometimes unconventional additives to their cup of joe.
Recently, one Dunkin' employee was on the clock when one of those requests came in and decided to share their customer's order with others on the social media platform TikTok. "When a customer asks for butter in his coffee," read the text overlay on the now-viral video posted by user @adabadayy in which they could be seen adding a scoop of the condiment to a hot cup of java. "Y'all are sick," they captioned the November 22 post that has since racked up 11.6 million views, 250,000-plus likes, and hundreds of comments to date.
Some TikTokers couldn't fathom the idea of adding butter to their Dunkin' coffee
Dunkin' has been behind a number of delicious coffee drinks over the years, though we're not too sure we'll be seeing coffee with butter in it on the chain's menu any time soon. After employee and TikTok user @adabadayy shared this video to the social media platform showing themselves scooping the unconventional additive into a cup of joe at a customer's request, some people took to the comments section to denounce the idea. "If someone ever asks me to do that I'm saying hell no," one person wrote. 
Interestingly enough, an overwhelming number of commenters chimed in to defend the coffee concoction. "It's actually really good," one person said. "People have been doing this in Ethiopia for years," another claimed. A third, meanwhile, pointed out that butter was a popular additive for those following a keto diet. "It's Bulletproof coffee or keto coffee. Helps with digestion and weight loss," the person explained. 
According to Healthline, butter coffee is a "DIY version" of Bulletproof coffee, which is sometimes used as a meal replacement for those doing keto. It typically consists of brewed coffee, unsalted butter, and something high in medium-chain triglycerides like coconut oil, and is said to provide energy and mental clarity and may help suppress hunger. While Dunkin's version of this buttery drink may not quite compare to the fan-favorite Caramel Swirl Iced Coffee from the chain, as one TikToker said, "Don't knock it till u try it."