The Real Reason Italy Won't Allow A McDonald's At This Tourist Site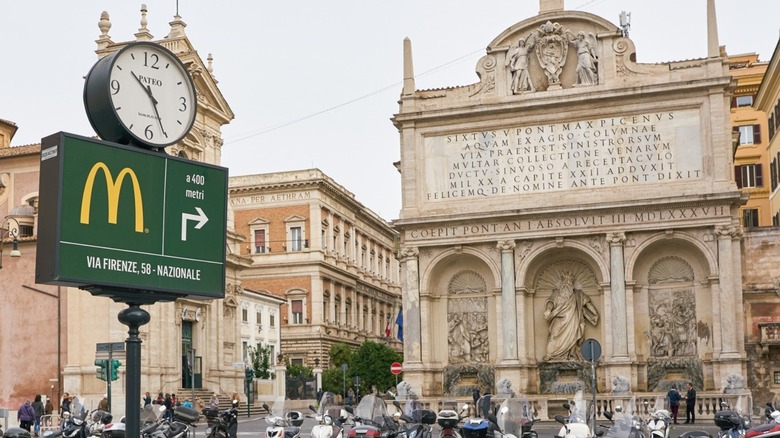 Sorbis/Shutterstock
Though it may be one of the most All-American of fast food chains, McDonald's is by this stage a worldwide phenomenon. In fact, we wouldn't be terribly surprised in the near future to hear that they've opened up their first orbiting franchise to serve passengers on SpaceX, Blue Origin, and Virgin Galactic. That being said, not all countries welcome such fast food imperialism, among them the Mickey D's-free Montenegro and Iceland. And yet still other countries have cultivated a more ambivalent attitude, with Italy being a prime example of the latter category.
You might well expect that Italians wouldn't be fans of the Big Mac when they've got such amazing food of their own. In fact, the late Cardinal Elio Sgreccia, speaking with the Italian newspaper La Repubblica (via The New York Times), called Mickey D's offerings "foods I would never eat" and complained that the restaurant "ignores the culinary tradition of Roman cuisine." Still, there are numerous other Italians who obviously feel differently, as the country currently has more than 600 McDonald's locations and plans to open several hundred more. 
The chain seems to view Italy as prime territory for expansion as well, with their Italy group CEO Dario Baroni telling La Repubblica (via The Art Newspaper) that the country is considered "one of the markets with the greatest potential on a global scale." Well, McDonald's may currently have 54 restaurants in the Eternal City of Rome, including a highly-contested location right outside the border of Vatican City, but they won't be adding a 55th spot at the site of this world-renowned monument.
McDonald's is officially a no-go at the Baths of Caracalla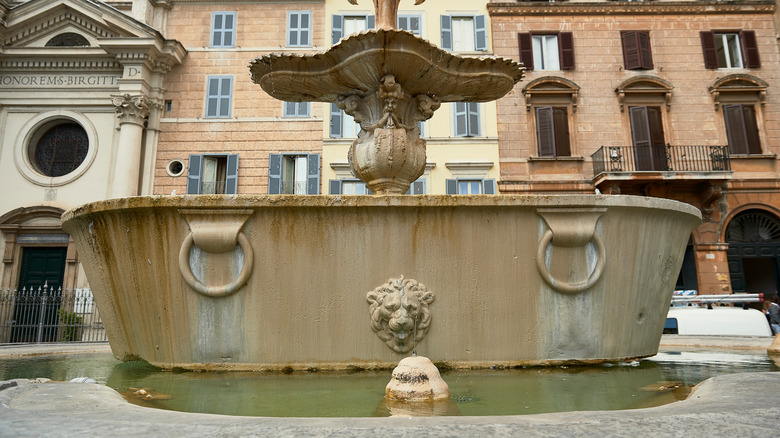 Francisco Javier Diaz/Shutterstock
McDonald's most recently had their eyes on a site at the Baths of Caracalla, which Livius points out had their heyday 1800 years ago, offering hot, cold, and warm bathing facilities as well as saunas and a swimming pool-sized outdoor bath for up to 1,600 people. They were also decorated to the hilt with statuary, the surviving bits of which are now housed in art museums. Although these baths are no longer the kind of place where you'd go to scrub-a-dub or swim a few laps, Italy's Culture Cooperative Society lists them as one of the country's major tourist sites, touting their pristinely preserved beauty and the immersive virtual reality experience they are now offering visitors.
Well, McDonald's took one look at the crowds flocking to see this historic spa and saw dollar signs. Millions of them, perhaps. The company got permission from the city to build a drive-thru right next to the site. The Art Newspaper says they were well under way with construction on this location when they were forced to cease and desist in 2019. The case went through the court system with a final appeal decision coming down in the last few days.
The final decision to block the Caracalla McDonald's sets an important precedent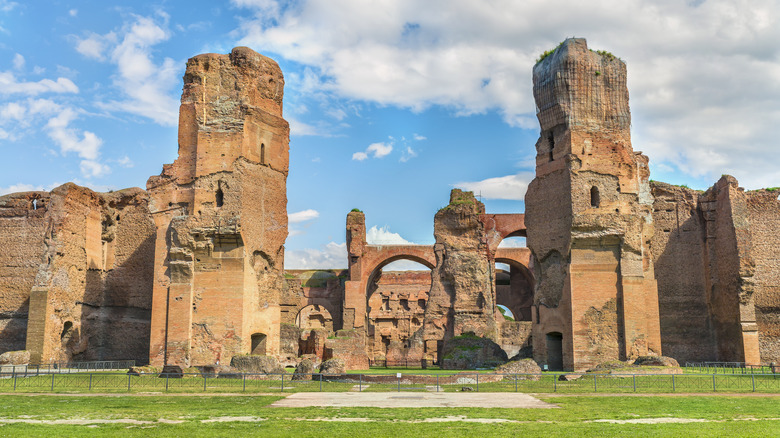 Vasilii L/Shutterstock
Rome's city council originally granted permission for McDonald's to renovate a pre-existing building — not one of ancient Roman design, but one that The Sunday Times says began as a 1970's-era garden center. They quickly reversed course, however, due to media outcry. The Art Newspaper explains that once the majority turned against the idea of an American fast food chain at the gates of Rome's best-known bathhouse, the city's mayor also jumped on board and its Ministry of Culture reversed their earlier approval of the planned Mickey D's. While the chain ceased construction, they continued to fight the decision in a series of legal battles. Things went all the way to Italy's highest court, but the final appeal was denied during the last week of 2021.
What was so significant about the court's ruling on the Caracalla case was the inclusion of a provision that the Ministry of Culture may now use to halt any similar construction projects that could impact historic sites, whether or not those sites have been officially declared to be landmarks. Historical preservation organization Italia Nostra was predictably pleased, issuing the statement that, "This clarification is extremely important for the future protection of our cultural and archaeological patrimony" (per The Art Newspaper). Undeterred, Mickey D's spokespeople said that although they agree to abide by Rome's laws, they cite their "long-term and positive relationship between our company and the city" as the reason why "we will continue to invest on [sic] this area."