The Best Cleaners For Kitchen Counters On The Market Right Now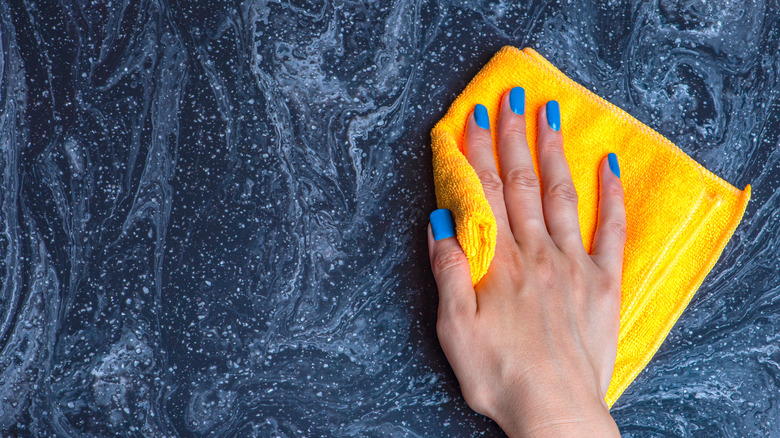 SERSOLL/Shutterstock
We may receive a commission on purchases made from links.
The kitchen is arguably the most challenging spot in the home to keep clean — at least, without the right cleaning products and a consistent cleaning schedule. This room harbors bacteria in just about every crevice, thanks to raw foods, dirty hands, and germy surfaces throughout. There are probably germs lurking in kitchen spots you wouldn't expect, too, like on your favorite fruits and vegetables and your sink faucet (via Cleveland Clinic).
Cleaning and disinfecting your kitchen countertops is an important part of overall kitchen cleanliness, as these surfaces are where most food goes while you prepare meals. Finding the right cleaner for your countertops is necessary to ensure cleanliness and material protection. When searching for a kitchen counter cleaner, consider its price, ingredients, cleansing power, and the surfaces it's designed for. A cleaner should be strong when killing germs but gentle enough to avoid abrasiveness and damaging chemicals that could harm the look and integrity of your counters.
How we selected products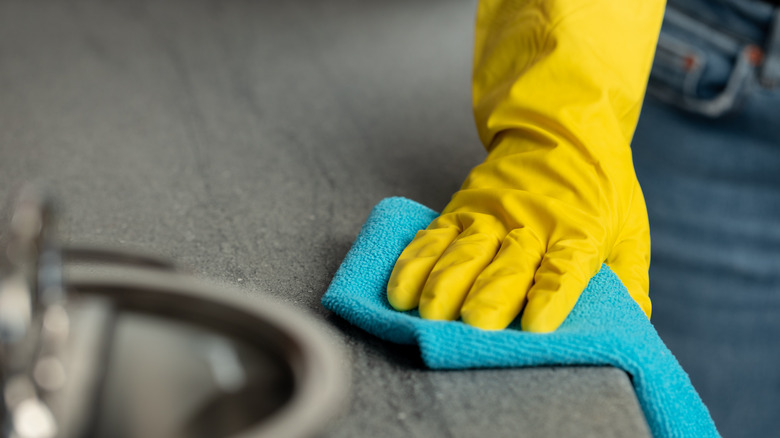 Fabrika Simf/Shutterstock
To find the best kitchen cleaners currently available on the market, we considered more than 30 of the most popular options based on press, reviews, and more. Our list included all-purpose cleaners, material-specific cleaners, natural cleaners, and cleaners that have been around for generations. From there, we separated each cleaner into an appropriate category, like stone cleaners and natural cleaners.
From here, we dug into the nitty-gritty details of each kitchen countertop cleaner to learn what sets them apart from similar products on the market. We considered factors like cleaning ability, use on different surfaces, ingredients, and strength. Ultimately, a mix of press releases, consumer reviews, product videos, and first-hand experiences helped guide us to our final list of kitchen counter cleaners.
This list is a roundup rather than a ranking, so we don't mention items in any particular order. Instead, we've listed each cleaner as being best for a specific purpose so that you can find the perfect one for your cleaning routine.
Lysol All-Purpose Cleaner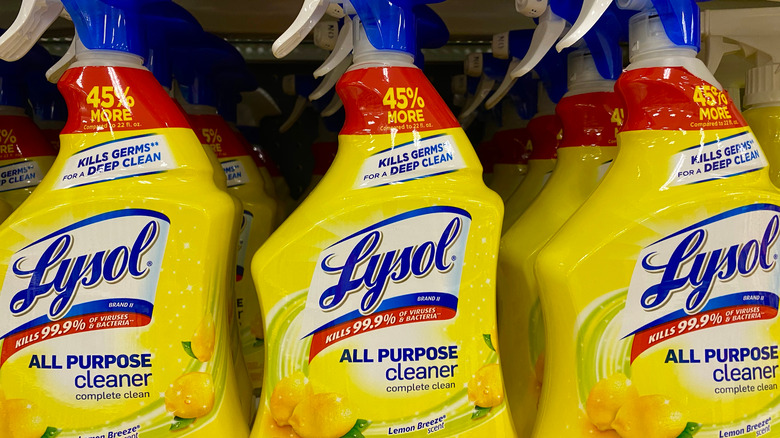 KK Stock/Shutterstock
A must-have cleaner for many homeowners, Lysol All-Purpose Cleaner has made it through generations of trendy products and family cleaning traditions to remain one of the most popular cleaners on the market. While it's not specifically designed just for kitchen counters, it certainly works well on them. Add it to your collection of cleaning products, and you'll have a cleaner that fights germs on almost any surface in your home. Don't love lemon scents? Try the Cherry Blossom and Pomegranate versions instead.
As a kitchen counter cleaner, Lysol All-Purpose Cleaner powerfully cuts through grease commonly found in cooking areas while disinfecting counter surfaces. So, you'll get cleaning and sanitizing in one convenient bottle. According to Lysol, the product eliminates up to 99.9% of surface germs and bacteria, including those commonly found in the kitchen, like E. coli, listeria, and salmonella.
Consumers have overwhelmingly positive things to say about this cleaner when it comes to their kitchen counters. One Influenster reviewer says, "This is all around a great product. It had a refreshing lemon scent and quickly takes off any oily residue on all surfaces. I always grab for it!" Another adds, "My go-to cleaner. I like the addition of lemon which helps to give a fresh clean smell without being too chemically. I can clean my whole kitchen with this spray. Price is a good value."
Mrs. Meyer's Clean Day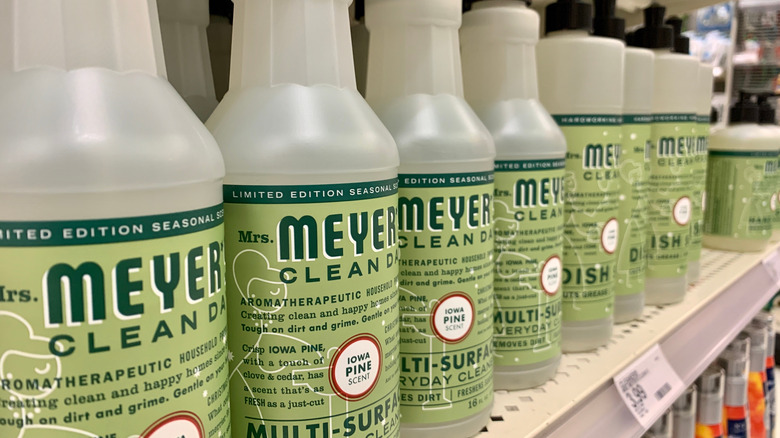 DC Stock Photography/Shutterstock
Mrs. Meyer's Clean Day products have become almost cult classics in the cleaning world, especially with people who prefer more natural cleaning products. The brand's cruelty-free and plant-derived products are known for their unique and refreshing scents, like Iowa Pine, Orange Clove, and Birchwood. For kitchens, the Lemon Verbena scent is a top hit. As one Amazon reviewer pointed out about the popular scent: "In a word.....YUMMY. In a couple words......super fresh, 'clean' scent."
The multi-surface Mrs. Meyer's Clean Day formula is gentle enough to use on most countertops thanks to plant-derived ingredients like lemon peel oil and sodium citrate. If you're not sure what an ingredient is, simply head to the company's ingredients glossary to look it up. However, you won't find any of the usual harmful stuff, such as artificial colors, glycol, or parabens, inside a bottle. Plus, each Clean Day container is recyclable (via Mrs. Meyer's).
Mr. Clean Clean Freak Deep Cleaning Mist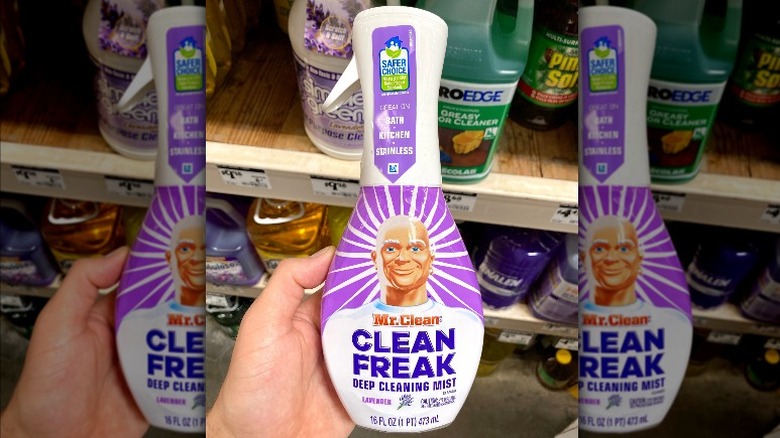 ZikG/Shutterstock
Not all traditional spray bottles are created equal. Some pumps fail to work at all while other sprayers get clogged and spray cleaner haphazardly across your kitchen counters. That doesn't happen with Mr. Clean Clean Freak Deep Cleaning Mist, though. This multi-purpose cleaner has an innovative sprayer design that releases a consistent cleaning mist, covering a large surface with deep cleansing power without the mess. Cleaning kitchen counters has never been easier with this product, which cuts through grease, dirt, and other kitchen grime in seconds.
The cleaner is safe to use on stainless steel appliances and won't leave streaks behind that dull their appearance. It also meets U.S. EPA Safer Product Standards denoting its safer cleaning ingredients (per Mr. Clean).
Amazon reviewers rave about this cleaner's ease of use, stating, "Cleaning my stainless steel appliances with a microfiber towel = EPIC" and "I am obsessed with these new spray bottles. They can be sprayed in any direction, you get all the product even when it's really low, and I love the three-second spray. It makes for a lot less hand work just spraying the darn bottle!"
Clorox Scentiva Disinfecting Multi-Surface Cleaner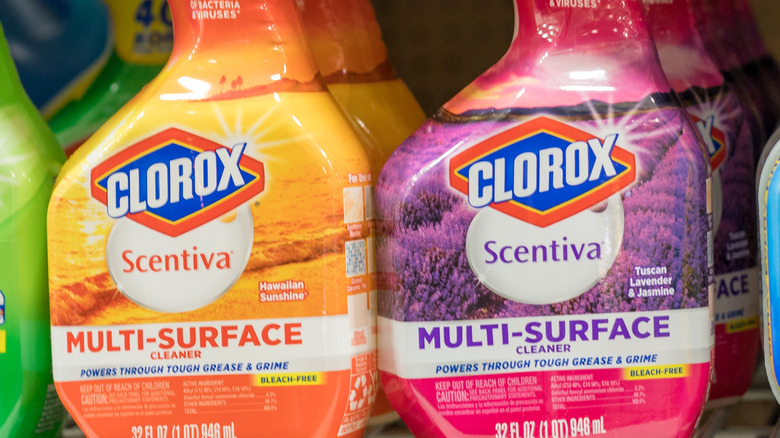 Lisa Carter/Shutterstock
Nobody wants their kitchen to smell like bleach or chemicals when they're done cleaning it. Plus, the usual lemon or pine scents don't appeal to everyone. Thankfully, your kitchen can smell floral and relaxing or bright and energized with Clorox Scentive Disinfecting Multi-Surface Cleaner. This product comes in Tuscan Lavender & Jasmine and Tahitian Grapefruit Splash scents, all of which are welcomed changes from common cleaner scents.
One reviewer calls this cleaner a "vacation in a bottle," adding, "I love this scent ... I cleaned everything in the house with it and my home smelled like a vacation."
Although you can use this cleaner throughout your home, it works wonders on kitchen counters, disinfecting surfaces and killing up to 99.9% of germs as it cleans. Just spray it a few inches from your countertops, and wipe it clean with a clean cloth or paper towel. We suggest allowing it to sit for a few minutes for tough messes, like grease spills, before wiping. The bleach-free formula is safe to use on pet and child-used, well-ventilated areas (per Clorox).
Aunt Fannie's Cleaning Vinegar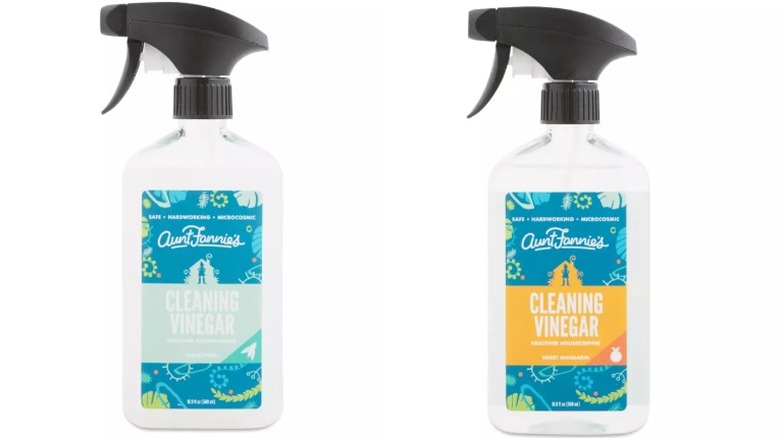 Aunt Fannie's
Vinegar has long been used as a natural cleaner, cutting through grease and grime that builds up in the kitchen. It's natural, so it doesn't have any harsh chemicals that could be hazardous to your countertops or the people in your home. Aunt Fannie's Cleaning Vinegar takes the power of vinegar a few steps further by adding sugar surfactant, a mild sugar-based cleansing agent, to really dig into kitchen ick (via Aunt Fannie's).
Where this cleaner moves far past regular vinegar that you buy from the supermarket is its scent. Vinegar doesn't have the most pleasant scent during and after using it to clean. However, Aunt Fannie's Cleaning Vinegar is available in several appealing smells using essential oils, like Sweet Mandarin, Eucalyptus, and Bright Lemon. Grab a matching set of Cleaning Vinegar Wipes and Vinegar Floor Cleaner in your favorite scent to round out your kitchen cleaning routine.
Aunt Fannie's Cleaning vinegar reviewers love that the product leaves no streaks behind on kitchen counters while cleaning as effectively as chemical-based products.
The Pink Stuff Miracle Multi-Purpose Cleaner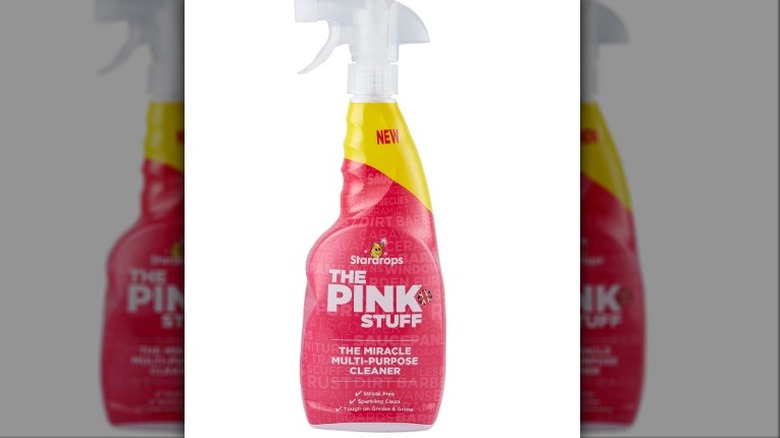 Stardrops The Pink Stuff
The Pink Stuff lineup is one of the trendiest selections of cleaners on Amazon right now. And if you're on TikTok, you've probably seen tons of homeowners gushing over how amazing the brand's cleaners are, from the well-known pink tub of Miracle Cleaning Paste to the Miracle Multi-Purpose cleaner. In fact, several Amazon reviewers have admitted that they only tried The Pink Stuff after seeing it on Tik Tok.
While the paste works wonders on stains left behind on your grill or cooktop, you'll want to grab the multi-purpose spray bottle for your counters. The formula is non-toxic, made with natural ingredients, and contains no parabens, GMOs, or triclosan. Even without its use of chemical cleaners, The Pink Stuff Multi-Purpose Cleaner fights through tough kitchen buildup to keep your counters sparkling and grease-free. One reviewer on the product website exclaims, "I love this! It cleans the grease and gunk off every surface in my kitchen! Even better, it smells like pink lemonade! I recommend this 100 percent!"
StoneTech Daily Cleaner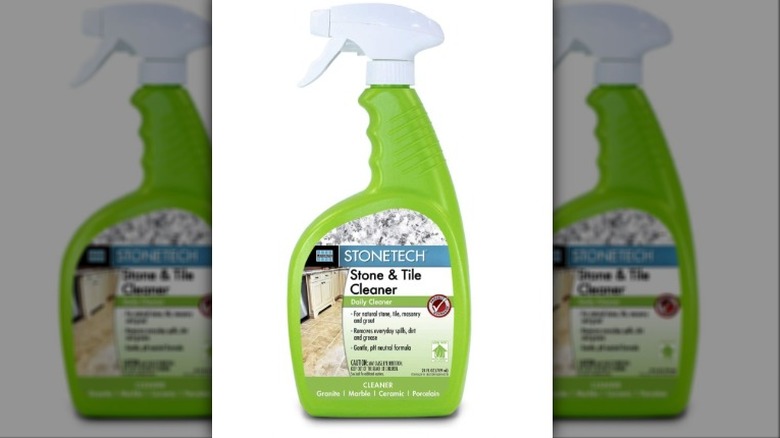 StoneTech
While some cleaners are marketed as multi-purpose, not all of them are safe for stone counters. According to The Spruce, even vinegar can harm some types of stone, and ammonia and bleach-based products are definite no-nos for cleaning.
That's where StoneTech Daily Cleaner comes in handy. The cleaner works with several types of stone counters, including limestone, granite, flagstone, and slate. We love that the gentle formula includes just three ingredients that work together to remove dirt buildup and cut through grease without the abrasiveness of chemical cleaners. Still, it's always a good idea to test the cleaner on a small, out-of-sight section of your countertop, just to make sure it doesn't cause an unwanted reaction.
Amazon reviewers with stone countertops swear by the StoneTech Daily Cleaner for keeping their kitchen surfaces clean without a ton of effort. One reviewer says, "This product works really well for cleaning our granite countertops. We use it together with StoneTech sealer to keep all our granite looking great."
VEO Active-Probiotics Surface Cleaner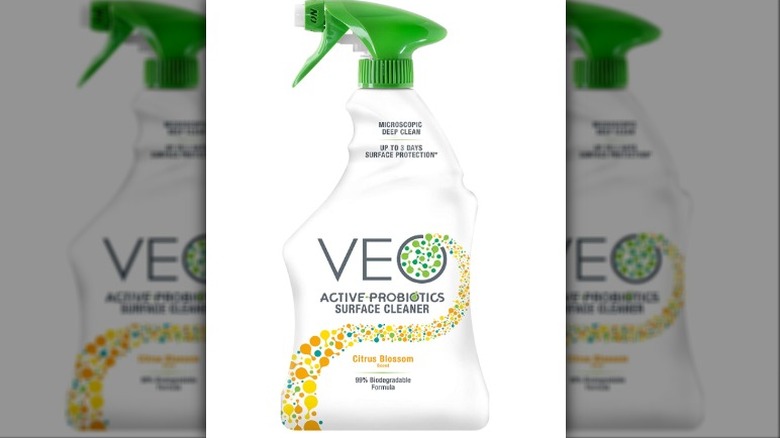 VEO
You've probably heard that a diet including probiotics can improve digestive health. But did you know that having probiotics in your kitchen counter cleaner can improve its cleaning power? That's the idea behind VEO Active-Probiotics Surface Cleaner, which contains active probiotics that go to work on kitchen surfaces. According to Apartment Therapy, active probiotics in cleaners actually stay around on your counters after you've finished cleaning them, so they'll keep getting to work on fighting dirt and bacteria.
They're also extremely effective at reaching into tough areas, like the grout in tile countertops. One Amazon reviewer shared their experience about moving into a home with '90s-style tile counters with grout that was nearly impossible to clean. It wasn't until they tried VEO Active-Probiotics Surface Cleaner that they had a happy ending. However, says the reviewer, "Unfortunately it worked so well [that] now my husband won't buy me new countertops."
This particular formula is 99% biodegradable with a short list of ingredients that doesn't include bleach, phosphates, or formaldehyde. The plastic bottle is also completely recyclable, so you can feel good about doing your part in helping the environment when it's time for a new one.
Branch Basics The Concentrate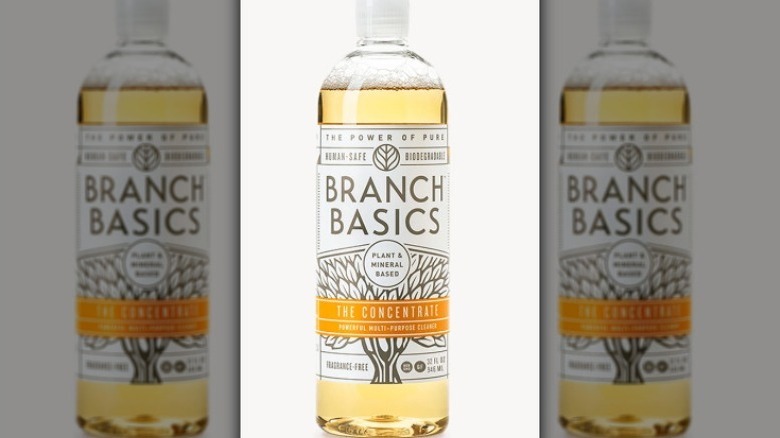 Branch Basics
In 2015, Branch Basics — a company founded to spread the love of natural cleaners and home goods — underwent controversy when its supposedly all-natural cleaner was revealed to include an ingredient that the owners were unaware was actually synthetic. That year, the owners ceased production and sales to reevaluate their branding. Eventually, they decided to go back to the drawing board to create a cleaner that customers loved just as much but with truly all-natural ingredients. That's when the new Branch Basics company and its products were formed (via Inc.).
Branch Basics The Concentrate is the brand's staple cleaner for multiple surfaces in the home, including kitchen counters. The fragrance-free formula includes just seven ingredients, all of which are plant or mineral-based. One bottle of concentrate makes up to three standard spray bottles of all-purpose cleaner that wipes kitchen surfaces clean, toxin-free.
Several reviewers on the Branch Basics website have admitted to saying good-bye to their previous cleaners, replacing them all with The Concentrate.
Pine-Sol Multi-Surface Cleaner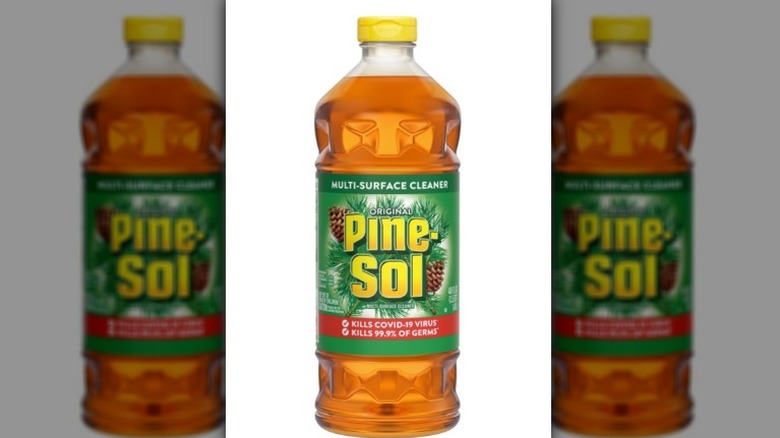 Pine-Sol
Pine-Sol is one of the most renowned names in the cleaning business, known best for its pine-scented cleaners that make homes smell like a forest in the crisp fall air, although the lineup now includes additional scents. People love it so much because it can tackle just about any mess in the home on almost any surface you have. Non-porous kitchen counters, like granite, linoleum, and tile, are simply no match for this powerful cleaner.
Because Pine-Sol cleaners come in concentrated formulas, you can dilute them exactly how you need them, depending on the mess. For tough grease removal, use less water. Tor daily kitchen clean-ups, mix using the suggested formula of a quarter-cup concentrate per gallon of water. One 24-ounce bottle can mix up to 12 gallons of cleaner, offering an affordable way to keep your kitchen counters and the rest of your home sparkling clean (per Pine-Sol).
Reviewers on Pin-Sol's website give the lemon-scented version an average of 4.8 out of five stars at the time of writing, frequently mentioning their love for the fresh scent, affordable pricing, and versatility.
CLR Clean & Clear Stone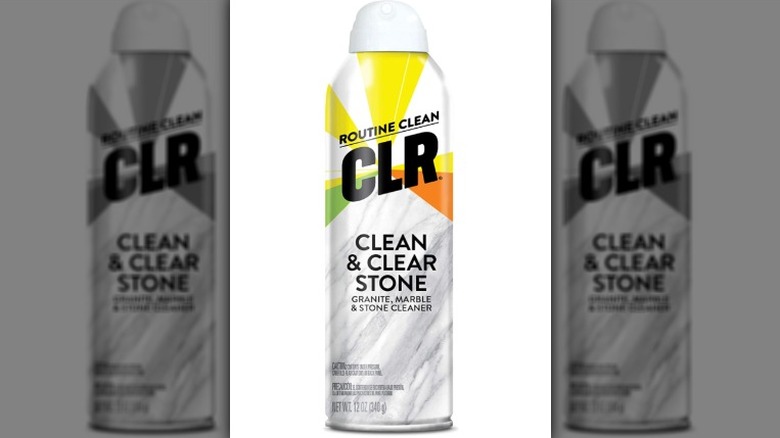 CLR
For routine cleaning of your stone kitchen countertops, CLR Clean & Clear Stone is one of the best options. This formula is designed to work on granite, marble, and stone surfaces, digging deep into crevices to keep everything clean from regular kitchen messes. It also protects against future spills to keep liquids from staining and bacteria from seeping in. As a bonus, its aerosol application makes covering a kitchen surface a breeze — simply spray it on and wipe it off to get a streak-free finish (via CLR).
One Amazon reviewer of CLR Clean & Clear Stone notes that they love the finished feel of their countertops after using the cleaner. One downside is that certain kitchen counters might experience a few streaks or less of a shine than expected. For the best results, CLR recommends cleaning up surfaces with heavy dirt and grime before using CLR Clean & Clear Stone, which could help prevent streaks and dullness.
Method All-Purpose Cleaner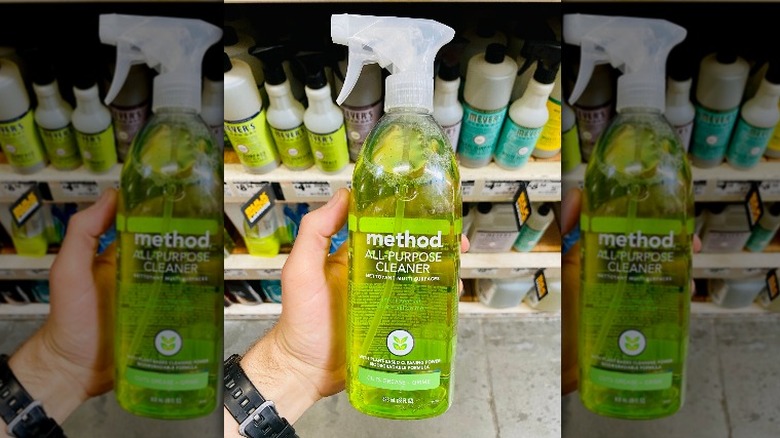 ZikG/Shutterstock
From Honeycrisp Apple to Lime + Sea Salt, Method offers several scents for its all-purpose cleaner, which harnesses the power of plant-based ingredients for reliable and gentle cleaning. Designed for use on many sealed and non-porous surfaces, Method All-Purpose Cleaner is a biodegradable formula that's as easy on the environment as it is your kitchen counters. Ingredients include sodium carbonate, lauryl glucoside, and citric acid, along with fragrances that make your kitchen smell as fresh as it looks (via Method).
Method also offers surface-specific cleaners for kitchen counters that require different cleaning methods and ingredients, like stainless steel and granite.
One Influenster reviewer of the Pink Grapefruit scent exclaims, "This not only smells great but cuts grease and grime, leaving my kitchen and other surfaces clean! I love that it's plant-based and not loaded full of icky chemicals." Others hail the cleaner for its pleasant, non-chemical smell and kid and pet-friendly formula.
Microban 24 Multi-Purpose Cleaner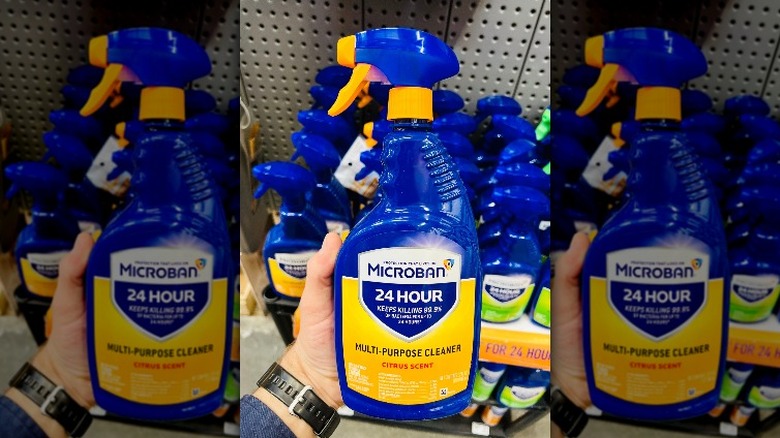 ZikG/Shutterstock
It's super important to keep your kitchen free of bacteria and germs that could interfere with otherwise healthy meal preparation. Using Microban 24 Multi-Purpose Cleaner could help you do just that thanks to its powerful formula that continuously kills up to 99.9% of certain bacteria, like Staphylococcus aureus and Enterobacter aerogenes, for up to 24 hours after using it. Wipe down your kitchen counters with it daily for a quick clean that keeps on working as you use your kitchen. Plus, it fights grease, mold, and mildew to keep your counters as sparkling clean as possible (via Microban).
While the original citrus scent is fresh and invigorating, we also love the fresh scent, which leaves an airy, clean smell in the kitchen. Other Microban reviewers agree, with one stating, "The smell is fresh but not overwhelming like other cleaning scents can be. No need to open a window!" Another reviewer loves the overall cleaning ability of the product, saying, "I noticed that it didn't leave any weird films or streaks on my countertops and other surfaces. I didn't have to worry that sticky feeling that some cleaners can leave."