Guessing This Mystery Flavor Could Win You Free Ice Cream For Life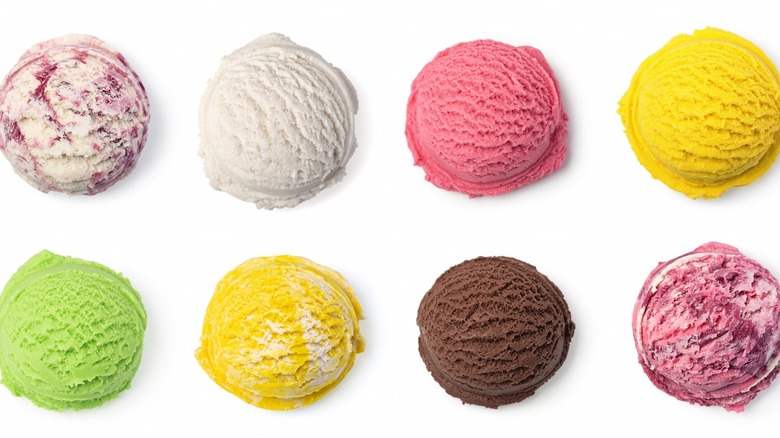 gresei/Shutterstock
Calling all dessert-loving detectives! Long-time Pennsylvania-based ice cream maker Turkey Hill recently announced a challenge they've come up with, designed to put your taste buds to the ultimate test. In a press release, the company announced the arrival of a new limited-edition launch that offers a fun challenge to supertasters and ice cream investigators everywhere. It's the brand's first-ever Mystery Flavor, which is available to purchase now at grocery stores nationwide (for a suggested price of $4.29), and it tasks fans to uncover the unidentified taste for a chance to win some major prizes.
After trying a spoonful, customers can scan the QR code on the packaging or log on to the ice cream maker's Mystery Flavor website to enter their best guesses for the chance to win. The 90-year-old company (per People) will be giving away dozens of prizes to those who guess correctly, including one person who will get free ice cream for life.
"Surprising our fans with a delicious, but mysterious new flavor is what the Mystery Flavor is all about," Kriston Ohm, Turkey Hill's Vice President of Marketing said in the release. "We like to have fun at Turkey Hill, and we couldn't pass up the opportunity to bring the unexpected to the freezer aisle."
The company will be rewarding dozens of ice cream detectives
All entrants will have the chance to win a slate of cold, creamy prizes, per the official website. Ten people will receive free ice cream for a year (in the form of 12 Turkey Hill coupons); 15 winners will receive free ice cream for six months; and 30 fans will receive free ice cream for three months.
As for the main prize, one lucky grand prize winner will win free ice cream "for life," which equates to one container of Turkey Hill per month for up to 50 years. All of the prize winners will be randomly selected from the pool of those who are able to guess the identity of the mystery flavor correctly. The contest, which is running now through March 14, 2022, is open to residents of all U.S. states (and the District of Columbia), with the exception of residents of Rhode Island. Entrants can make up to one flavor guess per day, with the big reveal planned for March 15.
While not everyone who enters is guaranteed to win some complimentary pints, the company's challenge is designed to get their customers excited about their newest flavor, with Kriston Ohm, Turkey Hill's Vice President of Marketing, saying: "Our new Mystery Flavor is sure to sneak some mystery and intrigue into homes across the nation — we can't wait for you to try it."