Trader Joe's Fans Are Raving About Its Greek Yogurt With Honey
People can't get enough of Trader Joe's Greek yogurt with honey. Trader Joe's Rants and Raves claims that this product serves as a great breakfast when paired with granola, and can even stand up as a dessert topping. Trader Joe's Reviews concurs, and fans chimed in with their own takes, ranging from "Yummiest yogurt ever! Dunno how they do it. Way better than adding honey. My special treat!" all the way to "the best Greek yogurt around."
Instagrammer @traderjoesfoodreviews recently discovered this fan favorite and had to post an image of the product alongside a caption reading, "Honey Greek Yogurt: 9/10. Growing up, I was obsessed with frozen yogurt! I worked at a fro yo shop in high school and would eat it every day for dinner. This honey Greek yogurt tastes just like tart/original fro yo to me! The added honey sweetens up the tang of the Greek yogurt making this taste almost like dessert. I cannot believe it's not sweetened with anything besides honey because of how sweet and delicious it is! I love that they used just a natural sweetener in this yogurt and no added cane sugar. It's the best breakfast with berries and granola on top."
They went on to provide some serving suggestions, comparing it to Trader Joe's frozen strawberry Greek yogurt popsicles. Fans loved the review and couldn't wait to jump in with their own takes.
A yogurt that Instagram can't get enough of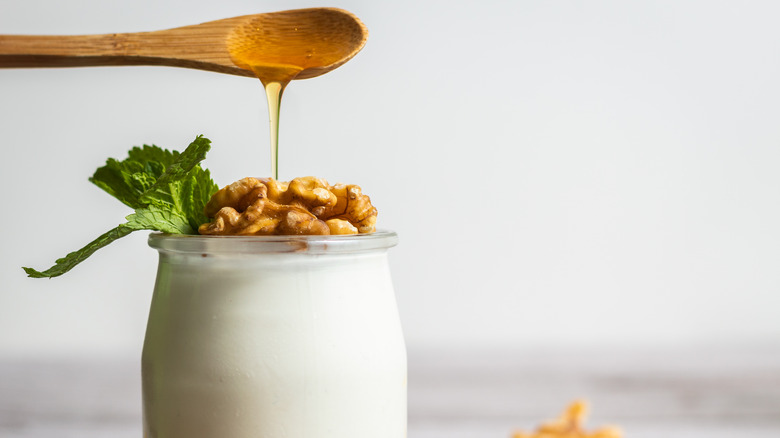 Victor Santacruz/Shutterstock
The Instagram post lit up with excited replies from followers who couldn't wait to share their own impressions of the yogurt. Comments included gems like, "This is one of my favorites! I typically add frozen blueberries and cinnamon with it to spice it up," and "Honestly my favorite for a sore throat too. Soooo soothing during cold season!" Others said, "It's my favorite yogurt. It's like custard," and "Sooo good. 10/10. Really good with toasted coconut granola," while others raved about how they could travel miles to get their hands on it. One user summed up the collective sentiment perfectly: "I will literally travel hours to my closest TJs just for this yogurt."
If you find yourself at Trader Joe's in the near future and need to try out a new yogurt, make sure to keep their take on honey Greek yogurt on your radar. After one bite, you can see if it lives up to these very high expectations — and with any luck, you might just discover your new favorite yogurt.