Why You Should Start Keeping Chili Bean Sauce In Your Pantry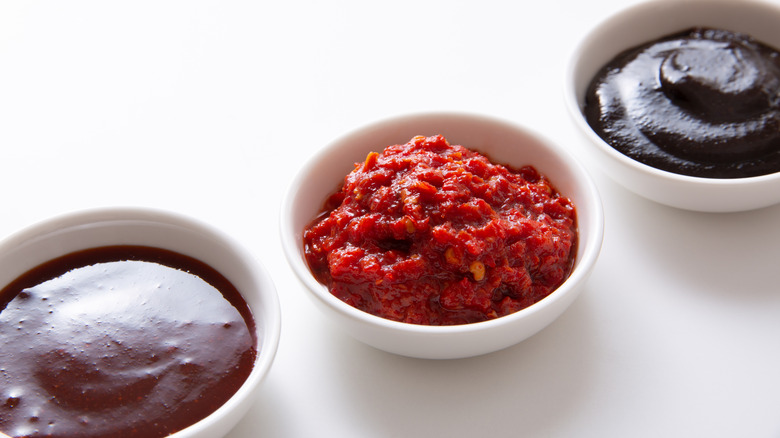 taa22/Shutterstock
Chili bean sauce is an incredibly adaptable and versatile ingredient, equally hot and savory. It's a stalwart in Sichuan-style cooking, where it's a key ingredient for twice-cooked pork, dry pot, and much more (via The Woks of Life). Sichuan food expert Fuschia Dunlop regards chili bean sauce as "one of the most important and distinctive ingredients of Sichuanese cookery" (per The Guardian). 
In terms of form, chili bean sauce can be found in two similar, albeit slightly different preparations: Doubanjiang and toban djan. According to Spiceography, chili bean sauce that's been produced in the Sichuan province (or more specifically, the town of Pixian, where the sauce is the ne plus ultra) is referred to as doubanjiang. Toban djan is pretty much the same paste made of fermented soybeans, broad beans, and chiles — only with a different romanization, wider commercial availability, and non-Sichuan roots. In fact, the most readily available toban djan at Asian grocery stores comes from Cantonese company Lee Kum Kee (via Viet World Kitchen). 
Chefs love chile bean sauce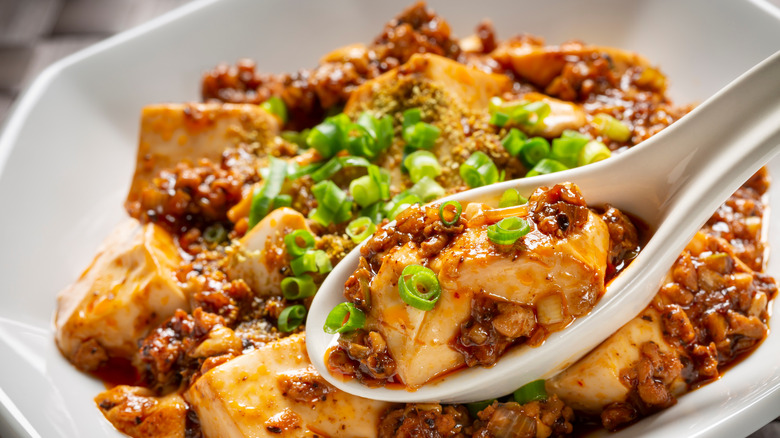 gontabunta/Shutterstock
Whichever you acquire, chili bean sauce won't be fiery like traditional grocery store hot sauce, as Fuschia Dunlop explains. "It just has this lovely earthy, fermented bean taste and a medium belly-warming chile flavor" (via The Guardian). So it makes sense that the ingredient is a pantry staple many chefs turn to when they make an assortment of bold, delicious dishes — Sichuan or otherwise. 
Jing Gao, culinary expert and CEO of Chengdu-sourced spice-and-condiment company Fly By Jing, acknowledges that she couldn't make Mapo tofu, a classic Sichuan recipe and "her last meal dish," without fermented chili bean sauce (via Food52). In the broader context of Asian cuisine, chili bean sauce can be found as a flavor enhancer used to perk up Hunan-style chicken and Taiwanese beef noodle soup (via All Recipes). But really, the love for chili bean sauce is universal. Hawaii-based restaurateur Mark Ellman says it's his "go-to umami ingredient. Its versatility makes it a must-have" (via MSN). Ellman also notes that chili bean paste can be added to salad dressings and vegetarian stir-fries for some punch and pizzazz. Notably, Vietnamese-American cookbook author and teacher Andrea Nyugen has incorporated doubanjiang into fusion recipes like spaghetti with Mapo tofu sauce (via NYT Cooking). Just remember when cooking at home that chili bean sauce is super potent in flavor, so no matter how you decide to experiment with the condiment, it's advised to err on the side of using a smaller amount (via Fly by Jing).