Taco Bell's $10 Taco Subscription Service Is Here To Stay
If your New Year's resolution was to eat more tacos in 2022, then you're in luck. Among the many changes Taco Bell is making this year is the chain's nationwide launch of the Taco Lover's Pass. The pass is a new in-app subscription service that provides Taco Bell fans with the chance to eat a taco every single day for a set monthly fee, per a company press release.
The chain first launched the taco subscription service in select test locations in Tucson, Arizona, in September of 2021, and it appears to have succeeded with flying colors. The pilot run was apparently such a hit that the taco subscription service will now be a more permanent offering at participating Taco Bell restaurants throughout the country. Download the Taco Bell app and purchase the pass, and you could eat around 30 tacos a month for $10. Here are the menu items you can redeem with the service.
A Doritos Locos Taco a day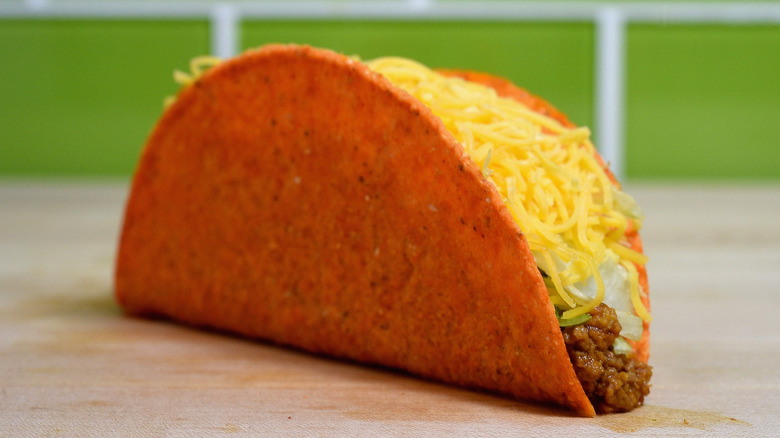 Joshua Blanchard/Getty Images
Taco Lover's Pass holders (who need to become Taco Bell Rewards members first) will be able to redeem one taco per day for a maximum of 30 consecutive days in Taco Bell restaurants, explains the press release. The promotion does not apply to delivery orders. Customers can choose from seven of the chain's tacos, including crunchy or soft Taco Supremes, Spicy Potato Soft Tacos, Doritos Locos Tacos, and even the Doritos Locos Tacos Supreme — the most popular order among pass holders.
The Taco Lover's Pass appears to be the company's way of recruiting more members to its rewards program. The announcement explains that during test rounds of the promotion, 20% of pass holders were new to the rewards program, and another 20% of people renewed their membership afterward. The Taco Lover's Pass is "a fun way to continue offering unique ways to reward our most loyal fans through our digital access points," Taco Bell's chief digital officer Zipporah Allen said.