Taco Bell Is Making Some Big Changes For 2022
In addition to bringing back its beloved Mexican Pizza, Taco Bell has made some impressive New Year's resolutions. The 60-year-old fast-food chain known for delicious tacos has recently introduced a set of philosophies to focus on. According to Taco Bell's website, those improvements may center on value, but not in the specific money-saving menu context that comes to mind. The 2022 changes are less about introducing more dollar options, and more about making overall impacts as a brand.
"Usually when you hear us talking about value, it's in reference to our delicious menu, but next year, we'll be talking a lot more about value in a different sense — our brand values" Taco Bell CEO Mark King explained. The press release describes how the company will be prioritizing its people, food, and the planet, with the goal of creating "a future that is craveable, sustainable and equitable." So, what changes can we look forward to from Taco Bell next year? Whether you work for Taco Bell, love to dine there, or happen to share the planet with the people who do, the chain is hoping to implement changes that benefit you.
Taco Bell wants to positively impact employees, diners, and the planet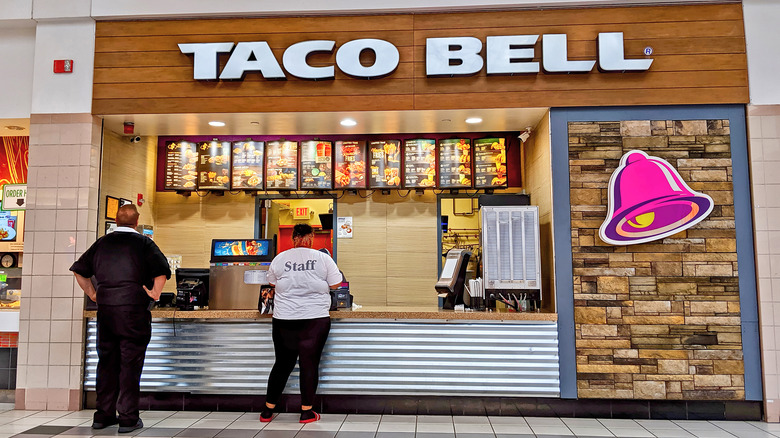 QualityHD/Shutterstock
According to Taco Bell's website, the company's 2022 commitments to employees include a number of pledges like "removing roadblocks to education," "increasing access to quality jobs," and "addressing racial equity and driving change." In addition to supporting their employees, the chain remains dedicated to supporting the community surrounding the Southern California headquarters.
On the environmental forefront, Taco Bell aims to reduce packaging waste. The company says in the FAQ section of its website that despite attracting 42 million customers weekly, less than 3% of Taco Bell's food goes to waste. However, NPR reported that more than 8 billion sauce packets go to landfills annually. Taco Bell has begun chipping away at that mind-boggling problem through the TerraCycle hot sauce packet recycling program and plans to continue doing so. Moreover, the chain is currently testing a windowless Quesadilla bag in San Francisco and hoping to begin using it in other markets in 2022, according to its press release. They are also focused on green initiatives like reducing greenhouse gas emissions, repurposing used cooking oil.
Taco Bell also has some exciting news for vegetarians. The chain will continue to release new, plant-based food items. Taco Bell is also partnering with Beyond Meat to create an entirely new plant-based protein. As FoodSided points out, plant-based food options have become a staple in the fast-food industry, meaning Taco Bell's commitment to innovate plant-based products is also a commitment to remaining relevant.