Fans Of Krispy Kreme's Chocolate Glaze Will Love These New Mini Doughnuts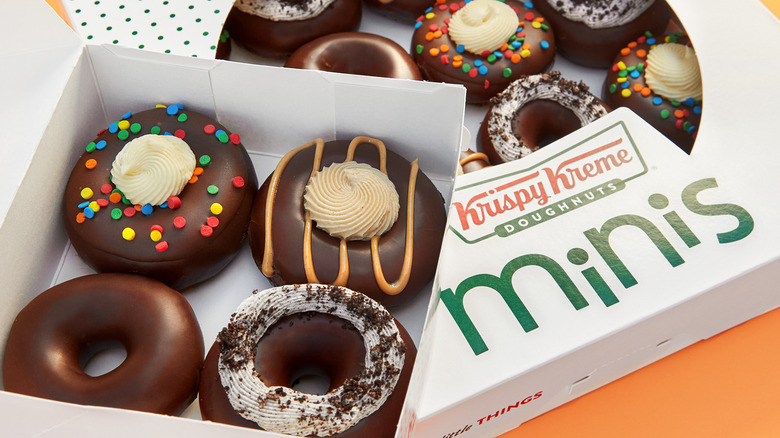 Krispy Kreme
In 2018, Krispy Kreme decided to surprise its customers by introducing a brand new flavor for 24 hours: the Chocolate Glazed Doughnut, a sweet treat that was especially a hit among chocoholics. Per Elite Daily, the company brought back the dessert a few months later, much to the delight of its fans. The doughnut is described on Krispy Kreme's website as a "Classic Original Glazed Doughnut covered in rich chocolate glaze."
Now, this doughnut is making yet another comeback. According to a press release shared by the company, the chocolate glaze doughnuts will be available in mini sizes for a limited time period at participating Krispy Kreme stores across the country. As the company's Chief Marketing Officer Dave Skena said in a statement, "We packed a ton of flavor into our new Chocolate Glaze minis to make sure your treat is not just worth it but is next-level awesome" (via Food Sided).
The flavors seem promising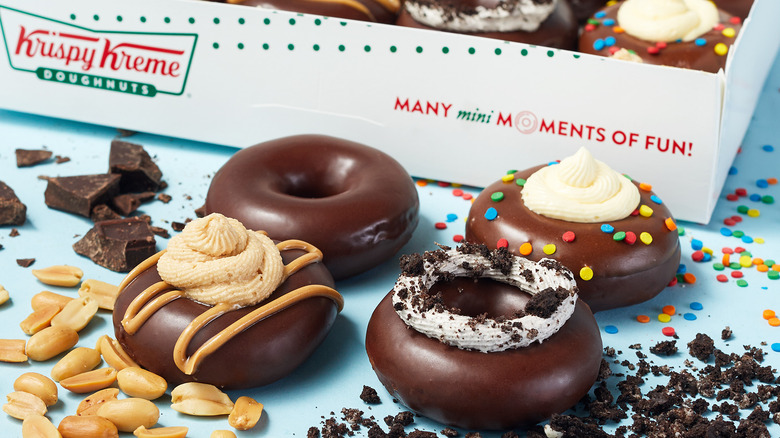 Krispy Kreme
What can doughnut fans look forward to? Well, according to Krispy Kreme's press release, the mini doughnuts are "packed with a unique blend of chocolate flavor on flavor on flavor." In addition to the classic Mini Chocolate Glazed Doughnut, the flavors include the Mini Chocolate Glazed Cake Batter Doughnut, the Mini Chocolate Glazed Cookies and Kreme Doughnut, and the Mini Chocolate Glazed Peanut Butter Doughnut.
The brand is taking things a step further by introducing something new: "Flavor Fridays." Customers will be able to purchase four mini doughnuts for just $4 on January 14 and a pack of 16 Chocolate Glazed minis or Original Glazed minis for $7.99 on January 21 and 28. Per the brand's website, the minis will only be sold at Krispy Kreme outlets until January 30.
Doughnut lovers are already in a celebratory mood. "Ngl this making me want some donuts," a fan wrote on Krispy Kreme's latest Instagram post about the Glazed Minis, while another simply said, "Just perfect."