Sweet And Sour Cucumber Salad Recipe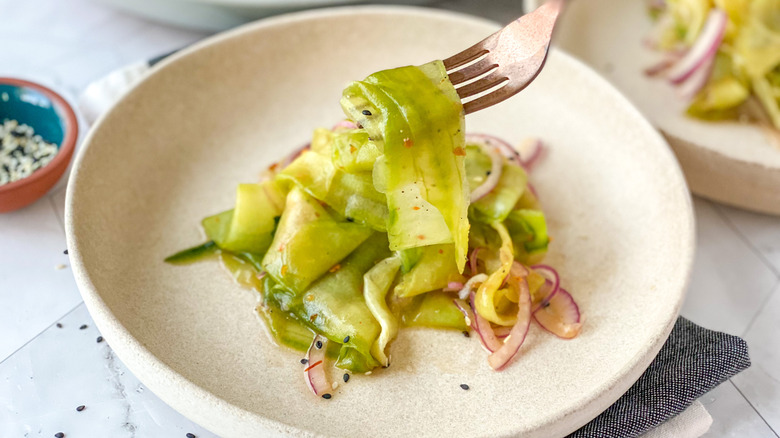 Hayley MacLean/Mashed
Cucumbers are, okay, not the most exciting vegetable out there if you just eat them plain, although they do add some snap and crunch to a salad. When you marinate them in something acidic, though, these mild-mannered Clark Kent cukes transform into super pickles! While fermented pickles take a fair amount of time to make, a quick pickle such as this one can be ready in under an hour.
Recipe developer Hayley MacLean calls this recipe "super fresh and delicious." As she describes it, "The crisp cucumbers are perfectly coated in the tangy dressing, and the bits of red onion add an awesome sharp bite." The lime juice and vinegar in the dressing, she says, combine to give the salad its "acidic bite," but she adds that "this is toned down by the honey and soy sauce to give a wonderfully balanced dish." The salad makes a nice addition to any number of lunch and dinner dishes, but MacLean says that she especially enjoys it alongside a dish of Thai curry or grilled chicken.
Gather the ingredients for these sweet and sour cucumbers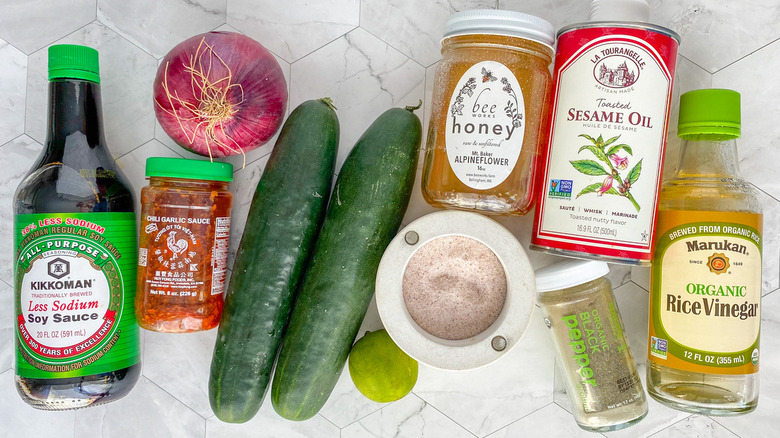 Hayley MacLean/Mashed
The salad itself consists of just two vegetables: cucumbers and onions. MacLean says she used standard slicing cucumbers, medium to large in size, but adds that "English cucumbers would also work great!" The dressing is made from rice vinegar, chili garlic sauce, honey, soy sauce, sesame oil, and the juice from half a lime. If you don't have chili garlic sauce on hand, you can use sambal oelek or sriracha, but MacLean says, "I would add a clove of minced garlic to the dressing in that case!" Taste the dressing to make sure you want additional garlic, though, since both sauces also contain this ingredient.
Peel and chop the veggies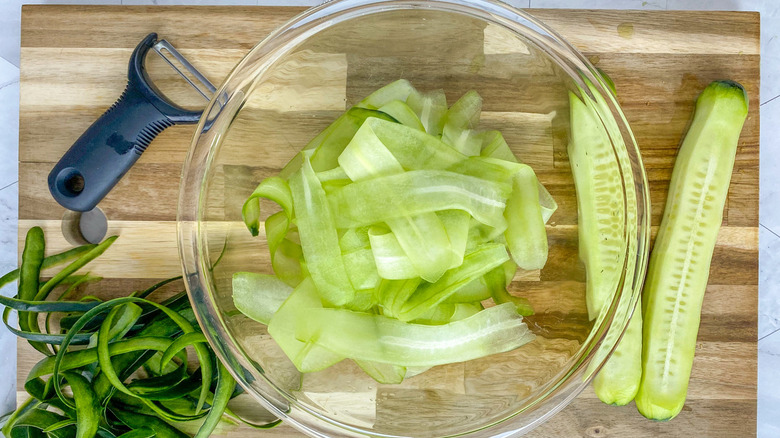 Hayley MacLean/Mashed
Peel the red onion, then cut it into thin slices. Peel the cucumbers, as well, then use the vegetable peeler to slice them into ribbons. (Don't slice into the seeded core, though.) Why use cuke ribbons? MacLean explains that this technique "allows for more surface area to be coated by the dressing and really absorbs all the flavor!" She does say, though, that if you want your salad to last a bit longer in the fridge, you could cut your cucumbers into half-moons or coins instead.
Mix the dressing while the cucumbers drain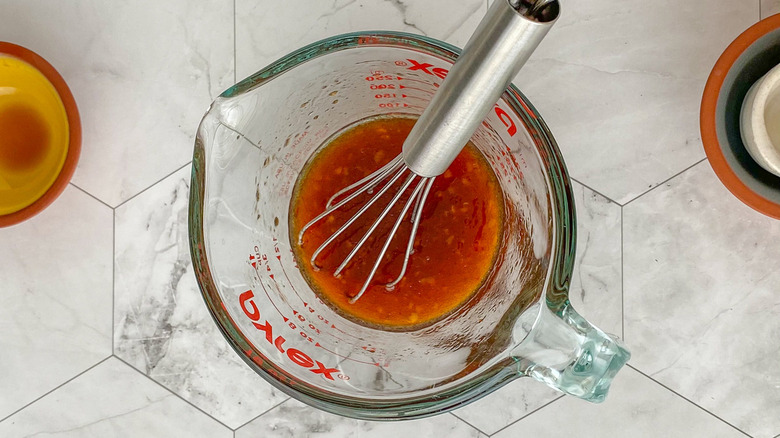 Hayley MacLean/Mashed
Spread the cucumber ribbons out on a paper towel and let them sit for 5 to 10 minutes to dry. MacLean explains that this helps to remove the excess moisture, which cucumbers have a lot of. What this means for the finished salad is, as she tells us, "the dressing does not become watered down due to the cucumbers releasing their moisture after the salad is mixed."
Speaking of the dressing, you might as well mix that up while the cucumbers are drying. Juice the lime, then whisk together all of the ingredients except for the onion and cucumbers. Season the dressing with salt and pepper to your liking.
Assemble the salad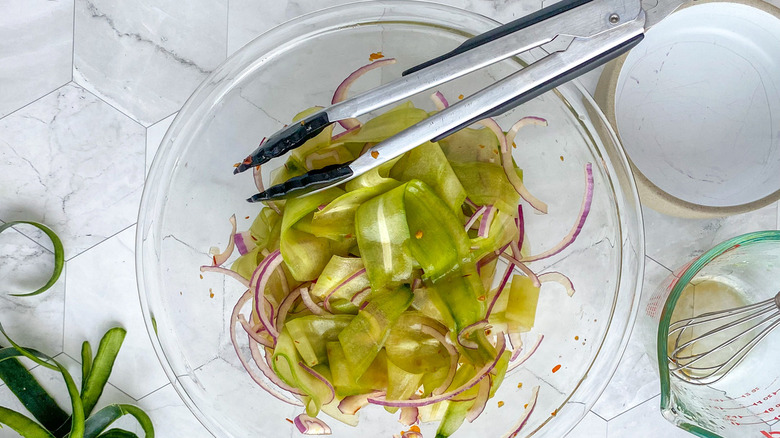 Hayley MacLean/Mashed
Toss the cucumbers and the onions in a bowl with the dressing. That's it, the dish is done! It's not quite ready for serving, though. First, you'll need to chill it for at least 30 minutes so the dressing can penetrate the vegetables.
MacLean says that the salad will only stay crisp in the fridge for up to two days, although if you go with thicker cucumber slices it might be good for up to five days in an airtight container. If the cucumber salad does get soggy, though, MacLean suggests you "[mix] up some extra dressing and [combine] it with the cucumber salad and some vermicelli or rice noodles."
Sweet And Sour Cucumber Salad Recipe
This quick and easy sweet and sour cucumber salad recipe is the perfect addition to a light lunch. Best of all? It only takes 15 minutes to make.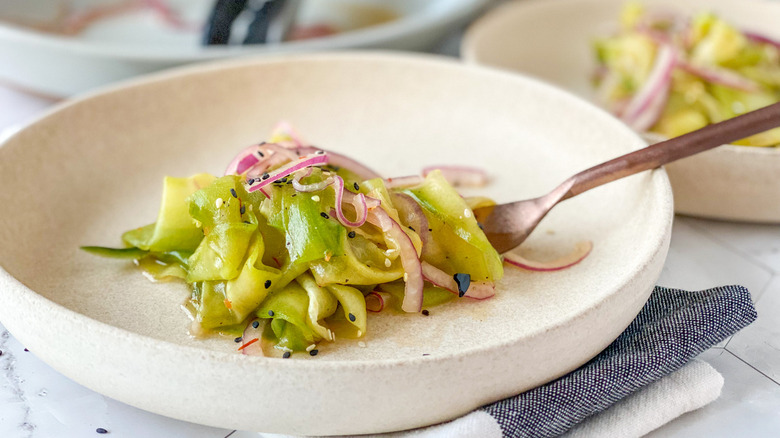 Ingredients
2 tablespoons rice vinegar
½ teaspoon chili garlic sauce (add more, to taste)
1 tablespoon honey
2 teaspoons soy sauce
1 ½ teaspoon sesame oil
½ lime, juiced
2 cucumbers
½ red onion, thinly sliced
Directions
Peel and thinly slice the cucumbers into ribbons using a vegetable peeler, avoiding the seedy core.
Lay the cucumber ribbons on a paper towel to absorb the excess moisture and allow them to sit for 5 to 10 minutes.
Whisk together the rice vinegar, chili garlic sauce, honey, soy sauce, sesame oil, and lime juice.
Toss the cucumber and red onion with the dressing until fully coated, seasoning with salt and pepper to taste.
Cover the salad and chill for at least 30 minutes before serving.
Nutrition
| | |
| --- | --- |
| Calories per Serving | 65 |
| Total Fat | 1.9 g |
| Saturated Fat | 0.3 g |
| Trans Fat | 0.0 g |
| Cholesterol | 0.0 mg |
| | |
| --- | --- |
| Total Carbohydrates | 12.4 g |
| Dietary Fiber | 1.3 g |
| Total Sugars | 7.6 g |
| Sodium | 149.8 mg |
| Protein | 1.5 g |