Homemade Refrigerator Pickles Recipe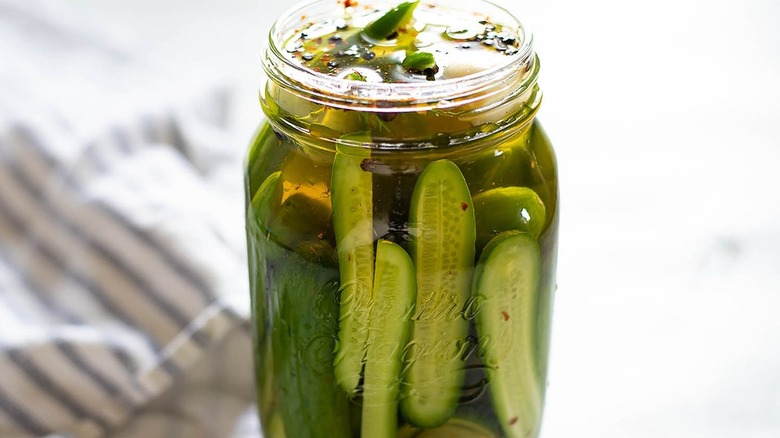 Kit Hondrum/Mashed
Are you a pickle person? They are pretty popular snack, and pickle flavoring has become something of a fad. From popcorn to pizza, people are obsessed with pickles! This Thanksgiving, we wouldn't be too shocked to see pickle-spiked stuffing served alongside pickle-brined turkeys. We're not expecting to see pickle pumpkin pies just yet, though who knows? Perhaps those will be all the rage next year.
What if you just like plain, simple pickles? There are plenty of those still populating store shelves, with dill pickles being the most prevalent kind. If you're a true pickle fan, however, you could always participate in the pickle-producing process by making your own. Recipe developer Kit Hondrum has come up with a recipe for homemade refrigerator pickles that will taste better than any store-bought version. "I love that this recipe doesn't require any canning," Hondrum explains. "I also love that you an customize it with whatever spices you like." If you love pickles, skip the stuff on the shelf and opt to make your own with this simple recipe — once you go homemade, you won't want to go back!
Gather the ingredients to make homemade refrigerator pickles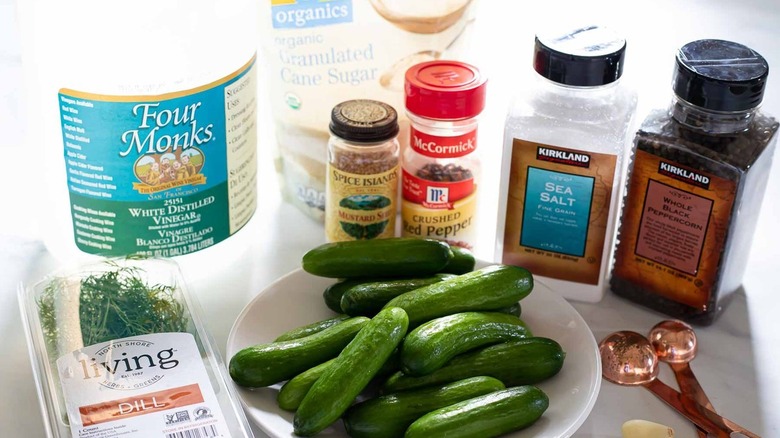 Kit Hondrum/Mashed
The base for these pickles is a type of miniature cucumber, more commonly known as the cocktail cucumber. You'll need water and white vinegar — Hondrum says that she uses the kind with 5% acidity. You'll also be using whole black peppercorns, granulated sugar, peeled garlic cloves, whole mustard seeds, red pepper flakes, and a bundle of fresh dill.
Hondrum does say you can make a few ingredient swaps if needed. If you can't find cocktail cucumbers, she says Persian or hothouse ones will work. She also says that "you can replace the sugar with a zero calorie sweetener like stevia or just omit it for a low carb/keto option." Also, since this recipe is so customizable, you can add different spices depending on your flavor preference. "I like to add more red pepper flakes for extra spice," Hondrum says.
Prep the cucumbers and garlic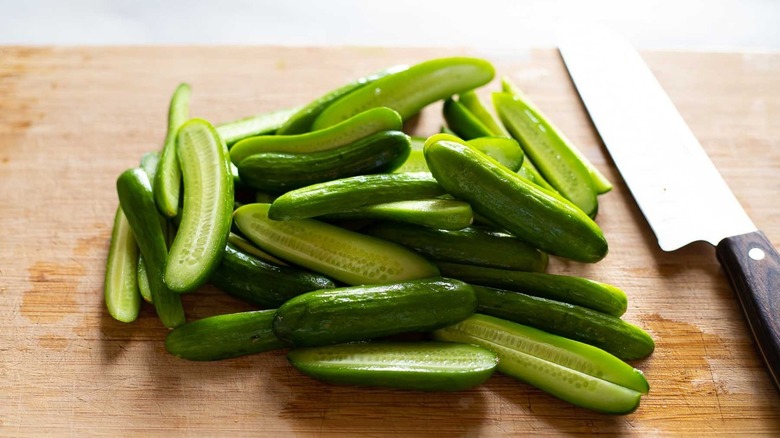 Kit Hondrum/Mashed
Before you can make pickles, you'll need to cut up the cucumbers. Typically, pickles can come in a variety of sizes or shapes, but for this recipe, you'll be making spears. So, go ahead and slice the cucumbers into quarters, lengthwise. For smaller cucumbers, you can simply cut them in half. If you do prefer your pickles to be in small, chip-like slices, you can opt to cut them that way as well. "Cucumbers can also be cut into rounds or even wavy rounds with a mandolin," Hondrum explains. After you've finished cutting up the cucumbers, you'll want to prep the garlic as well. To do so, simply peel each clove — no mincing necessary for this recipe.
Place all of the ingredients into a large jar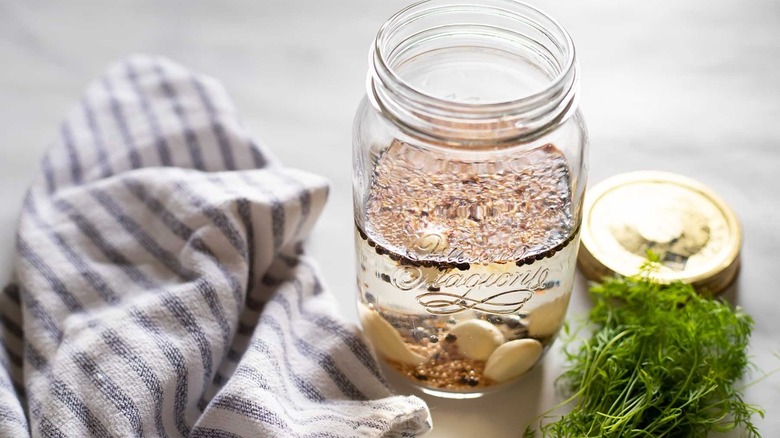 Kit Hondrum/Mashed
Now that the cucumbers are prepped, you can get ready to pickle them. Grab a large, glass jar and pour 1 ½ cups of water into it. Add the vinegar, peppercorns, sugar, garlic, mustard seed, and red pepper flakes to the jar along with the fine sea salt. Put the lid on the jar and give it a good shake. Keep shaking for a full minute, as the sugar needs to be completely dissolved before you proceed with the pickle-making. Once the pickling liquid is shaken, add the sliced cucumbers and the dill to the jar and screw the lid back on.
Let the pickles sit in the refrigerator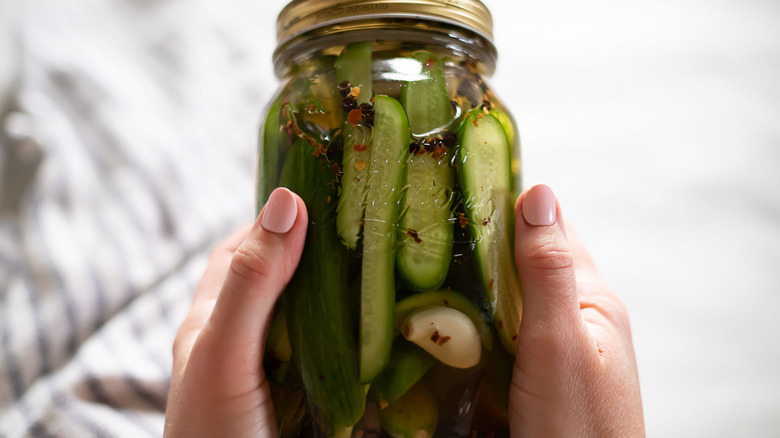 Kit Hondrum/Mashed
Once all of the ingredients are in the jar, place it into the fridge and let the pickles sit for at least 24 hours. Though it's tempting to eat them sooner, you don't want to rush the pickling process. After 24 hours, all of the flavor will have soaked into the pickles, and you're ready to serve and enjoy at that point. These pickles will make a great snack, and you'll notice a variety of flavors, including garlic, dill, and the perfect amount of spice thanks to the red pepper flakes. Best of all, these pickles will last in your fridge for up to two weeks — but, considering how delicious they are, it's safe to say that they may be long gone well before that point!
Homemade Refrigerator Pickles Recipe
Recipe developer Kit Hondrum has come up with a recipe for homemade refrigerator pickles that will taste better than any store-bought version.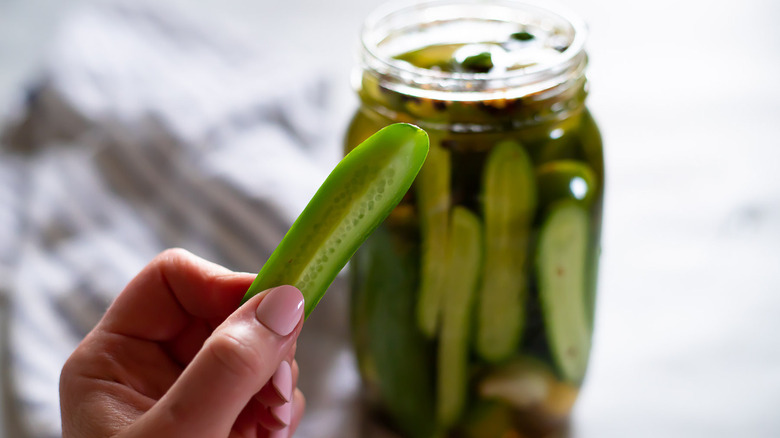 Ingredients
1 pound cocktail cucumbers
1 ½ cups water
1 cup white vinegar (5% acidity)
1 tablespoon black peppercorns
1 ½ tablespoons granulated sugar
6 cloves garlic, peeled
1 teaspoon mustard seed
½ teaspoon red pepper flakes
1 ½ tablespoons fine sea salt
1 small bundle of fresh dill
Directions
Slice the cucumbers into quarters lengthwise. (Smaller cucumbers can be halved instead.)
Combine 1 ½ cups filtered water with the vinegar, peppercorns, sugar, garlic, mustard seed, red pepper flakes, and 1 ½ tablespoon fine sea salt in a large, lidded jar.
Screw the lid on tightly and shake the jar for about 1 minute or until the sugar has dissolved.
Add the cucumbers and dill to the jar, making sure there's enough liquid to cover the cucumbers completely.
Refrigerate the pickles for 24 hours before serving.
Nutrition
| | |
| --- | --- |
| Calories per Serving | 30 |
| Total Fat | 0.2 g |
| Saturated Fat | 0.0 g |
| Trans Fat | 0.0 g |
| Cholesterol | 0.0 mg |
| | |
| --- | --- |
| Total Carbohydrates | 5.8 g |
| Dietary Fiber | 0.6 g |
| Total Sugars | 3.4 g |
| Sodium | 318.5 mg |
| Protein | 0.7 g |