Instagram Is Feasting Its Eyes On Rachael Ray's Last Holiday 'Festa' In Tuscany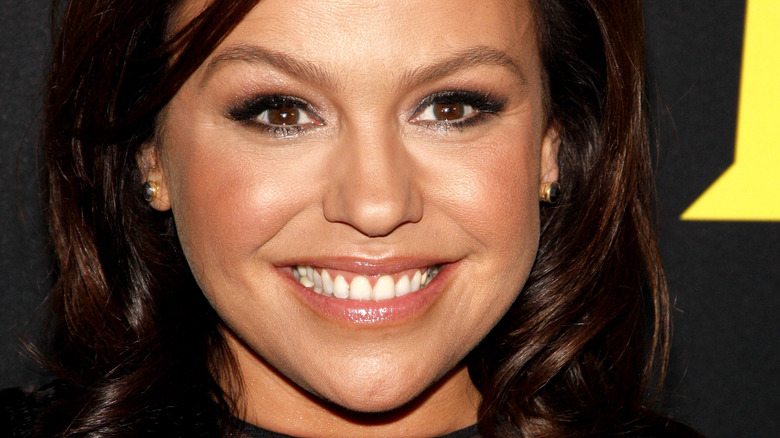 Tinseltown/Shutterstock
In August last year, celebrity chef and Food Network star Rachael Ray revealed in her magazine, "Rachael Ray In Season" that she managed to achieve a major life milestone, buying her dream home: a villa for her family in Tuscany, Italy. According to People, Ray has special memories attached to the country, as her mother's side of the family and her husband's parents are from the region. She said, "I love it there and have missed it ... my husband and I got married there. And three years ago, I achieved my life's goal of buying a property there, in Tuscany."
Well, it seems like the family is making the most of their Italian abode, which spent a while being renovated. They spent New Year's Eve on the lavish property and celebrated the occasion with a scrumptious seafood feast that included treats like an antipasti table and oysters with mignonette and cocktail sauce, as seen on Instagram. And following that post, a couple of days ago, Ray shared pictures of another delicious spread, writing that this was the last 'Festa' of their holiday in Italy.
Fans are floored by the massive feast Rachael Ray shared
Rachael Ray's latest Instagram photos gave her fans a glimpse into her family's last 'Festa' of the holiday season abroad — it included roast pork with apples, shallots, onions, and pears, that was "dry-brined in spices for two days." There was also a fruit and nut rice pilaf served in a roasted pumpkin, mushrooms with shallots in a sherry butter, and her mom's chicken liver crostini with shallots and pink mustard, among other delectable dishes.
Her fans were rather impressed with the spread and had lots of good things to say about it. As one person wrote, "Oh this looks delicious and I bet it tastes like absolute heaven, you go girl." Another fan said that simply looking at the dishes was making them feel hungry while someone else posted a comment full of longing, "Oh to be in Tuscany, it's been way too long." A couple of enthusiastic fans even requested the recipes, hoping that the chef would be willing to share some of her culinary secrets with her fans. Let's hope she does!