We Tried Donatos' New Plant-Based Pepperoni Pizza. This Is How It Went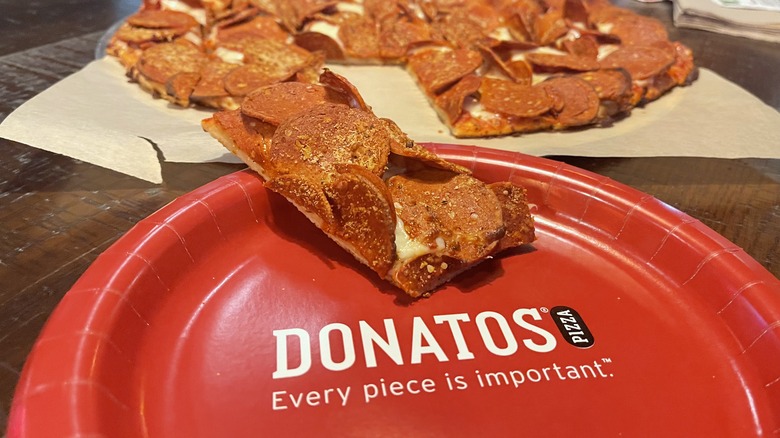 Carly Caramanna/Mashed
New year, new you. And thanks to Donatos Pizza you can make that dream a possibility — sort of. If your well wishes for the new year include laying off the meat a bit, one of the fastest growing pizza chains in the United States is here to help. What else would you expect from a company whose name literally translates to "to give a good thing."
The Ohio-based, family-run business known for their signature Columbus-style pizza — thin crust, square slices, and edge-to-edge topping — is now offering a plant-based pepperoni pizza. This is the second in their plant-based meat offerings, joining their savory sausage, and it is of no surprise. YouGov polled roughly 6,000 adults in the U.S., and 64% of respondents said they're into pepperoni, making it the most-liked pizza topping in the country. With many major restaurant chains jumping on the plant-based bandwagon, it is only fitting that Donatos would want to appeal to its diverse and ever growing customer base. After all, the company's CEO, Tom Krouse, commented on its expansive growth of more than 100,000 new members for their Donatos Pizza Love Rewards.
We headed to the chain's Nashville location to see what all the fuzz was about. This is how it went.
Donatos uses Field Roast Plant-Based Pepperoni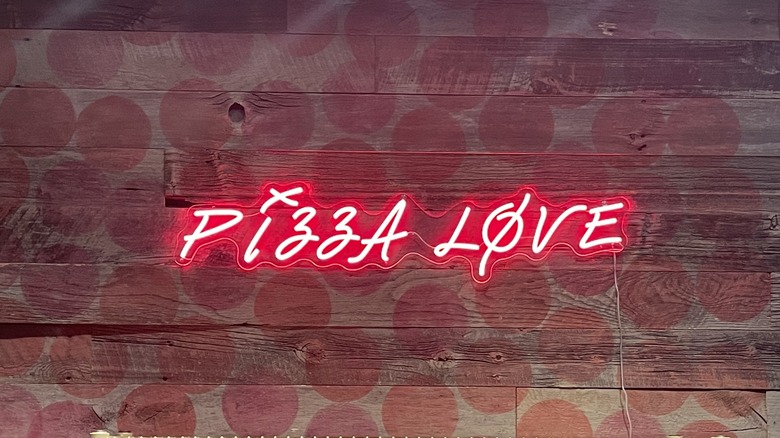 Carly Caramanna/Mashed
Donatos Pizza enlisted one the fast-growing stars in the world of plant-based offerings, Field Roast, for this new topping partnership. Field Roast is part of the plant-based protein company, Greenleaf Foods, that has been making waves in recent times with a slew of big-name collabs — their "chicken" was recently added to menus at KFC Canada, and they were credited with the first pea protein-based hot dog in North America, which is now offered at Dodger Stadium. Field Roast has also announced the distribution of their plant-based products at Wienerschnitzel locations throughout the U.S., as well as 7-Eleven Canada. They have built their name upon plant protein-based products that are full of flavor thanks to the addition of key spices, and their plant-based pepperoni is no different.
Field Roast Plant-Based Pepperoni is the first pepperoni alternative to be made not with soy, but with pea protein. This key change makes a big difference, as each serving offers a whopping six grams of protein. The pepperoni has a very noticeable characteristic of fat marbling and uses a variety of fresh spices — including whole pieces of fennel, cracked black pepper, garlic, and paprika —to give it that bold pepperoni taste.
Where can you try this plant-based pepperoni?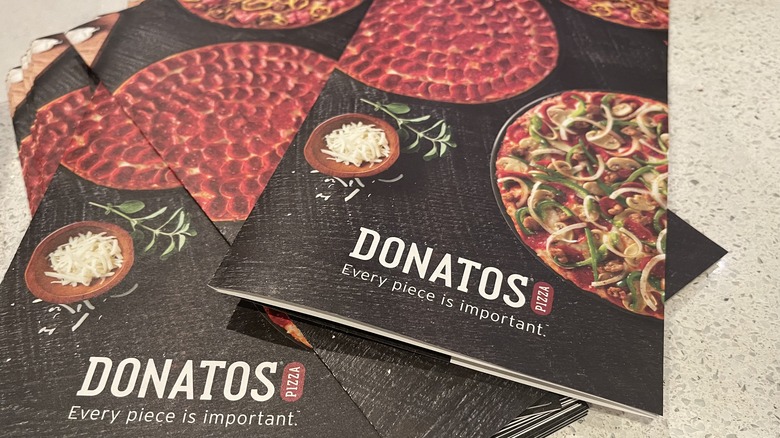 Carly Caramanna/Mashed
We are never one to shy away from a pepperoni pizza. The oily and crispy goodness is packed with flavor and a dream matchup to the robust tomato sauce and luscious cheese of a pizza. But, whether you are looking to hang up your life as a carnivore or you are already a plant-based eater, Donatos Pizza is rolling out this offering all over the United States. As of January 1, 2022, Donatos Pizza introduced the Field Roast Plant-Based Pepperoni pizza to its menu at 170 locations. You can even combine this with their recent addition of savory plant-based sausage for the ultimate veggie friendly, "meat lovers" pizza.
The restaurant lists pea, potato, and fava bean proteins as the main ingredients, along with a combination of garlic, black pepper, fennel, anise, cayenne, and paprika. Ultimately, it is both lower in fat and lower in sodium than their standard pepperoni topping — and it also happens to be a friendly option for our vegans out there. While the topping is vegan, it is important to note that the classic pizzas at Donatos are not. The chain does offer a vegan crust that comes in 10-inch sizes only and is served without cheese.
How much does it cost?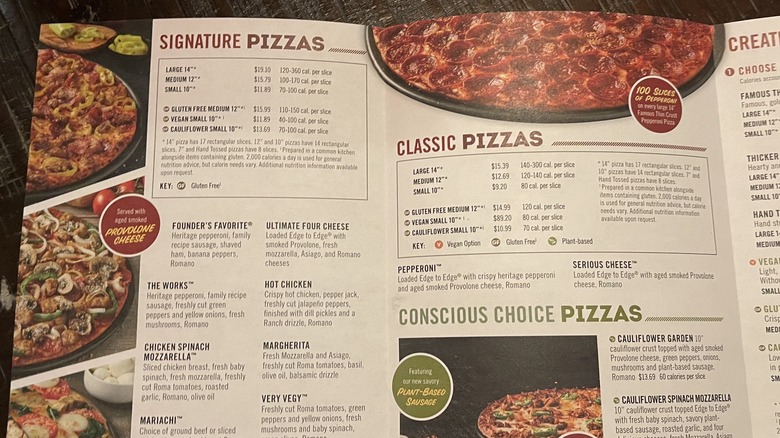 Carly Caramanna/Mashed
We hate to be biased, but pizza night is our favorite night of the week. It is an affordable way to dazzle the tastebuds and come together with our friends and family without making a complete disaster zone of our kitchen. So, Donatos is known for their great and fresh tasting pizza, but how does it stack up in the affordability factor? Actually, their prices are fairly reasonable.
Their signature pizzas run from $11.89 to $19.10, while their classic thin crust style pizzas run from $9.20 to $15.39. To further seal the deal, their pepperoni pizza is considered a classic and therefore doesn't charge for the topping. Their shtick is loading the pizza "edge to edge," meaning that 100 slices of pepperoni are on top of each and every large 14-inch thin crust pizza.
We were there to try their plant-based option and were delighted to find out that there wasn't an upgrade for this new, quality ingredient.
But, how does it taste?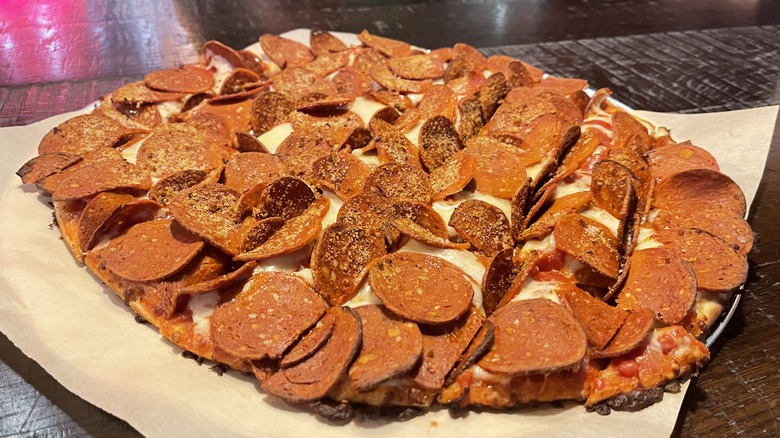 Carly Caramanna/Mashed
Let us preface this by saying, we were a group of meat eaters that tackled this.
Once your eyes can make it past the insane amount of pepperoni slices that are loaded on top of the pizza, you may be fooled into thinking this is the real deal. Thanks to the coloring and the visual marks of fat marbling, it looks just like any other pepperoni we have experienced. Upon first bite, we discovered that it had a bit of an earthier taste as compared to the standard pepperoni, and it actually wasn't far off from the real thing. It was pepper forward as loads of spices shined through, making it flavorful without that greasy element. The texture was thicker than a regular pepperoni, adding a chewiness to the "meat."
It worked on the pizza when combined with the sauce, cheese, and sturdy crust, but when trying it on its own, we were less into it. As we ate more, we found ourselves enjoying it less and less, which may be attributed to the fact that there is an utterly overwhelming amount on the pizza, with every bite having at least two slices.
Overall, there are definitely more pros than cons to this new addition, and thanks to its offering of protein, this could be a great and flavorful option for our vegetarian friends. The large was able to feed four adults, making this a more-than-affordable option in the often-pricey world of plant-based dining options.
As meat eaters, we have a sort of "go big or go home" mentality when it comes to our pizza, so we did miss that greasy element traditional pepperoni offered, but this proved to be a standout option for those concerned about their meat consumption.