15-Minute Vegan Breakfast Tacos Recipe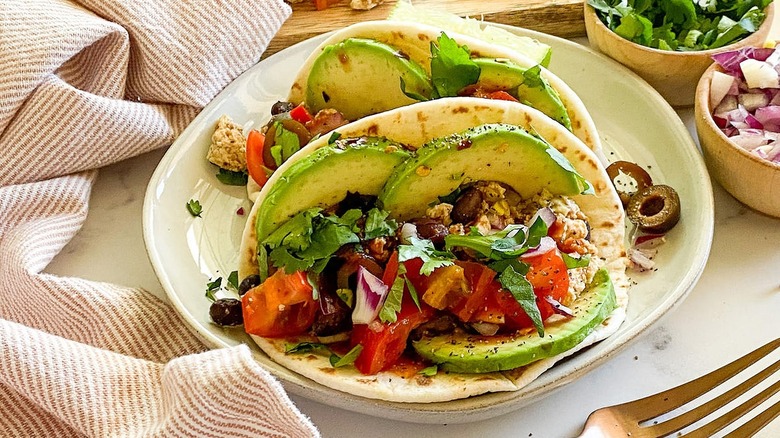 Miriam Hahn/Mashed
There's nothing quite like a tasty breakfast taco, especially when they're loaded with plenty of protein, vegetables, and sauces. While a breakfast taco is pretty easy to find, it isn't super easy to find vegan varieties — luckily, that's where recipe developer and wellness coach Miriam Hahn's 15-minute vegan breakfast tacos come in. Not only are they completely vegan, but they come together in just 15 minutes. Best of all, they're loaded with flavor and nutrients.
"These are so unbelievably good," Hahn raves about these tacos. "My favorite thing about them is how flavorful they are and how packed they are with nutrition." And, in case you were wondering, Hahn does find this vegan taco variation to be much more appealing than a traditional breakfast taco. "This is so much better than a traditional breakfast taco," she explains. "I have used organic tofu [which] is loaded with plant protein, fiber, and lots of vitamins and minerals." She also notes that the mushrooms, black beans, and tomatoes help contribute unique nutritional benefits, making this dish a healthy home run! "So many good, healthy things [are] in here to start your day with," Hahn adds. If you're looking for a powerhouse meal to get you going in the morning, these 15-minute vegan breakfast tacos will absolutely do the trick.
Gather the ingredients to make 15-minute vegan breakfast tacos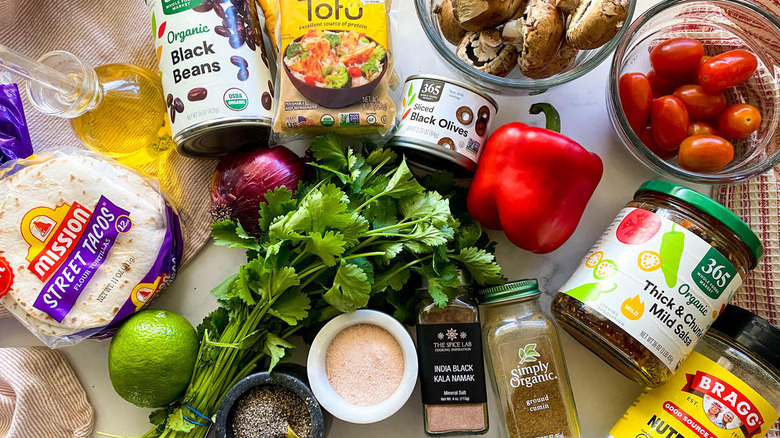 Miriam Hahn/Mashed
Before you can begin making these vegan breakfast tacos, you'll want to make sure that you have the right ingredients. For this recipe, you'll need avocado oil, a diced red onion, a diced red pepper, diced mushrooms, black salt, cumin, regular salt, pepper, pre-pressed tofu, nutritional yeast, black beans, black olives, chunky salsa, small flour tortillas, chopped cilantro, quartered grape tomatoes, and a lime. As for toppings, Hahn recommends red pepper flakes, hot sauce, avocado, and dairy-free sour cream. Also, she notes that there's room for ingredient swaps. For example, you could use pinto beans instead of black beans, or corn tortillas instead of flour.
Also, you may be wondering exactly what "black salt" is. Hahn notes that "it is not very common in stores, but can be found on Amazon." Interestingly, the salt isn't actually black in color, but instead has a light pink shade. Hahn says that it gives off an "eggy" flavor, which is why she likes to use it in vegan "egg" dishes such as this, where the tofu is being used as an egg-substitute. But, if you aren't able to find black salt, Hahn assures us that "this recipe is still good without it."
Start by sautéing the vegetables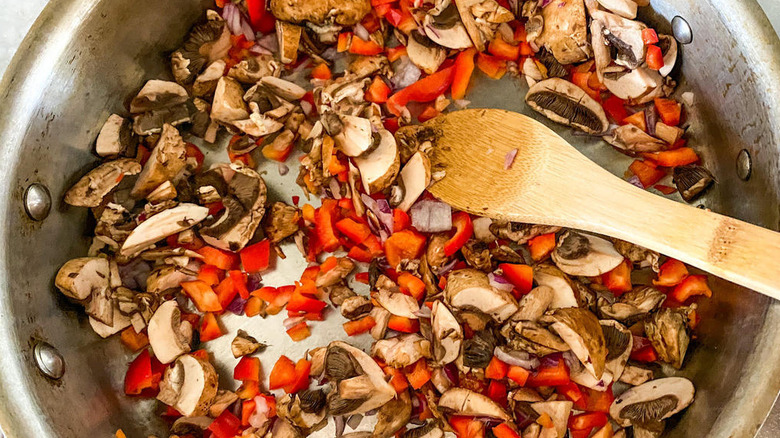 Miriam Hahn/Mashed
Now that all of the ingredients are ready to go, you can start by adding the avocado oil to a pan and heating it over medium-high heat on the stovetop. Also, preheat your oven to 350 F. Then, add the red onion, red pepper, and mushrooms into the pan — make sure that they're all diced beforehand. Sauté the vegetables for 5 minutes, until they begin to soften up a bit. Also, be sure to stir them frequently to avoid any sticking or burning in the pan. After the five minutes is up, add the black salt, cumin, salt, and pepper, then stir everything together again.
Add the tofu and other ingredients to the pan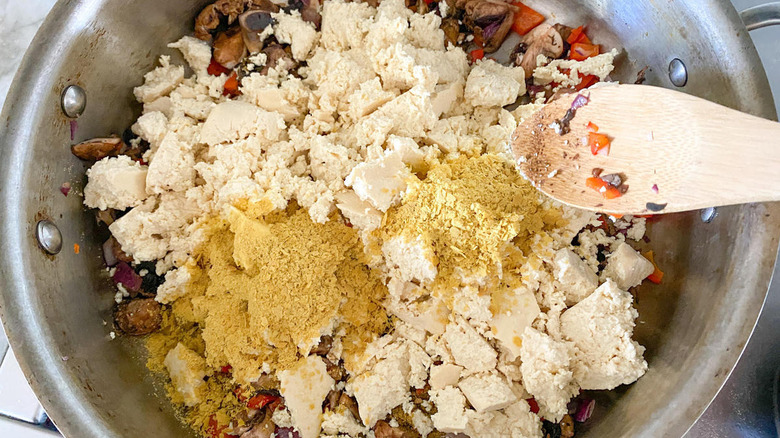 Miriam Hahn/Mashed
As the vegetables continue to sauté in the pan, open the package of tofu and pat it down with a paper towel to absorb excess moisture. Since you're using pre-pressed tofu, you won't have to worry about pressing out a bunch of water, which saves a lot of time and energy! Now, crumble up the tofu with your hands and sprinkle it into the pan with the veggies. Break the tofu down even further with a wooden spoon, then add the nutritional yeast, black beans, olives, and salsa. Mix everything together, and cook for another 5 minutes.
Assemble the breakfast tacos and serve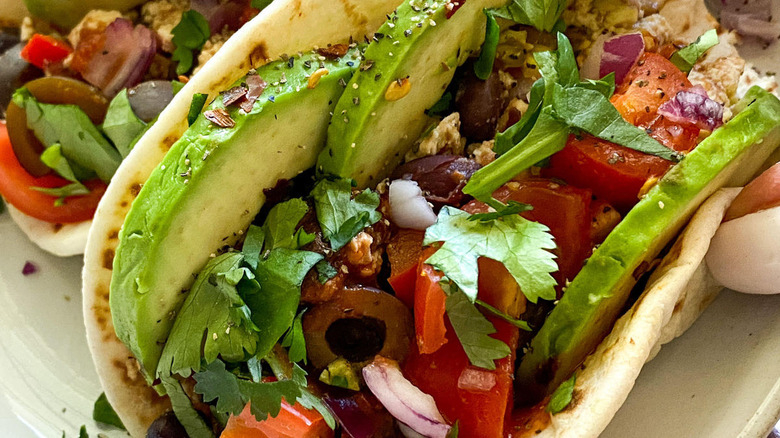 Miriam Hahn/Mashed
As your veggies and tofu finish cooking, put the tortillas into the oven to warm up. Once the filling is ready, pull the tortillas out of the oven, fill them up with the tofu mixture, then serve and enjoy! Also, be sure to top your vegan breakfast tacos with the toppings of your choice, like cilantro, dairy-free sour cream, or red pepper flakes. 
"Fresh fruit pairs well with this dish, and if you are serving it for dinner ([it's] a great 15-minute weeknight dinner), you can serve [it] with Mexican rice or a green salad," Hahn suggests. Of course, these tacos are also perfectly filling on their own, making them a great meal option any time of day!
15-Minute Vegan Breakfast Tacos Recipe
You don't have to give up tacos on your health kick, just try this 15-minute quick and easy vegan breakfast tacos recipe.
Ingredients
1 tablespoon avocado oil
½ cup red onion, diced, divided
1 red pepper, diced
1 cup mushrooms, diced
1 teaspoon black salt (also known as Kala Namak)
1 teaspoon cumin
1 teaspoon salt
½ teaspoon pepper
16 oz. pre-pressed tofu (House Foods, Nasoya, or Trader Joes make this type)
2 tablespoons nutritional yeast
1 can (15 oz) black beans, rinsed and drained
¼ cup sliced black olives
½ cup chunky salsa
18 small flour tortillas, slider size (or 12 hard taco shells)
¼ cup cilantro, chopped
¼ cup grape tomatoes, quartered (or hot house tomato, chopped)
1 lime
Optional Ingredients
red pepper flakes
hot sauce
avocado
dairy-free sour cream
Directions
Preheat oven to 350 F.
Add the oil to a large sauté pan and heat to medium-high. Add the onion, red pepper, and mushrooms. Sauté for 5 minutes stirring frequently
Add the black salt, cumin, salt, pepper, and stir.
Open the package or packages of tofu and wrap it in a paper towel to dry off the surface water. Then, crumble with your hands into the sauté pan. Break it down with a wooden spoon
Add the nutritional yeast, black beans, olives, and salsa. Stir to combine and cook for 5 minutes.
While this is cooking, put your tortillas or taco shells in the heated oven and warm up until the your mixture on the stove is heated through.
Stuff shells with the tofu mixture and add toppings.
Nutrition
| | |
| --- | --- |
| Calories per Serving | 368 |
| Total Fat | 15.0 g |
| Saturated Fat | 3.8 g |
| Trans Fat | 0.1 g |
| Cholesterol | 0.0 mg |
| | |
| --- | --- |
| Total Carbohydrates | 45.3 g |
| Dietary Fiber | 11.3 g |
| Total Sugars | 4.4 g |
| Sodium | 660.6 mg |
| Protein | 16.9 g |