Alex Guarnaschelli's High School Throwback Is A Trip Down Memory Lane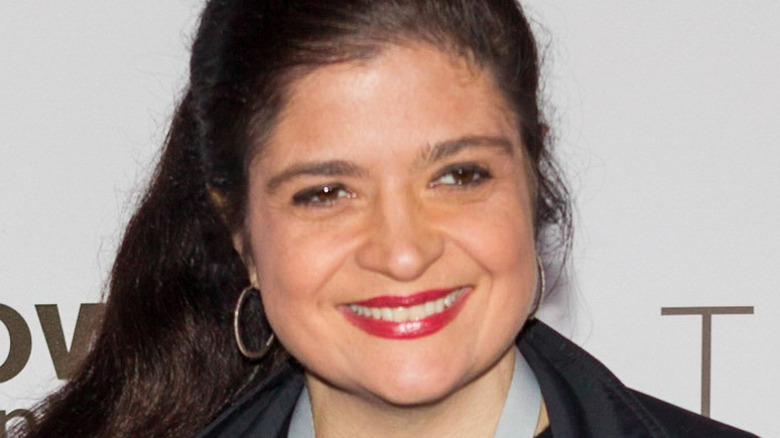 Jamie Lamor Thompson/Shutterstock
Alex Guarnaschelli is one of the most famous chefs on food television. Per her website, she's the executive chef of the well-regarded Butter restaurant in New York City, an Iron Chef (one of her nicknames is ICAG, or Iron Chef Alex Guarnaschelli), a frequent host and judge on Food Network, and now has her own competition cooking show called "Alex vs. America." But long before Guarnaschelli got her chops in the kitchen, she was a regular high schooler.
Can't picture it? Guarnaschelli recently posted a throwback photo on her Instagram with the caption, "High school graduation. Someone wasn't ready and it was definitely me." In the image, a young Guarnaschelli sits in her graduation cap and gown, her hair curled and her eyes wide. We'll be honest, she looks a little shaken, so maybe she's telling the truth about not being ready to graduate at the time. Regardless, fans and friends of Guarnaschelli seemed eager to chime in with their thoughts on the fun throwback photo.
Celebrities and fans loved Guarnaschelli's throwback pic
Guarnaschelli is one of the biggest names in the biz, so it should come as no surprise that some of the folks commenting on her Instagram post are pretty famous, too. Food Network star Sunny Anderson wrote, "That LOOK!!! You still have it!!!" Meanwhile, fellow Iron Chef Cat Cora chimed in, "Ahhhhh love this pretty girl!!!" Even Bobby Flay's daughter, Sophie, joined the commenters by saying, "I love this!!!"
Fans of Guarnaschelli were just as tickled to see their favorite chef at graduation. "Love the 80's hair...we all had that style," said one fan, while another mused, "So that's where Ava gets her curly bangs and her side eye!!" referencing the star's daughter. Last but not least, a few fans had questions. "Did you get good grades?" asked one. "No," replied an honest Guarnaschelli, which may be encouraging to those who perhaps aren't doing well in school, but who have other hopes and dreams outside of the academic arena. After all, Guarnaschelli found herself with poor grades in high school, but she eventually made her way to Kitchen Stadium and beyond.