Silk Almond Milk Fans Won't Want To Miss This Year-Long Giveaway
The phrase "plant-based diet" wasn't widely used in the American vernacular until late in the twenty-teens, but since then it appears to have acquired a shiny new health halo, per the New York Times. That halo is well-deserved, according to the MD Anderson Cancer Center, which points out myriad ways that plant-based eating supports human health — including by improving digestion, lowering cancer risk, decreasing inflammation, and helping maintain a healthy weight. Even if you're not yet among the two-thirds of American adults who have tried non-dairy milk or the one in three who now drink it at least once a week (per Morning Consult), there's an exciting product giveaway going on right now. It might just be exactly what you need to begin acquainting yourself with the wonderful world of alternative beverages, creamers, and yogurt. 
Leading plant-based beverage company, Silk, has announced via press release that it will be giving away a free year's supply of its food products to 22 lucky sweepstakes winners, no purchase necessary. If you have even a modicum of interest in plant-based eating, then you won't want to miss this opportunity. 
Enter the Silk giveaway by posting to Instagram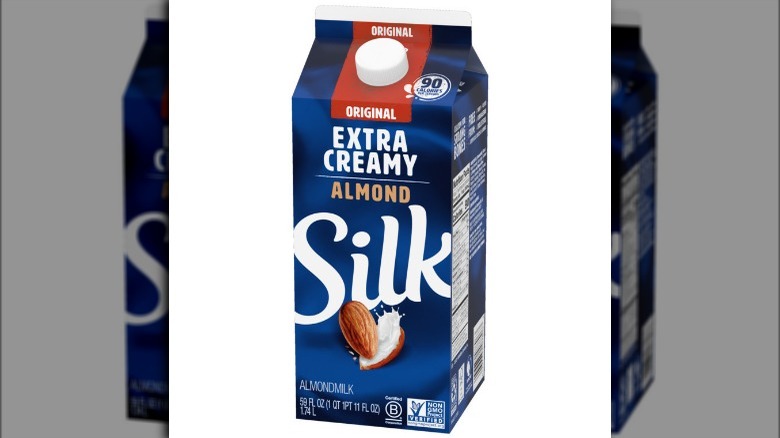 Silk
Silk, the popular plant-based beverage brand, is giving away a year's worth of Silk products to 22 people chosen randomly from its pool of entrants, according to a company press release. To enter the sweepstakes, simply snap a photo of any Silk product in your fridge and post it to Instagram by January 27, being sure to tag Silk's Instagram account (@Silk) and to use the hashtags #SilkFridgeFlash and #Sweepstakes. Now, just a suggestion: Although the Cold Stone Creamery Silk Chocolate Almond Milk Frozen Dessert is made with Silk Chocolate Almondmilk, to play your sweepstakes entry safe, you might want to stick with photographing Silk products that actually belong in the fridge and that are clearly marked as Silk-branded products.
Whether you're already a fan of Silk's dairy-alternative products, or merely "plant-curious," as Silk puts it, this yearlong giveaway certainly seems worth the effort of entering, especially if you're already an Instagram user. First, who doesn't like the idea of getting free stuff all year long? Second, Silk announced the release of a new product called Extra Creamy Almondmilk. A blend of three different kinds of almonds for a "silky-smooth taste," according to the press release, it also boasts 50% more calcium than reduced-fat milk and is an excellent source of vitamin E.