Rocco DiSpirito And Ben Aaron Just 'MacGyvered' A Pizza In Ginger Zee's Kitchen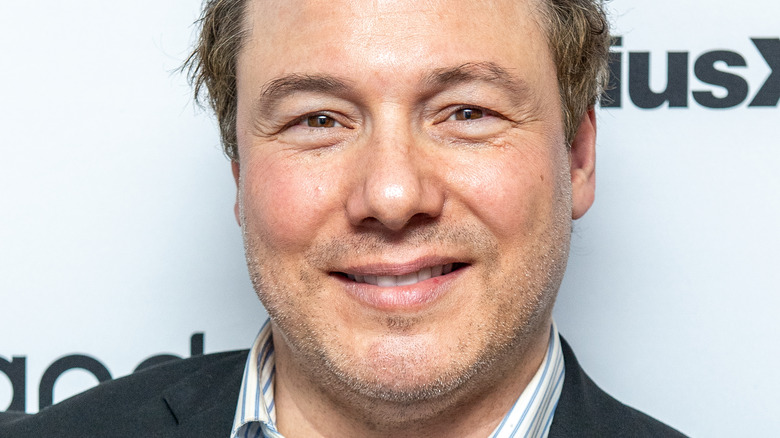 Roy Rochlin/Getty Images
Pizza making can be seen as an art form. From the right ingredients to the proper cooking utensils, certain things are necessary for completing a perfect pie of pizza. According to Taste of Home, if you want to make pizza at home, you'll need basic ingredients like all-purpose flour, active dry yeast, tomato sauce, basil, and oregano (to name a few). Now, to bake the pizza, you might want a pizza baking stone to ensure that you get a perfectly crispy crust. 
But what happens if you don't own a pizza stone, don't want to buy one, or don't have the space to store it? Mel's Kitchen Cafe notes that a pizza stone isn't necessary — folks can use a regular old baking sheet if that's what they have laying around. Thankfully, for Rocco DiSpirito and Ben Aaron, this is exactly what author and meteorologist Ginger Zee had in her kitchen, forcing the two men to 'MacGyver' their way through a pizza baking situation. 
DiSpirito pokes fun at Aaron for not having the 'right equipment'
During a Facebook Live session, Ben Aaron and Rocco DiSpirito could be seen baking what would turn out to be a delicious pizza pie while at Zee's home. As the TV personality introduces himself and explains to fans what they are doing, he walks over to DiSpirito to show everyone the pizza they are working on. "We're both surprised how good this is coming out," DiSpirito tells the camera. The "magnificent-looking pizza" is topped with cheese, tomato sauce, pepperoni, and basil. DiSpirito explains how they are making a "broiled" pizza, using a technique that has been of use in Italy for a very long time. 
At one point during the Facebook Live, DiSpirito can be seen moving the pizza off of one flat baking sheet and onto another as they discuss where folks can get a pizza stone, as Aaron and his wife Zee don't own one. The famed chef says, "We're really MacGyvering this one," causing Aaron to laugh and agree. At another point in the Live, Aaron makes note of how the pepperoni is perfectly curling up on the pizza and how this is something that he can never duplicate on his own. DiSpirito adds that the trick to achieving curled pepperoni is to purchase a "thicker cut" of the deli meat when making pizza.