Cracker Barrel Ordered To Pay $9.4 Million To Customer In Lawsuit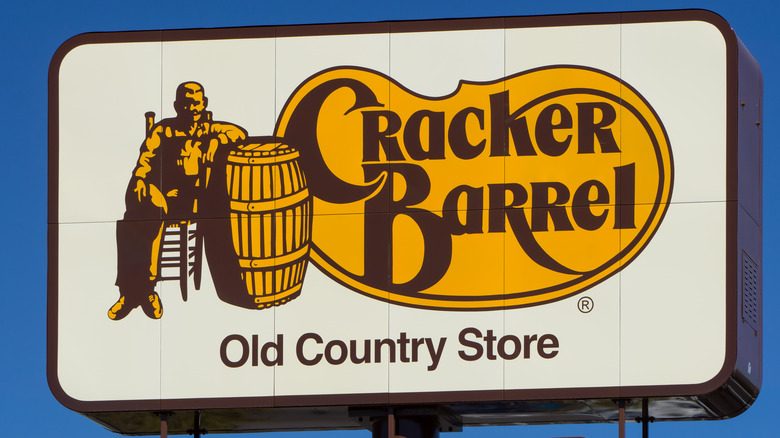 Ken Wolter/Shutterstock
The COVID-19 pandemic has taken its toll on the restaurant industry overall, but it has also spurred some fast-food chain growth, according to WorkStream. However, one quick-service restaurant that hasn't seen as much of a pandemic-related uptick in financial results is Cracker Barrel. 
"This past year was one of the most challenging in our more than 50-year history," stated company CEO Sandra Cochran during a quarterly earnings call in September 2021, via Nation's Restaurant News. During the call, it was revealed that Cracker Barrel's same-store sales had decreased by nearly 7% as compared with 2019. The restaurant has also raised prices by nearly 3% across the board, according to Bloomberg.
In effect, Cracker Barrel was trying to make up for some of its revenue shortfall and pandemic-related supply chain snafus, including the labor shortage and the accompanying increased cost of attracting workers. Via Nation's Restaurant News, Cochran shared that a number of Cracker Barrel locations have been understaffed during the pandemic. Still, the outlet notes that "off-premises performance," such as takeout orders and sales from Cracker Barrel's online store, were up 108% as compared with 2019.
That brings us to the question of the day: What will Cracker Barrel's next move be now that the company has been ordered by a Tennessee federal trial court to pay a $9.4 million judgment? The payment in question is going to a customer who was permanently injured and disabled as a result of being served cleaning solution-tainted water in 2014, according to CNN.
A 2014 incident at Cracker Barrel led to the multimillion dollar judgement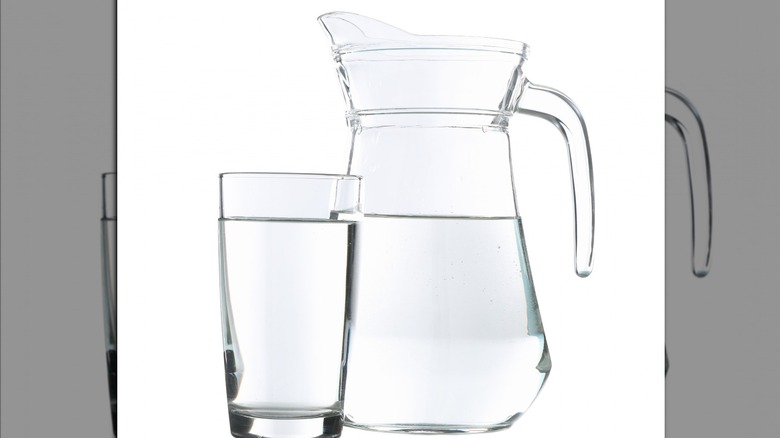 AtlasStudio/Shutterstock
While he was dining at a Marion County, Tennessee Cracker Barrel in April 2014, William Cronnon was served a cup of ice water by a Cracker Barrel employee. As soon as Cronnon took a sip of the drink, however, his mouth and throat began to burn, per CNN. As it turned out, the water served to Cronnon was tainted with a corrosive cleaning solution, Eco-San, which can cause severe burns on contact. If ingested, the product can lead to severe digestive tract burns, according to the manufacturer's safety information. 
That sip left Cronnon with permanent, debilitating physical injuries for which he is still under medical treatment and which have negatively impacted his earning capacity and enjoyment of life, according to court documents, via the Chattanooga Times Free Press. Apparently, it had been a matter of course at Cracker Barrel for employees to soak drink dispensing parts overnight in Eco-San, which is an appropriate use for the cleaning solution. However, in this case, a Cracker Barrel employee had allegedly used a water pitcher to soak those dispensing parts in Eco-San. The next morning, restaurant staffers allegedly failed to clean out the pitcher and then used it to dispense water, according to Cronnon's attorney, Thomas Greer. 
The fact that Cracker Barrel had, at the time, endorsed the storage of chemicals in unmarked containers, swayed jurors to award significant punitive damages Cronnon, in addition to direct and consequential damages, per Restaurant Business.
What will Cracker Barrel end up ponying up?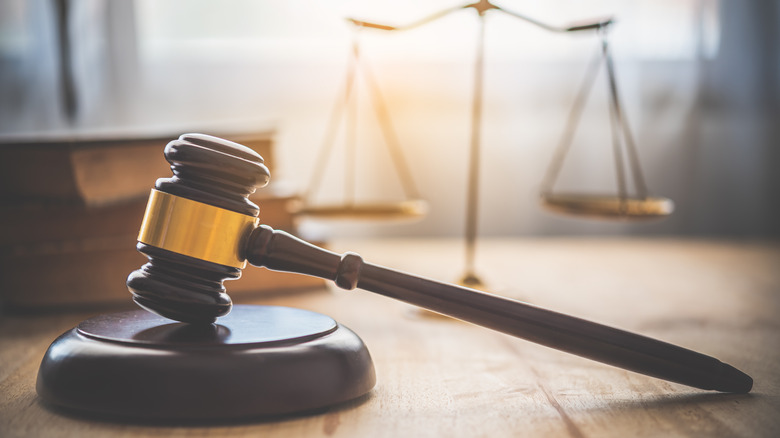 photobyphotoboy/Shutterstock
William Cronnon suffered permanent, disabling injuries in April 2014 when he was served tainted ice water at a Marion County, Tennessee Cracker Barrel, per Restaurant Business. When Cronnon filed his initial lawsuit against Cracker Barrel in 2015, he sought $150,000 in damages. But Cronnon's attorney, Thomas Greer, made such a compelling case about the egregiousness of Cracker Barrel's company policy of storing chemicals in unmarked containers — including the water pitcher in question — that a judge ordered Cracker Barrel to pay $5 million in punitive damages, as well as $4.3 million in compensatory damages, per the Chattanooga Times Free Press.
Compensatory damages are damages that address both direct economic (e.g., medical bills) and indirect losses (e.g., reduced capacity to earn a living) suffered as a result of a defendant's bad acts, according to O'Dwyer & Bernstein. Punitive damages are intended to both punish and effect future change. In levying punitive damages, the jury was swayed by the "objectionable nature" of the incident, as well as Cracker Barrel's "awareness of the amount of harm being caused" and its "unwillingness to fix the problem or offer a 'prompt and fair settlement," court documents showed (via Restaurant Business).
Cracker Barrel expressed its disappointment in the verdict, and Greer believes that an appeal will be forthcoming. In any event, Tennessee law limits compensatory damages to well under what was awarded, so it remains to be seen how this will affect Cracker Barrel's bottom line, Restaurant Business notes.