Keebler's New Fudge Stripes Flavor Is The Sweetest Valentine's Day Treat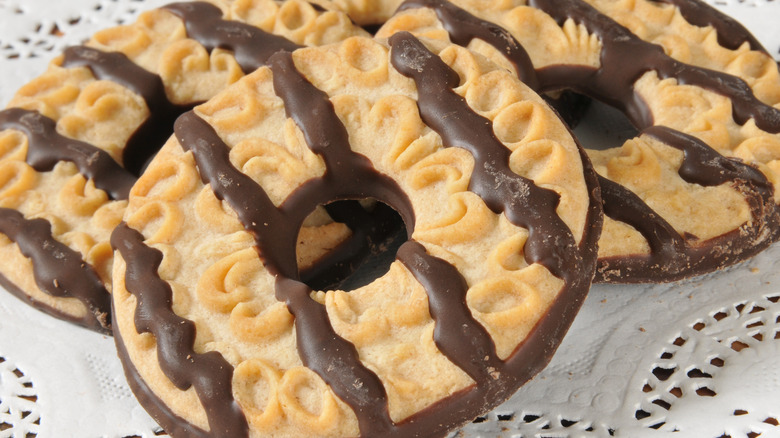 MSPhotographic/Shutterstock
It's hard to open up a box of Keebler Fudge Stripes cookies and not indulge in at least a few. The classic treats are made with a shortbread base, per the brand's website, then drizzled with just the right amount of chocolate to keep us all addicted. Keebler has been a staple in the cookie industry for decades, but it makes crackers, pie crusts, and ice cream cones, as well. According to Kellogg's, which owned Keebler before the Ferrara Candy Company acquired the brand, the famous cookies got their start in 1853, when founder Godfrey Keebler opened up his Philadelphia bakery.
While Keebler just launched a new bite-sized snack with a s'mores-forward flavor, the cookie company seems to know that its fans love the classics. That's presumably why Keebler is rolling out a brand-new, special-edition version of its signature fudge-striped treat just in time for Valentine's Day, per an announcement sent to Mashed.
Keebler just launched strawberry Fudge Stripes for Valentine's Day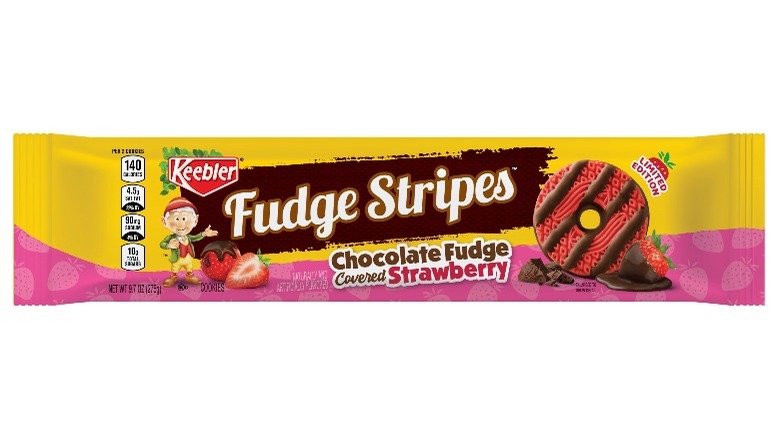 The Keebler Company
In celebration of Valentine's Day, consumers will now be able to try a berry-tinged twist on a classic Keebler cookie: Chocolate Fudge Covered Strawberry Fudge Stripes, reads a press release shared with Mashed. The cookies, which have a strawberry cookie base instead of the signature shortbread, will be available for a limited time in 9.7-ounce packages for $2.99 at grocery stores nationwide. With their dark pink hue and rich chocolate drizzle, they'd look right at home on a Valentine's-themed dessert charcuterie board.
Keebler has launched several limited-edition cookie options through the years, including Gingerbread Fudge Stripes for the 2021 holiday season. To mark the arrival of autumn, the brand also introduced a fall-themed Fudge Stripes cookie with vanilla fudge and pumpkin spice. We're hoping that these holiday-timed rollouts will continue well into the spring of 2022, as every Easter menu obviously needs some sweet seasonal treats.