Keebler Fudge Stripe Fans Need To Know About Its New Bite-Sized Snack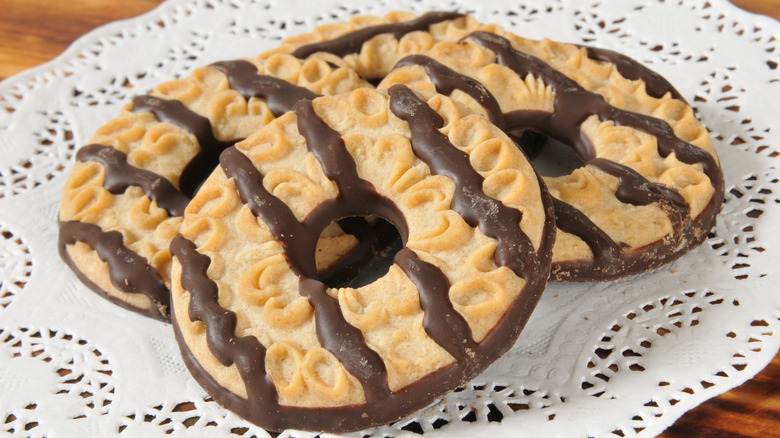 MSPhotographic/Shutterstock
Keebler's original fudge stripe cookies are a classic snack, made with sweet shortbread and coated with real Keebler fudge (via Keebler). And now, fans of the cookie can now enjoy the same delightfully delicious flavor in a bite-sized pack. According to Chew Boom, the company has just announced it will be releasing new Keebler Fudge Stripes Dip'mmms, a playful miniature version of the brand's traditional fudge stripe cookie with some sweet new surprises. 
Each package of new Keebler Fudge Stripes Dip'mmms comes in a portable tray filled with a single serving of bite-sized signature Keebler Fudge Stripe cookies. But this new item isn't just a smaller version of a classic Keebler cookie. Each single-serve package also comes with its own little cup of tasty marshmallow dipping frosting for an extra decadent snacking experience that is sure to bring back memories of enjoying a rich s'more by the fire.
These new Keebler Fudge Stripes Dip'mmms are on sale nationwide
Fans of the original fudge striped cookie definitely won't want to miss out on their chance to try out this delectable new bite-sized dipping cookie, which combines all the great taste of a Keebler snack with the fun experience of crafting a rich, gooey s'more. Customers can purchase a single package of this sweet new treat for a suggested retail price of between $1.79 to $2.29, depending on location, or a multipack of four single-serve packages for a suggested retail price of $6.99, according to Chew Boom. These new Keebler Fudge Stripes Dip'mmms are now on shelves at participating retailers nationwide.
"Whether our fans dip them a little, dip them a lot, make cookie sandwiches or giant cookie towers – there are endless ways families can get creative as they enjoy shared, memorable moments," Alicia Mosley, vice president of marketing at Keebler, said of the new release (via PR Newswire).